Rachel Bilson looked stunning at the 2010 Costume Institute Gala. Her Louis Vuitton gown inspired her look: elegantly fresh with a modern asymmetrical edge. Master hairstylist Marco Santini for Moroccanoil created a virtuosic design emphasizing a playful counterpoint of smooth and wavy textures.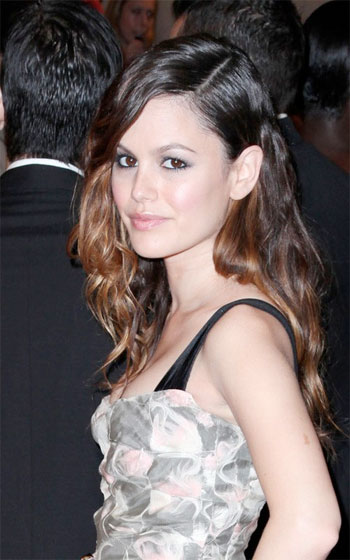 "It was very humid tonight and Rachel's hair is fine so we had to layer products into her hair in a different way to make sure the style not only looked beautiful, shiny and natural, but held up throughout the evening."
How To: Hair Tutorial
While her makeup was being applied Marco created a low part then finger-set the hair with Moroccanoil Hydrating Styling Cream, "I used the product to hydrate and smooth her curly texture. Afterwards, I shaped the core texture using my hands and the blow dryer.
Next, Marco sprayed the hair with argan oil-infused Moroccanoil Luminous Hair Spray and curled her hair with a medium-barrel iron. "I love how the hair looks when I apply this hairspray before using irons. It gives a nice hold, but not too strong, and I can add additional layers for a stronger hold without affecting the final look."
To create the asymmetrical style, Marco sectioned all the hair on the left side of the part then pulled the hair back to give the illusion that Rachel's hair was shorter on one side than the other. Marco created small braids on the ends then tied the partially braided hair into a ponytail using a thin hair band. He then released the longer section of hair on the right side so that it would fall over and flow down the neck, hiding the ponytail.
"I wanted to finish with a soft polished look so I added a touch more Moroccanoil Hydrating Cream and finished with Moroccanoil Luminous Hair Spray. It's really cool what this hairspray can do in styling, as well as, finishing the look. I love how it leaves the hair so shiny."
Rachel's final result was young, sexy and unique. A perfect complement to the Louis Vuitton gown and in harmony with her always natural look.
Moroccanoil is sold in professional salons and spas throughout the country. Visit www.moroccanoil.com for more details.