Contributed by Megan McIntyre of Daily Makeover
Fall/Winter 2010 Fashion Week started today, and Daily Makeover kicked it off backstage at L.A.M.B. with designer Gwen Stefani. She gave us an exclusive look into what inspires her, how she creates that fab red lip (girlfriend does her own makeup!) and what beauty look her husband can't get enough of.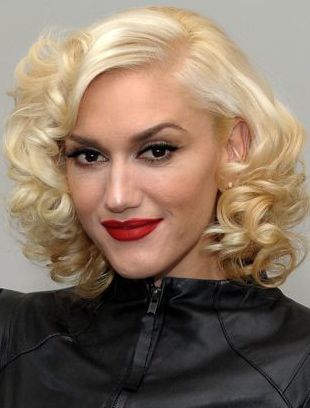 Photo: © Andrew H. Walker/Getty Images
What inspired the beauty look for the L.A.M.B. show?
The collection is based on a vintage, naughty, Hollywood starlet girl, a little bit of a modern, futuristic girl and a little bit of a soldier girl. I found these Ellen von Unwerth pictures with black makeup and the dark lips [that I loved] so we're going to do the hair very set, vintage and glamorous with a lot of bangs.
The thing that I've learned is that you have an inspiration, you have a picture, an idea and it just evolves into what it's going to be. You don't consider when you come up with three ideas for a theme that you're going to have a blizzard, a baby with an ear infection and the Chinese new year, but at the end of the day the creative process of having that pressure and that drama means you come up with things you normally wouldn't. I can't wait to see it all together. For me, it's all about that part with the music and seeing the girls.
Red lips are a big beauty trend we're seeing for Fall 2010. The red lipstick look is already one of your trademarks!
I just love when things that I love come back into style. I don't have one specific red lipstick that I use. MAC's sponsoring the show today, so [lead makeup artist Charlotte Tilbury] put a mixture of four different reds on me. I know she definitely used Russian Red. I tend to go more for the blue-reds than the orange-reds–I think they look better on me.
Read full article in dailymakeover.com