All Posts Tagged With: "Oprah"
New York (May 25, 2011) – O, The Oprah Magazine will produce a special collector's edition bookazine celebrating 25 unforgettable seasons of "The Oprah Winfrey Show," on newsstands nationwide on June 28. Oprah and her team reminisce about the show's early days, when they begged passersby to take a seat in the audience, and recount their favorite moments of what was to become a show that changed television history. Oprah's Farewell Celebration: Inside 25 Extraordinary Years of "The Oprah Winfrey Show" (148 pages, $11.99) is a joyful and comprehensive insider's look at the 25 seasons of aha moments, tears, surprises and triumphs that have meant so much to so many.
"The opportunity to have done this work for so many years – to be embraced by all of you – is one of the greatest opportunities that any human being could have," said Oprah Winfrey.
(May 24th, 2011) – Halle Berry waves goodbye to Oprah dazzling in Stephen Webster jewelry during the farewell episode of The Oprah Winfrey Show. The Academy Award-winning actress appeared on stage to introduce Alicia Keys who sang to Oprah during which Maya Angelou described the talk show host's global impact. Berry sparkled in a Stephen Webster In Deep Spider Crab Bracelet in 18ct white gold with black diamonds during the star-studded historical event in talk show history.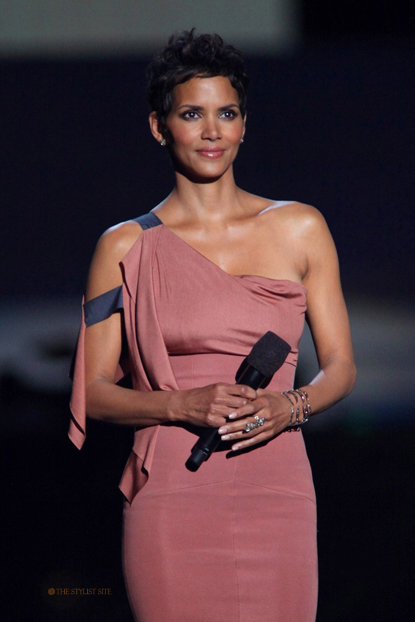 HALLE BERRY WAVES GOODBYE TO OPRAH IN STEPHEN WEBSTER
Oprah gets Oscar glam during a fitting with the Zac Posen team for the 2011 annual Academy Awards. See how Oprah prepares for her big red carpet moment with a behind-the-scenes clip of the dress fitting for her custom-made Zac Posen gown in this week's Season 25: Oprah Behind The Scenes. Watch here.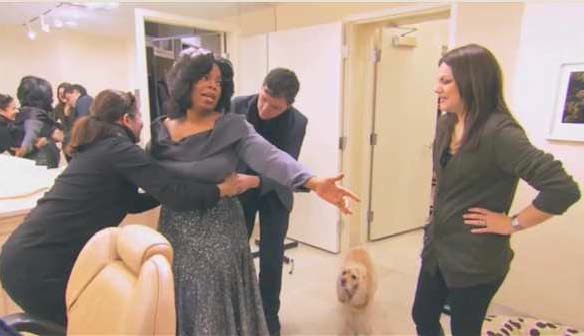 I just got the word that Julia Roberts is doing her Favorite Things on Oprah today, May 6, 2011, at 4 pm(est). She is the first celebrity ever to do this besides Oprah and Julia picked a Theodora & Callum scarf as one of her favorite things.  I also hear Roberts is going to hold it up, talk about it and give one to each member of the audience. Now, in appreciation and in honor of Oprah's 25th anniversary, Theodora & Callum is offering a $25.00 gift on their web site theodoraandcallum.com. Don't miss it lovers!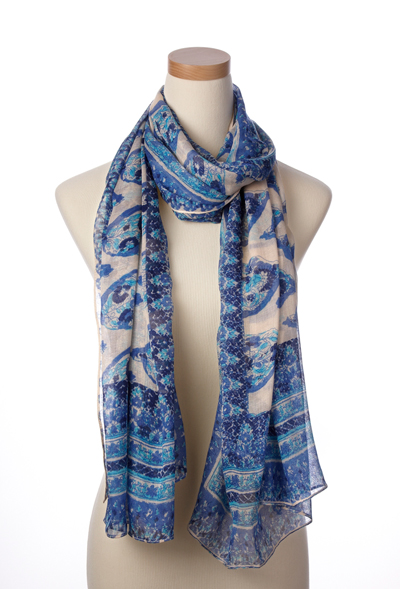 Theodora & Callum scarf
The Oprah Winfrey Show: Music Superstar Pink and Dwayne "The Rock" Johnson!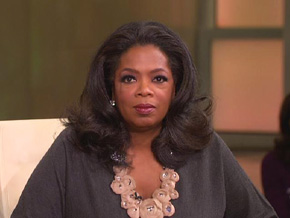 Oprah Winfrey. Photo via: oprah.com
On Friday, February 5, 2010, The Oprah Show is LIVE in Chicago. Everybody's talking about the jaw-dropper at the Grammy Awards! Music superstar Pink is there with another show-stopping performance! Then, actor Dwayne "The Rock" Johnson makes his Oprah Show debut. Plus, one of Oprah's favorite cooks, Cristina Ferrare, reveals her best game day recipes for Sunday. Check local listing for the time the episode air.
Hair Trends: The return of big wild sexy hair.
NBC's Deal Or No Deal has been one of the hottest shows on television. Besides enjoying comedian host Howie Mandell with his shiny, bald head, men are tuning in to see one thing: The Deal Or No Deal girls! And, the girl that stands out from the rest is #13 — Leyla Milani. Even Oprah loves her: Oprah says Leyla is her favorite.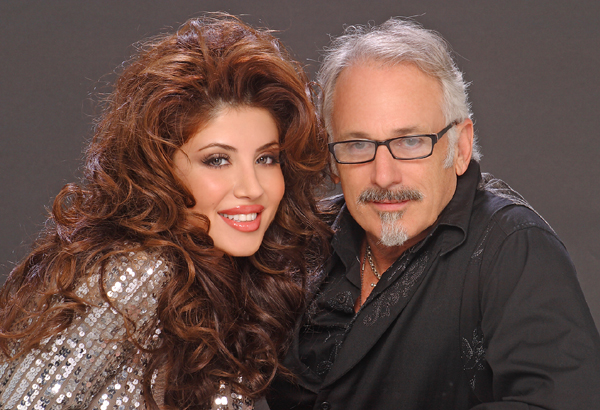 Leyla's big, wild and sexy hair is created by stylist Allen Edwards, the man who created the Farrah Fawcett, and Allen has done it again. Talking about influencial hairdressers. "Leyla Milani is one of the most beautiful women that I've ever met and her hair has the potential to make her the next Farrah Fawcett," states Edwards. "Women all over the country love to be sexy and every woman deserves that. The easiest way is to start with your own hair, and get that Leyla Milani look". Leyla's hair has its own cult following and rumor has it that Lloyds of London is drafting insurance for her famous mane.