All Posts Tagged With: "PINK"
COVERGIRL believes in beauty with an edge. Now, the makeup with attitude meets the rock star with attitude: P!nk! In her new role as a COVERGIRL, P!nk's going to dare every woman to take more beauty chances and join her in kicking traditional conventions to the curb. The artist recently wrapped her first print advertising campaign with the brand, which will debut in Fall 2012.
If you're a part of the Twitter world, then you've seen and read about Pink's unfortunate bad hair cut.

So what do you do if you find yourself in a similar situation? Celeb hair expert, Philip B, has got some great tips to help a girl in need!
"You got a haircut that you really, REALLY regret? We've all been there. Fortunately, there are a few things you can do to ease the growing-out process:
The Oprah Winfrey Show: Music Superstar Pink and Dwayne "The Rock" Johnson!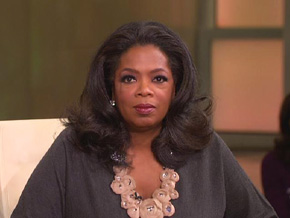 Oprah Winfrey. Photo via: oprah.com
On Friday, February 5, 2010, The Oprah Show is LIVE in Chicago. Everybody's talking about the jaw-dropper at the Grammy Awards! Music superstar Pink is there with another show-stopping performance! Then, actor Dwayne "The Rock" Johnson makes his Oprah Show debut. Plus, one of Oprah's favorite cooks, Cristina Ferrare, reveals her best game day recipes for Sunday. Check local listing for the time the episode air.
Hair Tutorial: Pink's look at the 52nd annual Grammy Awards was a shimmering vision of modern glamour. Stylist Marco Santini, who highlighted glistening shine to play up her platinum hair color, and define her texture and subtle grey tips, created the sophisticated red carpet look.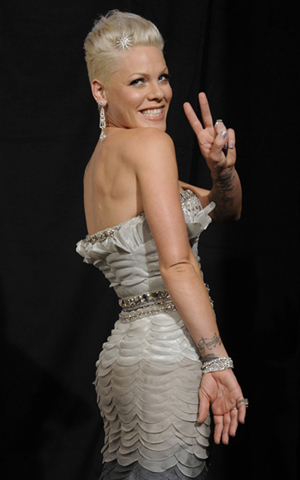 Santini, inspired by her silver-grey gown and the dramatic performance to come, created a unique, flowing shape that emphasized volume, height, and the illusion of movement. He accented the look with a diamond star-shaped pin. Santini stayed with Pink after the red carpet, and was backstage waiting to quickly reproduce the look right after her stunning aerial performance of "Glitter in the Air" during which she was drenched in a shower of water. "I had to work very quickly to restyle her look," explained Santini. "I used Moroccanoil argan oil-infused products because I know they instantly absorb into hair, produce amazing shine, and won't create build up. The look had to appear as fresh, light, and beautiful the second time around as it did for the red carpet."
GET THE LOOK: How Marco Santini Created Pink's Much Discussed Look:
Singer, PINK arrives the the VMA's on September 7th, 2008 wearing LA Designer Alexis Lamontagna's strapless bustle gown.
Alexis Lamontagna made her debut with her Fall/Winter 2008 collection during LA Fashion Week and received rave reviews for her young and spirited collection.
For more go to www.alexislamontagna.com/lookbook . Also, CLICK HERE read Alexis Lamontagna's interview with Marta Walsh for Style Interviews!