All Posts Tagged With: "Style Interviews"
WATCH: Robert Reynolds in FASHION & STYLE interviewing actor/model Tobias Truvillion. You may know Tobias from playing the character Vincent Jones from ABC "One Life To Live" (soap opera). The word is that Tobias will be featured in the new movie "Brooklyn's Finest", starring Richard Gere and Ethan Hawke. Launch date: March 2010. He will be featured acting with Wesley Snipes who is also a star in the movie. In the interview Reynolds questions Tobias about his personal fashion style. Which seems to be leather from head to toe. Also his dog is looking quite fashionable. FASHION & STYLE is brought to you by Reynolds & Associates.
Stay tuned to for the exclusive interview with Tobias on FASHION & STYLE with Robert Reynolds!!
Last year I was given an amazing chance to ask Nina Garcia some questions for Talking Makeup's style section: www.styleinterviews.com It was around the same time Nina published her second book: The One Hundred: A Guide to the Pieces Every Stylish Woman Must Own.
I though to share with you my interview with Nina Garcia, just in case you've misses it!:)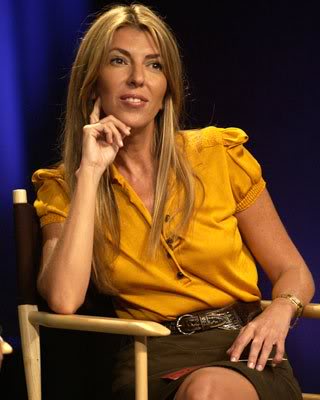 Nina Garcia is one of Bravo' Project Runway famous judges along with supermodel Heidi Klum, and fashion designer Michael Kors. Nina is also a magazine editor who until August 2008 acted as the Editor-at-Large of Elle Magazine. Nina is now a fashion director for Marie Claire Magazine. In 2007 Nina Garcia released her first book called: The Little Black Book of Style, by Harper Collins, which is a must-have read for any woman who would like to discover her own fashion sense. In August 2008 Nina published her second book: The One Hundred: A Guide to the Pieces Every Stylish Woman Must Own.
In this interview Nina Garcia tells Marta Walsh what it takes to be successful in the fashion industry, the best part of being a judge on the Emmy nominated Bravo series Project Runway, her inspiration behind her latest book The One Hundred, and the Nina Garcia's definition for style.
Marta Walsh: Why did you decide on a career in fashion and what does it take to be successful at it?
Nina Garcia: I was immediately drawn to the fashion industry's constantly evolving nature. To be successful? It takes determination and a thick skin.
Read my interview with LA based fashion designer, Kelly Nishimoto, in Style Interviews April 2009 edition! Style Interviews is Talking Makeup's style section.
Kelly Nishimoto is a fashion designer based in Los Angeles. When Nishimoto moved to Los Angeles, she saw an opportunity to shift the industry's focus from shabby-chic to structured, and began making her line of Kelly Nishimoto Corsets. Quickly becoming a favorite of celebrities, Nishimoto's corsets have sculpted the waistlines of Demi Moore, Gwen Stefani, Anastasia, Natasha Henstridge, Jenna Jameson, and yes, even Dave Navarro.
I've recently interviewed fashion designer Stanley Adams during New York Fashion Week Fall 2009 for Style Interviews! Here it is:
During New York Fashion Week Fall 2009 I've had an amazing opportunity to attend the Stanley Adams Carr Haus (if the walls could talk..) fashion show and even got to interview him.
I also met and interviewed some guests of Stanley Adam's show, such as: Stacey McKenzie, Myron Christian, and Robert Reynolds.
Stanley Adams' desire to enter the fashion world began with his fascination with Parisian houses of Dior, Emanuel Ungaro, Valentino, and Christian Lacroix. Stanley Adams Couture is designed for the upscale workingwoman, she loves to dress simple but attractive. Stanley Adams Couture is available by appointment only with plans to launch in high-end boutiques in the U.S. this fall.
In this interview Stanley Adams talks about presenting his Fall 2009 collection in New York City, his inspiration for the collection, Charlize Theron as one of his ideal celebrities to wear his designs, and future plans.
Stacey McKenzie is Canadian fashion model, runway coach and most recently a model coach and judge on the Canadian reality television show Canada's Next Top Model.
Singer, PINK arrives the the VMA's on September 7th, 2008 wearing LA Designer Alexis Lamontagna's strapless bustle gown.
Alexis Lamontagna made her debut with her Fall/Winter 2008 collection during LA Fashion Week and received rave reviews for her young and spirited collection.
For more go to www.alexislamontagna.com/lookbook . Also, CLICK HERE read Alexis Lamontagna's interview with Marta Walsh for Style Interviews!
Also just in-Style Interviews August 2008 Edition with fashion designer Rami Kashou, Project Runway's Season 4 Alum on the cover.
Style interviews August 2008 edition features the following interviews, brought to you by Marta Walsh:
Fashion designer Rami Kashou, who is also Project Runway's Season 4 Alum, has designed for celebrities such as: Heidi Klum, Penelope Cruz, Jessica Alba, Lindsay Lohan to just name a few. In the interview, Rami Kashou talks about his experience on the Project Runway show and his life after the show, why he enjoyed designing for Heidi Klum, how did he come up with his signature draping look, and his plans for the future.
Rachel Pally  the talented fashion designer behind the Rachel Pally fashion line. In the interview, Rachel talks about how she fell in love with fashion design while working at a custom shop in college, the Rachel Pally design philosophy, and what made her fashion line take-off as a must have brand among celebrities.
Michael Yo  the host of a call-in talk show called: Yo on E!, a three-hour entertainment talk show heard nationally on XM and Sirius Satellite Radio. Driven by the E! Network. Yo on E! sets the standard for entertainment talk, providing listeners with celebrity interviews, the latest in pop culture and breaking, and up-to-the-minute entertainment news. In the interview, Michael Yo shares with us some of his style secrets, what's a day like hosting Yo on E!, his special connection to Miami, and his dream for hosting his own late night talk show. 
We are thrilled to also publish Style Interviews July 2008 Edition today and feature Sal Masekela on the cover.
Sal Masekela is known for hosting the Daily Ten show on E! Entertainment Television, along with Debbie Matenopoulos and Catt Sadler. Sal is also the owner of a production company called: Berkela Films, with movies like "Bra Boys" and "Switch".
While interviewing Sal Masekela and chatting with him about his style secrets, I also learned about his great sense of individuality, and his love for producing.
Other great interviews in Style Interviews July 2008 Edition include: