All Posts Tagged With: "Event Planner"
Here are some great twists and tips on how to plan and how to spice up this year's 4th of July backyard BBQ party by celebrity event planner, Arona Martin.
Arona Martin is also an Event Director at D3 Events and have worked with a ton of different clients and a variety of events, such as: HBO, Playboy, KODAK, Michael Jordon, the Clintons, etc.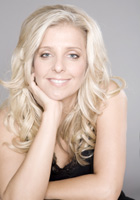 Arona Martin-Celebrity Event Planner.
Acai Organic Cocktail!: Açai (ah-sci-ee) is a rainforest berry – a small, dark purple fruit that grows on palm trees on the floodplains of the Amazon basin. Recent scientific study has earned it the enviable title of "world's healthiest fruit" in part, because it is likely to be the world's highest antioxidant fruit. Use this organic juice to create a tasty cocktail and also be good to your body! Acai is replacing the pomegranate as the trendy cocktail mixer!
1 oz Bacardi Razz
1/2 oz Bacardi Grand Melon
1 oz acai juice
splash of lime juice
1 oz club soda
Shake and serve over ice with a wedge of lime!
SnoCone Machine (The adult version!):
Great for an outdoor party or any event where the weather is warm! The machine runs around $25 at any Target or Wal-Mart and the syrups come in all sorts of colors; why not do red white and blue sno cones?! Kids will love them, and you can add flavored vodka for the adults! Be a kid again with a kick!
The Updated Burger Bar:
In addition to putting out all sorts of fun toppings from shredded cheese, grilled onions, to potato chips, have 10 different sauces to choose from. What about ALSO all different burgers themselves? Like Kobe beef, Salmon burger, crab cake burger, turkey, etc. That could be cute? People will love to create all sorts of combinations, and with the guests helping themselves, it gives you time to enjoy the fireworks!
We are thrilled to also publish Style Interviews July 2008 Edition today and feature Sal Masekela on the cover.
Sal Masekela is known for hosting the Daily Ten show on E! Entertainment Television, along with Debbie Matenopoulos and Catt Sadler. Sal is also the owner of a production company called: Berkela Films, with movies like "Bra Boys" and "Switch".
While interviewing Sal Masekela and chatting with him about his style secrets, I also learned about his great sense of individuality, and his love for producing.
Other great interviews in Style Interviews July 2008 Edition include: