Hair Tutorial: Pink's look at the 52nd annual Grammy Awards was a shimmering vision of modern glamour. Stylist Marco Santini, who highlighted glistening shine to play up her platinum hair color, and define her texture and subtle grey tips, created the sophisticated red carpet look.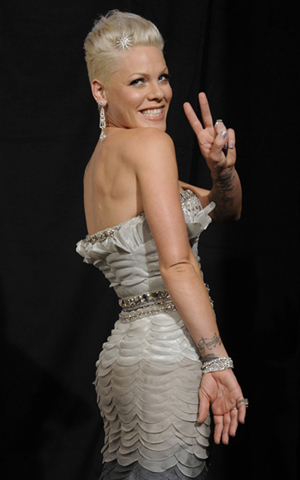 Santini, inspired by her silver-grey gown and the dramatic performance to come, created a unique, flowing shape that emphasized volume, height, and the illusion of movement. He accented the look with a diamond star-shaped pin. Santini stayed with Pink after the red carpet, and was backstage waiting to quickly reproduce the look right after her stunning aerial performance of "Glitter in the Air" during which she was drenched in a shower of water. "I had to work very quickly to restyle her look," explained Santini. "I used Moroccanoil argan oil-infused products because I know they instantly absorb into hair, produce amazing shine, and won't create build up. The look had to appear as fresh, light, and beautiful the second time around as it did for the red carpet."
GET THE LOOK: How Marco Santini Created Pink's Much Discussed Look:
Step 1:
Santini started by applying Moroccanoil Treatment throughout the singer's damp hair to create a silky-smooth shine. He placed a small amount in the palm of his hand then combed through the hair with his fingers.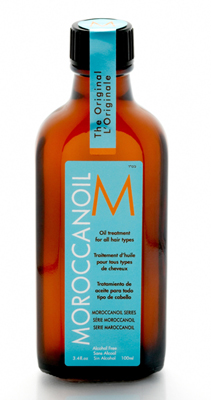 Step 2:
Next Santini applied argan oil-infused Moroccanoil Hydrating Styling Cream from the roots through the ends for lift at the root and to give sofshine-enhancing hold, as well as create a "grip" for his brush while blow drying shape and direction.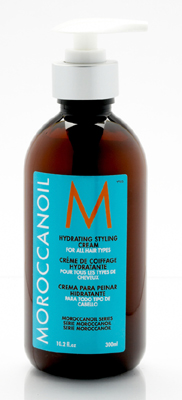 Step 3
After Pink's cropped locks were blow-dried, Santini misted new argan-oil infused Moroccanoil Luminous Hairspray on the outer layer and saturated several layers inside the hair from root to end. Moroccanoil Luminous Hairspray leaves hair looking weightless and gives the hair glistening shine without sticky residue or build-up (especially important in this style since Santini had to reproduce the look after her Grammy performance). Santini then brushed the sides of Pink's hair back and sculpted a rockabilly fold toward the nape of the neck.

Step 4
He finished the look with a light mist of Moroccanoil Glimmer Shine Spray all over the hair (from a distance of 10-12 inches) for an instant boost of shine. The final touch to Pink's Grammy look was a star-shaped diamond brooch that was fastened to the front of her hair. Santini took a small section of hair towards the front of her head and tied it with a clear rubber band., then fastened the diamond brooch to the hair for an elegant touch.
Moroccanoil products used to create Pink's hair look:
Moroccanoil Treatment. a proprietary argan oil-infused formula, is exclusively designed to give hair a natural-looking silky, lustrous shine and a frizz- and static-free finish. It strengthens, conditions and revitalizes hair while significantly reducing drying time. (MSRP:$39.00 / 3.4 fl. oz.)
Moroccanoil Hydrating Styling Cream gives beautifully hydrating and natural-looking hold while eliminating frizz, and adding definition and shine. (MSRP: $30.00 / 10.2 fl. oz.)
Moroccanoil Glimmer Shine Spray creates an instant mist of long-lasting, incomparable shine while protecting hair from the damaging effects of UV light and free radicals. (MSRP: $24.00 / 3.4 fl. oz.)
Moroccanoil Luminous Hairspray for lasting, healthy and natural-looking hold. (MSRP $25.00 / 10 fl. oz.)
Visit: http://www.moroccanoil.com for additional details.