All Posts Tagged With: "mask"
Natural Skincare: Summer skin with Liz Earle Naturally Active Skincare. Introducing Marta's favorite Liz Earle skincare products to keep my skin pampered this summer.
L to R:
Liz Earle Eyebright Soothing Eye Lotion with cornflower witch hazel and organic aloe vera. Eyebright is designed to clean and refresh the delicate eye area. Marta Walsh says: "Love patting Eyebright around my eye area with a cotton ball to remove traces of eye makeup and to get that cooling and super refreshing feel. Works great especially after a late night which happens more often in the summer".
I'm all about good skincare lately! I'm in line with my new year's resolution (remember?) to properly wash my face before I go to bed and moisturize, moisturize, moisturize. My recent skincare helper is SK-II Cellumination Essence $138.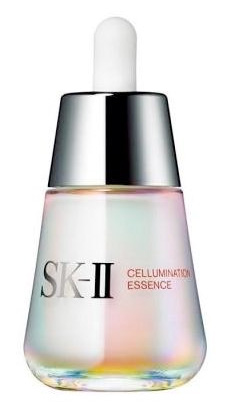 This illuminating serum by SK-II is  formulated to boost skin's translucency and evenness of skin tone and give you that 'Glow From Within" effect. Also contains SK-II's signature ingredient Pitera which is a unique yeast fermentation rich in vitamins, amino acids, minerals and organic acids to enhance the skin's natural rejuvenation process. This SK-II serum is very light and easily absorbs to skin. The result, happy skin in the morning and all day!
Madonna was spotted recently all covered up and guarded from the cold air including her face. The look: Lady Gaga inspired mask perhaps? This is the era of the Lady Gaga-ism my friends!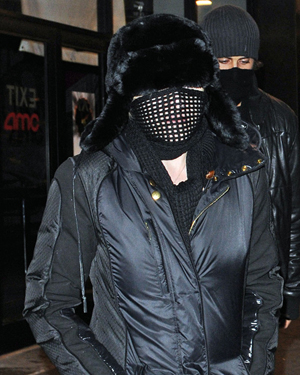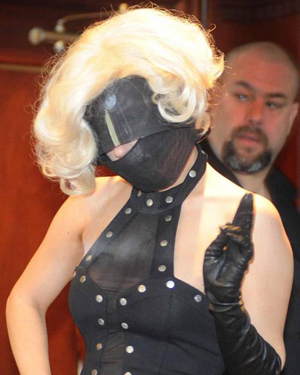 New Year's Resolutions:  Get a fresh start this New Year with a head-to-toe detox from KORRES! This 5 step regimen will help you leave your bad skincare habits in 2009 and start 2010 with a clean slate. These products are specially formulated to undo past damage, remove build up and reveal brighter, more radiant skin.
FOR THE FACE:
Step 1: Pomegranate Cleansing Scrub ($19.50): Exfoliate your face with this gentle, invigorating scrub. Fine Olive Stone grains and Pomegranate extract exfoliate to remove dead skin cells and surface impurities without irritating or stripping the skin, revealing a healthy, glowing complexion.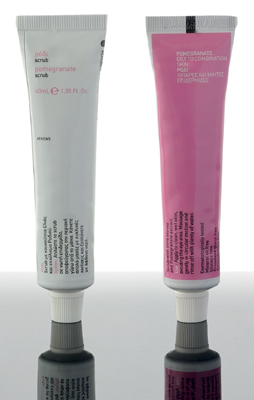 The NUDE Selection: An essential collection featuring beauty editor favorites, showcased in an elegant package. The Selection Box offers a skincare regime handpicked by experts and is the perfect stocking stuffer or holiday treat.
Food Inspired Beauty: KENZOKI Marshmallow Mask.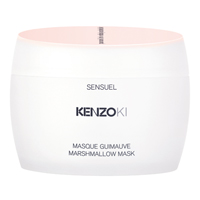 Keep your face smooth and nourished with KenzoKI's new Marshmallow Mask. A rich, mellow texture envelops the skin while ingredients cocoa butter, cameline oil and cotton butter go to work to hydrate and repair. The Marshmallow Mask is gentle enough to be used once or twice a week on normal and dry skin, and is lightly scented with rice steam.
La Mer Introduces The Hydrating Facial, October 2009: La Mer's next big launch, The Hydrating Facial, is hitting counters this week!
Dr. Max Huber's legacy of healing and renewing the skin is celebrated once again with La Mer's introduction of  The Hydrating Facial. The ultimate in moisturization, this two-zoned mask delivers superior hydration through a luxurious, sensorial, spa-like experience to reawaken the appearance of youth. In minutes, dry complexions are renewed, visibly transforming the skin. Skin is left hydrated, nourished, smoothed and conditioned with a resilient healthy glow, ready to receive the benefits of Crème de la Mer.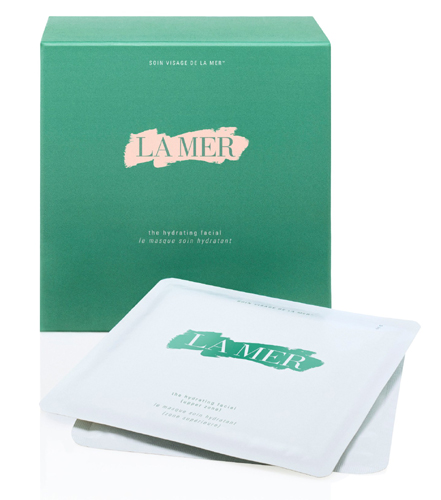 Skin concerns such as dryness, fine lines and dark spots are all addressed in the 100% cotton, two-zoned mask that is saturated with the fast-acting formula.
La Mer's Hydrating Facial contains a trio of transformative benefits that makes this new product so effective: