La Mer Introduces The Hydrating Facial, October 2009: La Mer's next big launch, The Hydrating Facial, is hitting counters this week!
Dr. Max Huber's legacy of healing and renewing the skin is celebrated once again with La Mer's introduction of  The Hydrating Facial. The ultimate in moisturization, this two-zoned mask delivers superior hydration through a luxurious, sensorial, spa-like experience to reawaken the appearance of youth. In minutes, dry complexions are renewed, visibly transforming the skin. Skin is left hydrated, nourished, smoothed and conditioned with a resilient healthy glow, ready to receive the benefits of Crème de la Mer.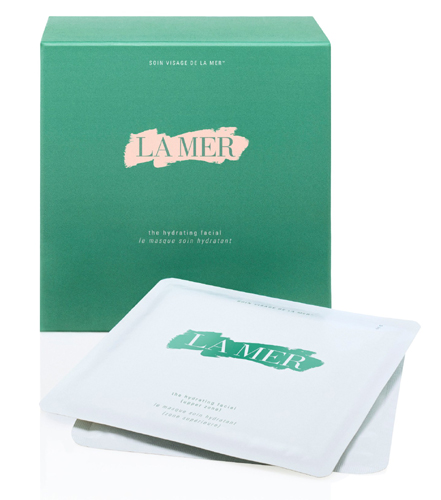 Skin concerns such as dryness, fine lines and dark spots are all addressed in the 100% cotton, two-zoned mask that is saturated with the fast-acting formula.
La Mer's Hydrating Facial contains a trio of transformative benefits that makes this new product so effective:
Super Hydrators: The Sea Moist Ferment, a special blend of dark green algae gathered from all over the world in countries such as Japan, Indonesia, Brittany and the US, infuses the skin with intense hydration.
Super Anti-Agers: Marine plant algae such as Ascophyllum Nodosum and Aparagopsis Armata help to diminish visible signs of aging. Dark spots and discoloration begin to fade in appearance, revealing a clearer, more even complexion. The Hydrating Facial also contains cellular lipids and plant extracts derived from melon and avocado to provide a smoother skin texture.
Super Energizers: Ultra soft to the touch, the spun-lace cotton mask is embedded with tourmaline and Mariponic Ferments that energize and set molecules into motion. The Hydrating Facial mask drives the formula into the skin, boosting hydration. When making The Hydrating Facial, a high energy inversion process is used to blend the formula together creating a liquid crystal structure. This gives the formula the properties of both a solid and a liquid. As a solid, the formula suspends andprotects the ingredients while still on the mask. When applied to the skin, the formula has the properties of a liquid as it delivers activity to the skin. This advanced formula saturates the plush mask for enhanced penetration to condition and soothe sensitivities. Skin becomes softer and looks smoother.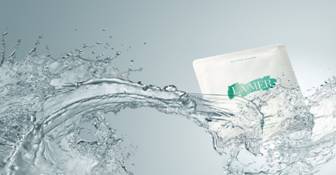 Usage:
Apply upper zone mask on clean skin. Gently smooth and press into place.
Next, apply lower zone mask, gently smoothing and pressing into place, overlapping at the cheekbones. Leave on for 8 minutes. Gently remove and pat remaining treatment over face and neck, allowing skin to fully absorb the extraordinary benefits.
The Hydrating Facial
Suggested Retail Price $250 for 6 applications
The Hydrating Facial will be available in October 2009 at select Saks Fifth Avenue, Neiman Marcus, Bergdorf Goodman, and www.lamer.com