All Posts Tagged With: "SK-II"
SK-II is excited to launch a new, limited edition Facial Treatment Essence for Mother's Day! Celebrate mother's day with the perfect gift inspired by Sakura, Japanese cherry blossoms.
This is a New York Fashion Week FW 2017 Report. Backstage at the MONSE Fall/Winter 2017 RTW Collection in New York, Makeup Artist Gucci Westman prepped models' skin with luxury skincare brand SK-II prior to makeup application.
"The inspiration for the beauty look was inspired by a deconstructed, urban film noir-type girl," said Gucci Westman. "A girl that feels very real, approachable, and beautiful."
To ensure each model had a luminous, radiant complexion, Gucci applied the iconic SK-II Facial Treatment Essence, followed by GenOptics Aura Essence and the NEW R.N.A. Power Eye Cream (launching this month!)
SK-II is excited to introduce their new February 2017 launch – R.N.A. Power Eye Cream!
To help combat the effects of the long, dry winter months and restore skin's natural radiance in the new year, SK-II introduces their new GenOptics collection – SK-II GenOptics Aura Essence & SK-II GenOptics Spot Essence. After a busy holiday season leaves skin dull and dehydrated, these new lightweight serums will brighten and hydrate skin to reveal a radiant, glowing complexion.
SK-II GENOPTICS:
At the Monique Lhuillier Spring/Summer 2015 show in New York, Monique Lhuillier presents a collection that evokes the opulence of a budding sunrise sky; painted with soft-petal shades, translucent reflections and iridescent satin.
To achieve a dreamlike look, SK-II prepped models backstage by applying a Facial Treatment Mask to cleansed skin.
I'm a big fan of SK-II skincare especially their Skin Signature line. The new addition is their SK-II Skin Signature Eye Cream and it's simply fabulous. I'm very picky with skincare, haircare, makeup and all things beauty. Ha! I only recommend products that actually work for me. This eye cream is super hydrating, bit heavy so perfect for the cold winter months, has a very pleasant scent, long lasting moisture, and fast absorbing. Looks like it ticks all the boxes.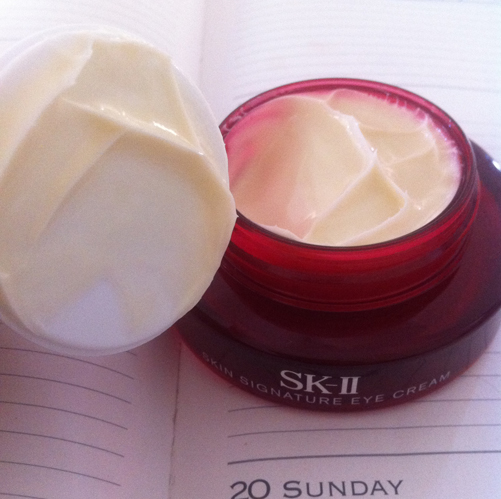 SK-II Skin Signature Eye Cream
The NEW SK-II Skin Signature Eye Cream is available at SK-II counters from October 2011. 15 ml/$110.
My Japanese friends tells me that SK-II is a super star skincare line in Japan and that every girl wants it. Well, I know why because I'm in love with all SK-II skincare products. Their latest SK-II Cellumination Mask-In Lotion is not exception. Once I started using it I couldn't stop. It's an intense hydrating fast absorbing  liquid lotion.I use it in the morning or evening right after I wash my face. Worth trying.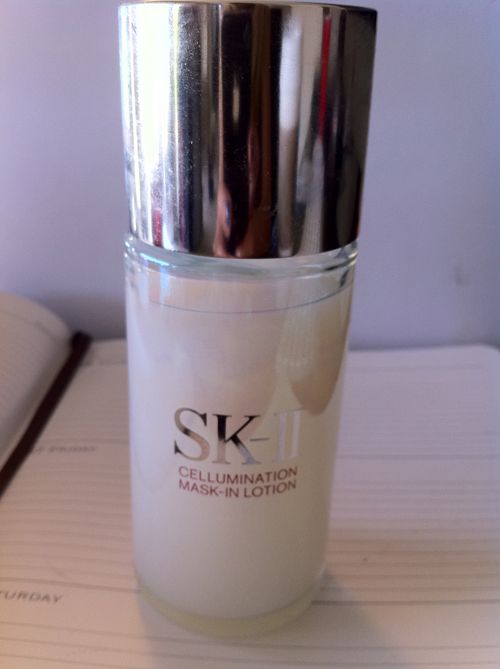 SK-II Cellumination Mask-In Lotion
More about SK-II Cellumination Mask-In Lotion & Facial Treatment Cream Foundation HERE.
Great Skincare Products. These 2 new products SK-II Cellumination Mask-In Lotion & Facial Treatment Cream Foundation are the latest from SK-II Skincare this spring. I've been using SK-II & LOVE it. My favorites so far are: SK-II Facial Treatment Essence which I use first thing after my shower and before putting any creams on, it's instant hydration. SK-II Skin Signature the cream of all creams, total luxury for my face. SK-II Skin Signature 3D Redefining Mask the days I feel my skin needs extra TLC.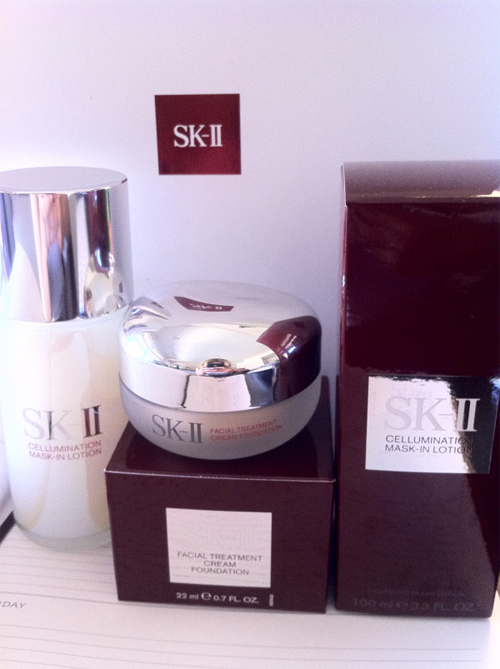 The NEW SK-II Cellumination Mask-In Lotion ($75) & Facial Treatment Cream Foundation ($95)
SK-II Cellumination Mask-In Lotion, according to SK-II "is a very unique product to the market and is the brand's first pre-Lotion. Within 15 seconds of application, the silky lotion provides the same amount of hydration as a traditional cloth mask."
Cate Blanchett, who presented the award for best makeup at the 83rd annual Academy Awards is known for her flawless complexion. When you have flawless skin like Cate, you don't need much makeup. To get her award-winning look, the actress prepped her skin with SK-II Facial Treatment Essence and SK-II Facial Treatment Masks, both of which contain the highest concentration of SK-II's key ingredient, Pitera®.
What Cate Says About Facial Treatment Essence:
"SK-II is fundamentally different from other lines based on one indispensable product – the Facial Treatment Essence. It is like nothing I have ever used before, a clear liquid that you simply press into your skin. It clarifies and moisturizes. It basically does it all. As a result, my skin looks more balanced and healthy."
Luxury Moisturizing Creams: SK-II Skin Signature ($205).
SK-II's Skin Signature Cream has a light texture, yet provides long-lasting moisturization and is designed for both the day and night skin care regimen. The key is the unique formulation containing skin conditioners, together with Vitamin B3, Pitera and Oli-Vityl, a new ingredient for SK-II derived from an olive species that thrives in Tuscany, Italy. Marta Walsh is completely in love. If you had to buy just one face cream, then maybe this is the one. Simply amazing!

SK-II Skin Signature in 'real life'