Ahead of her time as an arbiter of style and color authority, Mademoiselle Chanel recognized and revered the color black as a symbol of luxury, modernity, sophistication and seduction. Today, Peter Philips creates a tribute to black with an avant-garde collection of trend-defining eye, lip and nail shades, uncovering the many nuances and undertones of this iconic shade. While these statement-making tones are more daring than demure when worn together, they can easily achieve a quiet elegance when color is limited to either the eyes, lips or fingertips.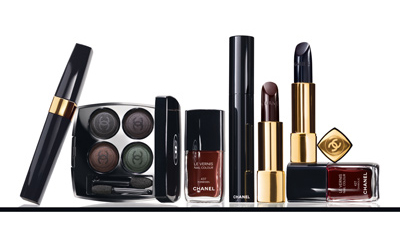 ROUGE ALLURE LUMINOUS SATIN LIP COLOUR Limited Edition: Three limited-edition shades of the iconic lipstick exemplify the seductive feel of the collection. The lip colors are an enigmatic play on noir, each with a different, nuanced undertone. $30.00 MANIAC HYSTERIA OBSCURE
QUATUOR BOUTONS DE CHANEL QUADRA EYE SHADOW Limited Edition: Nowhere is black's mystique more strikingly expressed than on the eyes. A shade quartet of deep green, mahogany, midnight blue and dark violet — embellished with the coveted CHANEL signature — creates a dramatic, yet sophisticated look. $60.00
INIMITABLE NOIR OBSCUR MASCARA MULTI-DIMENSIONNEL & EXCEPTIONNEL DE CHANEL NOIR OBSCUR INTENSE VOLUME AND CURL MASCARA: Black is elevated to a new level of intensity with the introduction of NOIR OBSCUR, an extreme, black shade of the best-selling CHANEL mascaras. Lashes are coated in deep, luxurious color for the most intensely dramatic effect. $30.00
LE VERNIS NAIL COLOUR: For the perfect finishing touch, new edgy yet elegant shades of black for fingertips. $23.00
DIABOLIC VENDETTA FORBIDDEN
On counter: November 2009
Available at www.CHANEL.com , select CHANEL boutiques and department stores.