All Posts Tagged With: "La Mer"
It's Breast Cancer Awareness month aka BCA and the Estée Lauder Companies has many of your favorite beauty products designed especially to raise funds for the Estée Lauder Companies' Breast Cancer Research Fund. Last month during my visit to New York City during Fashion Week Spring 2010 I was given an incredible opportunity to participate in an Estée Lauder special Breast Cancer Awareness event. Listening to Evelyn Lauder's speech and the rest of the Estée Lauder team I can't tell you enough how passionate they are about the Breast Cancer cause!!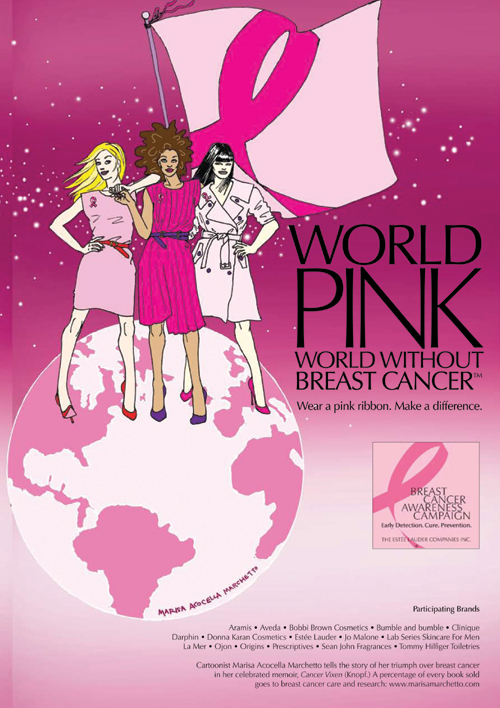 Here are highlights of some of the people involved in the Estée Lauder Breast Cancer Awareness Campaign and And Fundraising, and the beauty products you can purchase where portions of their proceeds go towards the Breast Cancer Research Foundation.
Actress Elizabeth Hurley and Evelyn Lauder: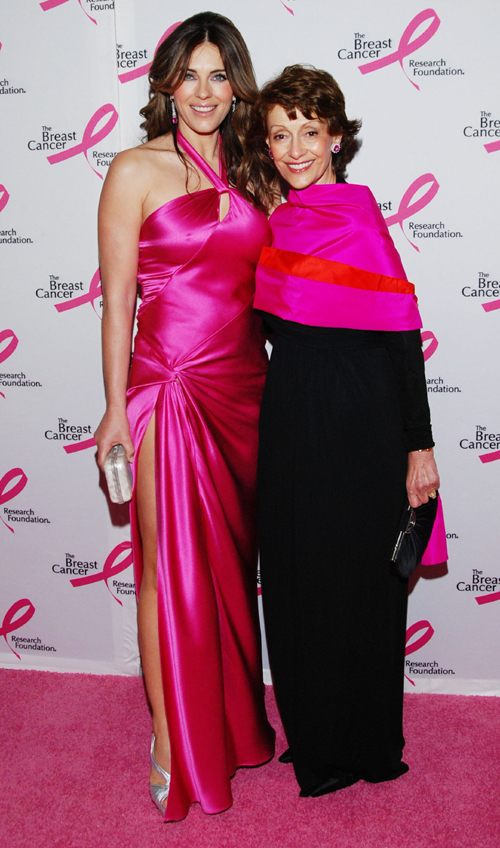 From Left: Steven Plofker, Elizabeth Hurley, Elton John, Evelyn Lauder, and Bobbi Brown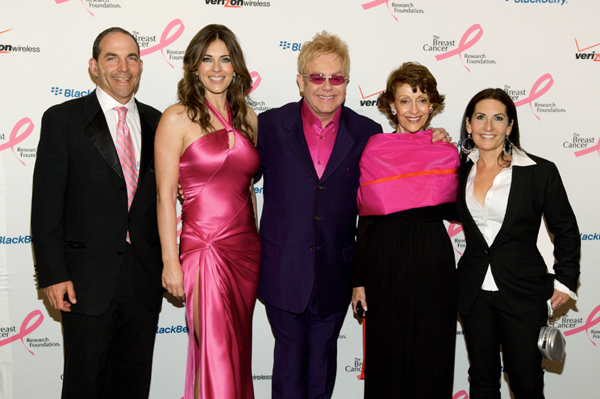 La Mer Introduces The Hydrating Facial, October 2009: La Mer's next big launch, The Hydrating Facial, is hitting counters this week!
Dr. Max Huber's legacy of healing and renewing the skin is celebrated once again with La Mer's introduction of  The Hydrating Facial. The ultimate in moisturization, this two-zoned mask delivers superior hydration through a luxurious, sensorial, spa-like experience to reawaken the appearance of youth. In minutes, dry complexions are renewed, visibly transforming the skin. Skin is left hydrated, nourished, smoothed and conditioned with a resilient healthy glow, ready to receive the benefits of Crème de la Mer.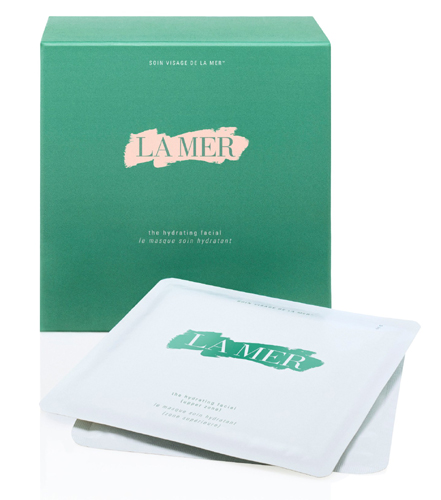 Skin concerns such as dryness, fine lines and dark spots are all addressed in the 100% cotton, two-zoned mask that is saturated with the fast-acting formula.
La Mer's Hydrating Facial contains a trio of transformative benefits that makes this new product so effective:
A big winner last night – Best Actress in a Comedy Toni Collette.
Toni Collette's makeup artist Gita Bass also shares some her La Mer favorites that helped her get Toni looking red carpet ready. Her top picks? "Prepping for the Emmy's we used La Mer's The Body Lotion, The Lip Balm and La Mer's new Radiant Concealer SPF 25." A big win and a great beauty look had Toni glowing all evening.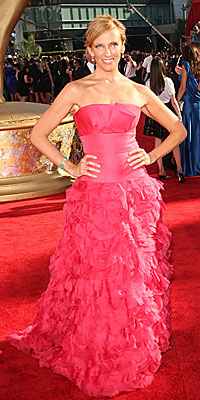 Toni Collette's image via instyle.com
If you loved Christina Hendricks' look last night at the 2009 Emmy Awards, Talking Makeup is excited to share with you some tips on how to get Christina's look at home.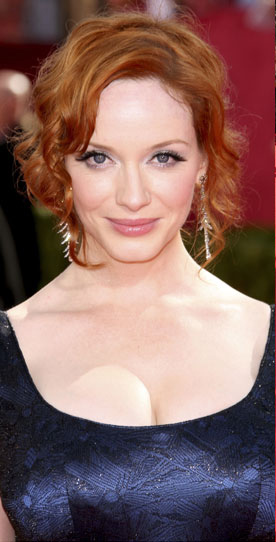 Makeup artist Georgie Eisdell shares some of her La Mer must haves for the big night:
Prepping Christina Hendricks for the evening, her makeup artist Georgie Eisdell says, "The look we went for with Christina had a little 20's influence. I wanted it to keep Christina's makeup really fresh, clean and elegant. I prepared her skin with La Mer's The Moisturizing Lotion – it's perfect to hydrate the skin with being greasy and a perfect base for foundation. Next, I love La Mer's Treatment Fluid Foundation SPF 15 for Christina. It is light on the skin but gives excellent coverage where needed.
Vogue Fashion's Night Out Saks Fifth Avenue New York.  An international celebration of fashion and retail promotion.
"The Ten Reasons to Believe": Join La Mer at Saks Fifth Avenue New York to discover ten reasons Crème de la Mer has become the most coveted skincare treatment in the world.

For the first time ever, Robin Shandler, Executive Director of Global Product Development, The Max Huber Research Labs, will be on hand to personally answer questions while guests enjoy signature La Mer skincare and Skincolor treatments. Shop, pamper yourself and discover the miraculous benefits that have made La Mer a true beauty legend.
WHEN: Thursday, September 10th 2009
7:00 to 10:00 PM
WHERE: Cosmetics Floor
Saks Fifth Avenue
611 Fifth Avenue
La Mer Introduces The Radiant Concealer SPF 25: The Max Huber Research Labs designed La Mer's gemstone-infused Skincolor Collection to help capture light and transfer its energy to the skin, continuously enhancing the benefits of La Mer skincare. Providing a translucent color palette, La Mer Skincolor allows the skin to be washed with light to invisibly and completely smooth away imperfections, revealing a naturally radiant finish. Today, the Max Huber Research Labs unveils the next generation of Skincolor: The Radiant Concealer SPF 25.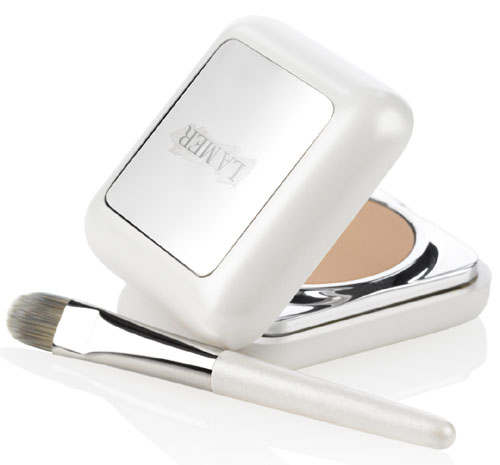 This lightweight cream-to-powder concealer was formulated to instantly camouflage and ease imperfections. Tourmaline and malachite gemstones capture light energy to instantly conceal dark circles and blemishes. The Radiant Concealer SPF 25 optically erases imperfections to create a smooth even finish, while complementing the benefits of The Eye Balm and The Eye Concentrate.
On Monday, June 8th (the first official U.N. designated World Oceans Day ever) La Mer and Oceana held a big celebration in Los Angeles. The celebration attreacted some of Oceana's top celebrity supporters and spokespeople and was reported to be  a wonderful evening for a great cause.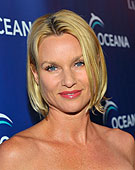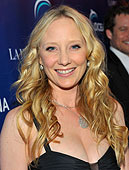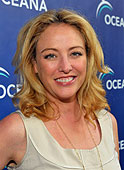 Nicolette Sheridan, Anne Heche, & Virginia Madsen
Oceana Chairman of the Board Keith Addis and Keri Selig hosted a celebration for the first official U.N. designated World Oceans Day with La Mer at their home in Los Angeles. La Mer President Maureen Case and Oceana CEO Andrew Sharpless toasted the collaboration and evening while thanking supporters and special guests including Morgan Freeman, Nicolette Sheridan, January Jones, Anne Heche, Virginia Madsen, Melora Hardin, Kelly Lynch, Rosanna Arquette and champion surfer Karina Petroni.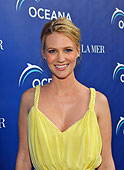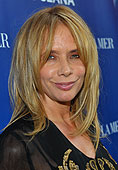 January Jones, Rosanna Arquette, & Melora Hardin
La Mer & Oceana support World Ocean Day, June 8, 2009. Help protect our planet's most precious resource, our oceans. For more info go to: lamer.com and oceana.org
In honor of La Mer's sea heritage and continued support of Oceana, the world's leading international ocean advocacy organization, La Mer is proud to announce that as part of this partnership La Mer has designed a limited-edition 250 ml "World Oceans Day" Crème, with 100% of net proceeds going to Oceana.
Watch La Mer video to learn more about Le Mer & Oceana – World Oceans Day 2009:
With 2009 marking the first U.N. officially designated June 8th as World Oceans Day – the World Oceans Day limited edition Crème de la Mer will be sold in May and June at Saks Fifth Avenue and www.lamer.com
La Mer introduces The Treatment Powder Foundation SPF 15.  Weightless color and precious gemstones smooth away imperfections to reveal a naturally flawless finish. La Mer's potent skincare benefits leave skin looking luminous.
The Treatment Powder Foundation SPF 15: This lightweight compact formula smoothes away imperfections to transform the complexion. A signature Radiant Ferment continuously improves clarity and brightness to illuminate the skin. Airspun seaborne particles – some of the lightest materials on earth – create an imperceptible finish that leaves skin looking naturally flawless all day.
La Mer introduces The Body Refiner. Diamond Infused. Moisture Rich.
Ever since The Max Huber Research Labs began engineering their first body treatments, they have incorporated the most luxurious ingredients to care for skin all over the body. Now, they have poured a wealth of knowledge into the creation of La Mer's latest innovation, The Body Refiner. True to La Mer's heritage, this multi-faceted treatment utilizes precious ingredients-including 1.75 carats of pure diamond dust- to deliver a cushiony resurfacing treatment that both polishes and softens the skin.
Plush, creamy, and calming, The Body Refiner incorporates fermented acidic sea muds harvested from a natural marine source to detoxify and purify skin for a bright, healthy appearance. Their low pH level makes these muds extremely gentle and especially suitable for sensitive skin. This essential purification process clarifies the skin and helps to restore its smoothness.