All Posts Tagged With: "Peter Som"
PETER SOM. " FLAVOR OF THE SIXTIES WITH A BANANA PURPLE EYE… MAKEUP IN A COOL, PLAYFUL WAY."-TOM PECHEUX.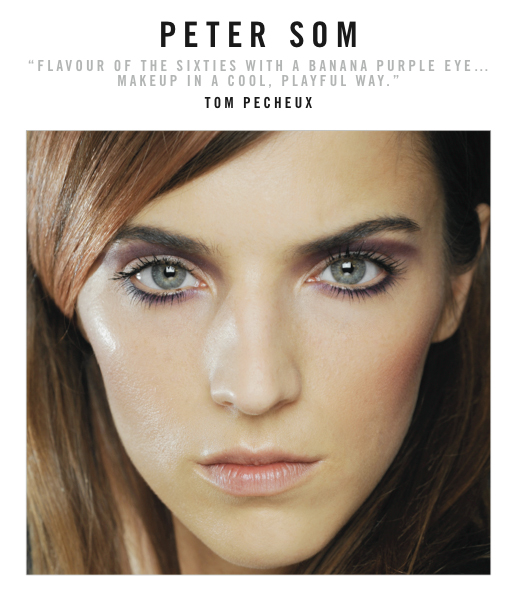 Peter Som Spring 2012, New York Fashion Week
Here's how using MAC makeup:
New York Fashion Week Report. Peter Som FW 2011. Makeup by MAC Cosmetics.
"She's a young woman going for a grown up look with a twist. Eyes are innocent, cheeks are glowing, and the lip is red, but surprisingly bizarre."-Diane Kendal

Peter Som Fall Winter 2011 MAC face chart
New York Fashion Week SS 2011. Designer: Peter Som. Makeup by MAC Cosmetics. The Makeup Look & Inspiration: "We took the iconic '60s eyeliner but made it fresh by doing it in yellow instead of classic black."-Tom Pecheux.
Eye
MAC Pro Primary Yellow Chromaline – brushed on in a precise '60s shape without the outer corner wing.
New York Fashion Week Fall Winter 2010. Show: Peter Som. Makeup by MAC Cosmetics.
The look and inspiration: "The look was Uptown girl meets Woodstock, a shimmery golden eye to contradict the deep, dark purple lip ." – Tom Pecheux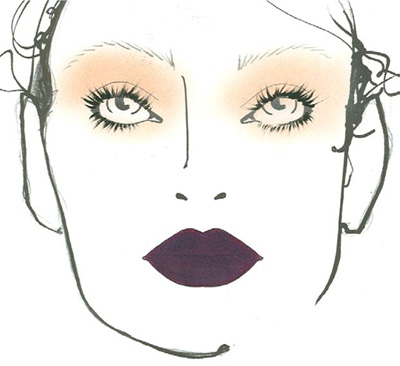 The makeup breakdown, products are all by MAC Cosmetics.
Eyes:
Studio Sculpt Concealer – applied over the eyelid
Set Powder in Invisible – powdered over the eye area to set concealer
Pigment in With Legal – swept over the concealed eyelid from lash to brow and in the inner eye corner
Iridescent Powder in Silver Dusk – lightly applied to the inner eye corner and under the brow bone
Studio Fix Lash – applied to top and bottom lash
New York Fashion Week Fall Winter 2010 Nail Trends: Models at the Peter Som Fall 2010 Fashion Show rocked the runway with Zoya Nail Polish in Charity, $7. The nail look backstage at Peter Som was created by manicurist Jackie Saulsbery. Available at www.zoya.com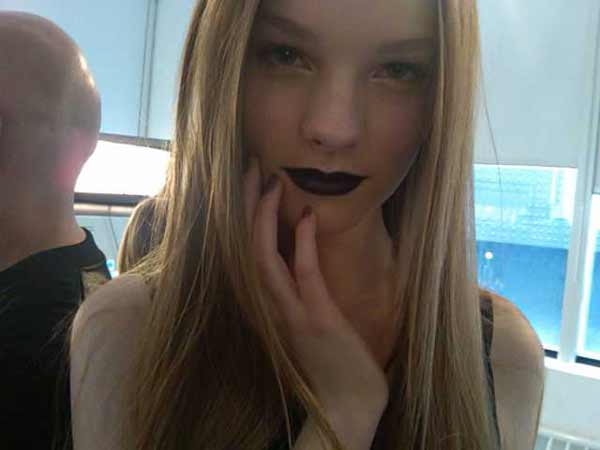 Lancôme is thrilled to announce that they're bringing back the Pout- à-Porter Lipstick series! The previous four lipsticks in this collection were collaborations with celebrated designers Behnaz Sarafpour, Proenza Schouler, Peter Som and Thakoon. All four of the lipsticks sold out and one Proenza Pink lipstick even sold for $122.50 on eBay.
For Spring 2010 Lancôme is collaborating with emerging designer Chris Benz and they need your help!
Lancôme is doing a lipstick naming contest that was announced on Chris Benz's Facebook fan page today (While you're there don't forget to become a fan). The new shade will be inspired by Chris' Spring 2010 collection and will be worn by the models at his show in September.
Thanks to Vogue.TV and Redken you now can win a FREE Redken Full Frame 07 Protective Volumizing Mousse!
HOW TO WIN: all you need to do is watch the Behind the Lens: The Look of Peter Som Fall 2008 video below and leave a comment! That simple!
The first 10 readers who comment on the Behind the Lens: The Look of Peter Som video on Vogue.TV will win a Free Redken Full Frame 07 Protective Volumizing Mousse!
The video below goes behind behind the scenes of the Peter Som fashion show Fall 2008 with Fashion designer Peter Som himself and Redken's Creative Consultant, Guido:
http://www.vogue.tv/#Watch/Video_Player/2/191
Behind the Lens: The Look of Fall 2008 is a four-part series featuring one designer in each of the world's fashion capitals – New York, London, Milan and Paris. The series offers an insider's view into the creative fashion & hair collaborations behind preparing a runway show, highlighting the impact major designers will have on the season's fashion and beauty trends.
From the inspiration behind the designers' vision for their fall collection to the hair and makeup tests, backstage chaos and the fashion show itself, the series features commentary from key players in the creative process, including Peter Som, Luella Bartley, Roberto Cavalli, Jean Paul Gaultier and Redken Creative Consultant, Guido.