The ever beautiful and recently slimmed down Jennifer Hudson recently got together with Sam Fine, celebrity makeup artist and creator of The Basics of Beauty, for a shoot showing off her gorgeous new look. Here, Sam shares with us his insider advice on how you can achieve this flawless and glowing face at home with just a few easy steps.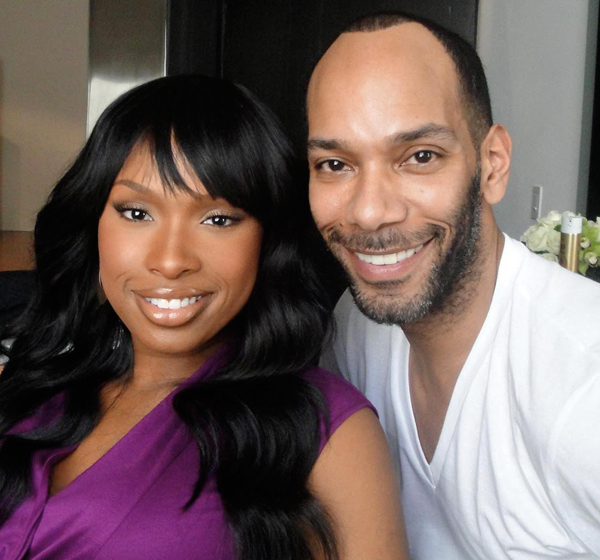 L To R: Jennifer Hudson and Sam Fine
Makeup Tutorial
Coverage: Every great look begins great coverage. Jennifer has beautiful skin, but like many women of color, she has varied tones. I use foundation to unify those varying tones. One of my favorites is the Queen Collection Natural Hue Compact Foundation because it's cream- to- powder, so it dries down to a powdery finish and looks really natural.
Bronzer: Bronzer is always a must for all women to illuminate their complexion. It's important to choose a bronzer that's one shade darker than your natural skin tone and apply it to the outer perimeter of your face to warm the skin and create a halo of glow. After applying bronzer, you can go back and layer over blush to give the skin a pop of color. On Jennifer, I used CoverGirl Natural Hue Mineral Bronzer and Cargo's matte blush in Laguna.
Eyes: To create Jennifer's classic, natural eye, I used a brown shadow. Shu Uemura makes a great pressed eye shadow in an array of shades – in this case, their Matte Taupe with Golden Flakes Eyeshadow works perfectly. For this look, I didn't use a ton of liner, and totally avoided lining underneath her eyes to keep them soft. We used tons of mascara to enhance her look – my favorite is LashBlast from CoverGirl. I always like to apply a coat of mascara, and then move on to something else to let the first coat dry. I'll come back a few minutes later, curl the lashes, and then layer on a few more coats of mascara to really build the lashes. This makes them much more dramatic and makes the curl hold well. It's like spraying your hair with a coat of hairspray before using a curling iron.
Lips: To complete her look, I gave Jennifer a beautiful nude lip. The key to a nude lip is to begin by lining the lips with liner that is one shade darker than your natural lip color. Don't worry about matching the liner to your lipstick – if you match it to your lips, it will look great with any shade of lipstick. After lining the lips, feather the liner towards the center of the mouth to great a base for the lipstick. Next, apply your lipstick. On Jennifer, I chose IMAN Cosmetics' Luxury Moisturizing Lipstick in Citron. I finished by slicking on a golden gloss add dimension and shine. CoverGIRL's Shine Blast Lip Gloss is perfect!
For more in-depth how-tos plus more expert tips and tricks, check out The Basics of Beauty, available at amazon.com.