FREDERIC FEKKAI CELEBRITY STYLIST ADIR ABERGEL CREATED A SLEEK AND MODERN STYLE FOR NOMINEE, AMY ADAMS.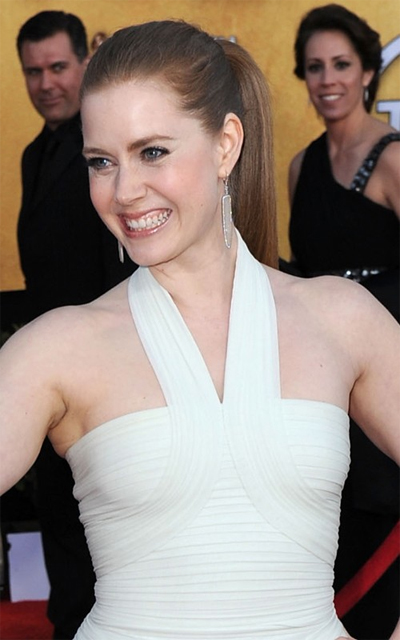 INSPIRATION: 
The dress was a statement on its own so Abergel wanted to accentuate the dress; this look is a sleek statuesque do with a modern twist
HOW TO GET THE LOOK:
Abergel applied Fekkai Coiff™ Contrôle Ironless Straightening Balm from the roots to the end of the hair and sprayed Fekkai Coiff™ Bouffant Lifting & Texturizing Spray Gel at the hair line to achieve the sleek 'do.
Next, he blow dried the hair straight with a round brush. With a straightening iron, he sealed the ends to achieve the flat style. He then pulled the hair into a high ponytail. A great tip for this is to follow the cheek bone line all the way up, and then place the base of the ponytail at that point. He secured the hair with an elastic band, for an added dimension. Finally for added shine, he finished the look by spraying Fekkai Advanced Brilliant Glossing Sheer Shine Mist.
FREDERIC FEKKAI CELEBRITY STYLIST RENATO CAMPORA CREATED A SIMPLISTIC & ROMANTIC STYLE FOR JANUARY JONES
INSPIRATION:
Campora was inspired by the styles of the 1950's. This look is dramatic, sharp and fresh to reveal January's natural beauty.
HOW TO GET THE LOOK:
On wet hair, Campora began by applying Fekkai Advanced Full Blown Styling Whip to create volume and Fekkai Coiff™ Contrôle Ironless Straightening Balm to smooth out the hair. He parted the hair to the side and blow dried using a round brush. To accentuate the wave, he used a one inch curling iron setting the hair into pin curls. Once he took the curls out, Campora brushed through the hair creating volume and constructing shape for the style. Then, he pinned the hair up at the center of the head, revealing the nape of her neck for the dramatic look. To finish the look, Renato sprayed Fekkai Coiff™ Sheer Hold Hairspray for all night hold.