All Posts Tagged With: "Neiman Marcus"
Following months of anticipation, Neiman Marcus and Target Corp. unveiled their unprecedented holiday collection. The collection, which features 24 of America's preeminent designers—all members of the Council of Fashion Designers of America (CFDA)—will be available Dec. 1 at all Target and Neiman Marcus stores, as well as online at Target.com and NeimanMarcus.com. In recognition of the 24 designers who created products for the holiday collection, Target and Neiman Marcus are donating a total of $1 million to the CFDA.
Say hello to my new fashion bible The Book by Neiman Marcus. So many fabulous looks shown in this book I want to own:) I find fashion and well-made clothes are addicting. I can't get over the attention to details fashion designers put into their design, this is what makes them classic timeless and an inspiration to future generations.
For instance, I love these wine colored leather pants by Derek Lam…
Last night TM and Marta Walsh were invited to attend the Neiman Marcus Scottsdale Fashion Square Arizona celebration of Fall and Back To School. Also was the highlight the CUSP boutique which is Neiman Marcus' contemporary designer store.
If you're into fashion and into dressing well, and even if you're on the budget, it's worth taking a visit just to learn about all the great designs and hot fashion trends straight from the runways of New York City. CUSP knows what's hot right now, ha!
The Target + Neiman Marcus Holiday 2012 collection is scheduled to debut Dec. 1, 2012. Here's a behind-the-scenes look at the 24 CFDA designers who created exclusive product for this collection, as well as Stacia Andersen, senior vice president of merchandising for Target's home division, and Ken Downing, Fashion Director of Neiman Marcus.
A sneak peek to the VIP Wine Reception held last week, Thursday November 18th, 2010, at the Fratantoni Residence in Silverleaf North Scottsdale. This was a kick off event for the upcoming Cystic Fibrosis Foundation Wine Gala which will be held in March 2011. Before the event I stopped by at the 29 Cosmetics counter at Neiman Marcus in Scottsdale Fashion Square Mall to get my makeup done by the fabulous Hetty.

L to R: Hetty, 29 Cosmetics' makeup expert at Neiman Marcus Scottsdale and Marta Walsh at the Fratantoni Residence in North Scottsdale. Via: www.martawalsh.com.
You must see Hetty for anything 29 Cosmetics when you are at Neiman Marcus at Scottsdale Fashion Square mall, she is an artist. 29 Cosmetics founded by Lydia Mondavi, yes she is related to the Mondavi family and the wine makers. The line is utilizing the benefits of grape seeds, of course. I love how the makeup feels on my skin, the effect is very dewy and elegant.
Introducing Luxury-to-Go, a new way to try before you buy Essential Complements Samples by La Prairie. Starting week of March 15th, 2010, at La Prairie counters nationwide.

La Prairie, the renowned Swiss beauty company best known for their cult-favorite Caviar and Platinum-infused anti-aging creams, will be doling out complimentary "essential" trial samples from a particular collection to clients who participate in an at-counter skincare consultation. The trial samples of assorted eye, serum and face products are signature La Prairie chic and luxury, meaning packaged in deluxe tubes and jars – no messy packets.
I'm already a huge fan the La Prairie Anti-Aging Longevity Serum and this is why I'm excited about La Prairie's latest addition: White Caviar Illuminating Système.
About White Caviar Illuminating Système from La Prairie: Luxury Swiss beauty company La Prairie is dedicated to keeping skin as young looking as possible, as long as possible, and that means launching high-performance products to target lines, wrinkles and now, age spots.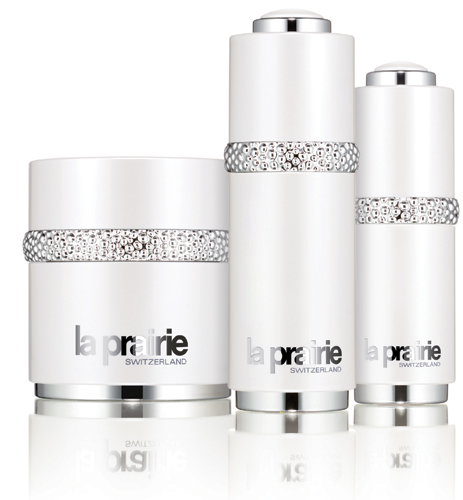 Introducing White Caviar Illuminating Système from La Prairie, which includes:
White Caviar Illuminating Cream – $450
White Caviar Illuminating Serum – $450
White Caviar Illuminating Eye Serum – $250
This holiday season delight loved ones with a gift for the bath, body or home from British fragrance house Jo Malone. Luxurious and unique, Jo Malone offers the perfect gift for everyone on your list. Each offering is elegantly presented within the iconic cream-coloured box and tied with a grosgrain ribbon. When opened, the Jo Malone experience begins to unfold.
Gifts For The Home
Tea Box Deluxe Candle Collection: Elegantly understated, the Tea Box Deluxe Candle Collection brings a sense of refinement to the home. A suite of three Deluxe Candles are presented in a stately cream-coloured box accompanied with a silver-plated wick trimmer, candle snuffer and key. The Collection features Eau De Cologne, Parma Violets and Sweet Almond Macaroon Deluxe Candles; each candle includes an engraved Jo Malone Candle Lid. 3x400g 395 US / 450 CAN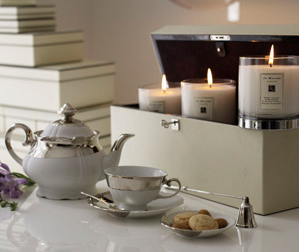 Pomegranate Noir Deluxe Candle: Combining the sweet, fruity notes of raspberry, pink pepper and pomegranate with patchouli, frankincense and spicy woods, the Pomegranate Noir Deluxe Candle envelops a room and lingers for hours. The Pomegranate Noir Deluxe Candle includes an engraved Jo Malone Candle Lid and is beautifully presented in a Jo Malone signature gift box. 400g 130 US / 150 CAN
Talking Makeup is excited to share with you shu uemura's Artistic Director Gina Brooke's latest creation of custom diamond eye shadow as part of Madonna's new look for her Sticky & Sweet 2009 summer tour.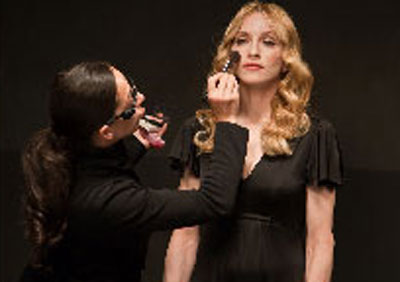 Madonna makeup with Gina Brook for shu uemura
Inspired by Madonna's hit song "Ray of Light", Brooke, who has been working with Madonna since 2002, transforms Madonna's eyes nightly by applying a mixture of crushed, small flawless diamonds and white eye shadow to her lids. "The resulting brightness and glow from Madonna's eyes captivate the audience and reinforces the fact that there are always new possibilities with make up – and no rules," commented Brooke.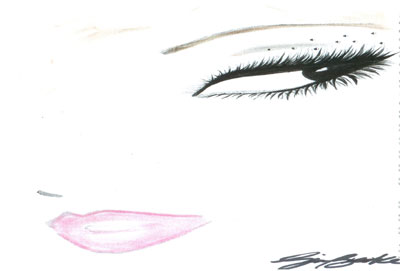 To create this sparkling and bright look, Brooke adds shu uemura's ME White 906 Pressed Eye to provide a soft, gorgeous light-reflecting, diamond like effect. Brooke feels that any woman of any age can wear a shimmery, ethereal shade like ME White 906. A little sheen helps enhance the eyes and gives an instantly younger appearance. Madonna is always up for trying new things and I think all women should feel comfortable experimenting and enhancing their beauty – on stage or off," stated Brooke.
Karl Lagerfeld will launch Kapsule, a trio of mix 'n match unisex fragrances, this coming November.
It is Lagerfeld's first fragrance project under new licensing arrangements with Coty; a company representative noted that: Lots of people are doing three fragrances, but only at an expensive price, as a limited edition. Here, the idea was to say we will propose a capsule wardrobe of fragrances…at a price that is in line with the market. 
Kapsule Light was developed by perfumer Mark Buxton, and has notes of bitter orange, jasmine, nutmeg, clove and musk.