All Posts Tagged With: "Candle"
Launched this week, diptyque introduces a new limited edition Valentine's Day Collection titled Rosa Mundi, which includes a new candle, scented oval, solid perfume, scented drawer liners and a multi-use fragrance. What makes this collection even more special is that diptyque has partnered with Antoinette Poisson, the French domino paper making company which specializes in interior design wallpaper, for the design of the collection. They have hand created two unique domino paper designs for the brand in honor of the Rosa Mundi scent.
Rosa Mundi Candle, Drawer Liners and Scented Oval
Wild Garden NEW Space NK Candle Collection: Indulge your senses with Nicky Kinnaird's new assortment of exclusive signature scents inspired by the ardent aromas of a wild garden. Each NK Candle is hand poured and blended with essential oils and the highest quality wax.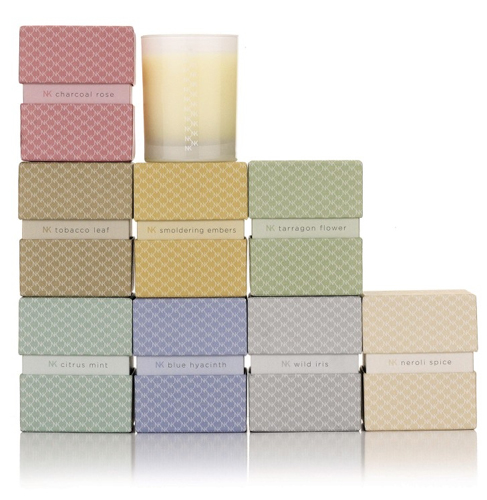 Blue Hyacinth
The essence of freshly cut blue hyacinth is blended with paperwhite narcissus, creamy gardenia and cashmere wood
This holiday season delight loved ones with a gift for the bath, body or home from British fragrance house Jo Malone. Luxurious and unique, Jo Malone offers the perfect gift for everyone on your list. Each offering is elegantly presented within the iconic cream-coloured box and tied with a grosgrain ribbon. When opened, the Jo Malone experience begins to unfold.
Gifts For The Home
Tea Box Deluxe Candle Collection: Elegantly understated, the Tea Box Deluxe Candle Collection brings a sense of refinement to the home. A suite of three Deluxe Candles are presented in a stately cream-coloured box accompanied with a silver-plated wick trimmer, candle snuffer and key. The Collection features Eau De Cologne, Parma Violets and Sweet Almond Macaroon Deluxe Candles; each candle includes an engraved Jo Malone Candle Lid. 3x400g 395 US / 450 CAN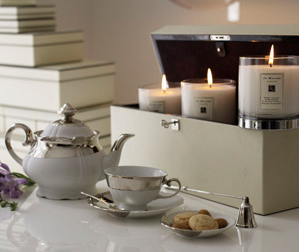 Pomegranate Noir Deluxe Candle: Combining the sweet, fruity notes of raspberry, pink pepper and pomegranate with patchouli, frankincense and spicy woods, the Pomegranate Noir Deluxe Candle envelops a room and lingers for hours. The Pomegranate Noir Deluxe Candle includes an engraved Jo Malone Candle Lid and is beautifully presented in a Jo Malone signature gift box. 400g 130 US / 150 CAN