Talking Makeup is excited to share with you shu uemura's Artistic Director Gina Brooke's latest creation of custom diamond eye shadow as part of Madonna's new look for her Sticky & Sweet 2009 summer tour.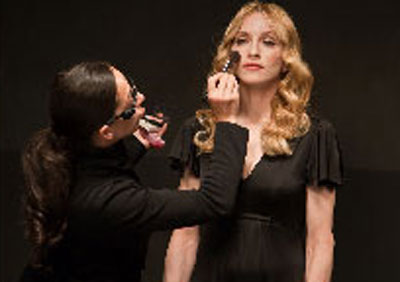 Madonna makeup with Gina Brook for shu uemura
Inspired by Madonna's hit song "Ray of Light", Brooke, who has been working with Madonna since 2002, transforms Madonna's eyes nightly by applying a mixture of crushed, small flawless diamonds and white eye shadow to her lids. "The resulting brightness and glow from Madonna's eyes captivate the audience and reinforces the fact that there are always new possibilities with make up – and no rules," commented Brooke.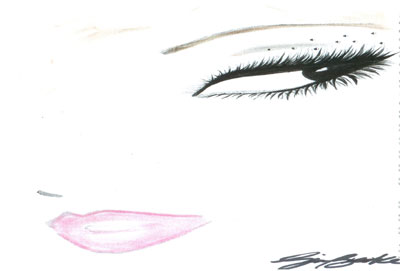 To create this sparkling and bright look, Brooke adds shu uemura's ME White 906 Pressed Eye to provide a soft, gorgeous light-reflecting, diamond like effect. Brooke feels that any woman of any age can wear a shimmery, ethereal shade like ME White 906. A little sheen helps enhance the eyes and gives an instantly younger appearance. Madonna is always up for trying new things and I think all women should feel comfortable experimenting and enhancing their beauty – on stage or off," stated Brooke.
Beginning with Madonna's beautiful eyes, Brooke adds shu uemura's ME White 906 Pressed Eye to provide a soft, gorgeous light-reflecting, diamondlike effect. "Since she is playing big stadiums, I decided to further enhance the shadow's diamond-like effect by using real diamonds around
Gina Brooke's collaborations with Madonna include three worldwide concert tours (Reinvention 2003, Confessions 2006 and Sticky & Sweet 2008) as well as numerous music videos, photo shoots and red carpet events. In 2004, Brooke collaborated with shu uemura to create a pair of custommade mink lashes for Madonna. In 2006, she took the idea to a revolutionary level by creating a pair of diamond and minkencrusted lashes for Madonna. After overwhelming interest from consumers, the shu uemura lashes were created and sold exclusively at Neiman Marcus for US$10,000 a pair.