All Posts Tagged With: "Gina Brooke"
New Hot Makeup: Hourglass Cosmetics' Fall 2010 launches – Film Noir Full Spectrum Mascara and a brand new lipstick collection – Femme Rouge Velvet Crème Lipstick. Both were a collaboration between Hourglass founder Carisa Janes and Artistic Director Gina Brooke. In case you are not familiar with Gina, she is Madonna's uber-talented makeup artist and has worked with a lot of other A-list celebrities such as Anne Hathaway and Naomi Campbell.

Gina Brooke with model
Gina Brooke, shu uemura artistic director will make a personal Appearances and Meet & Greets across the country! Gina has worked on some of the most beloved faces in the world including Madonna, Gwen Stefani, Anne Hathaway, Eva Longoria, Britney Spears, Naomi Campbell, Giselle Bundchen, Fiona Apple, Jewel, Cindy Crawford, Dania Ramirez, Justin Timberlake and David Beckham.
WHERE, WHEN & HOW:;
Saturday, October 10, 2009 – GARDEN CITY!
Nordstrom Roosevelt Field
630 Old Country Road
Garden City, NY 11530
(516) 746-0011
11am – 7pm– Book an appointment where you will meet Gina and get personalized recommendations for your look!
For a personalized look by Gina Brooke and to reserve your space for this exclusive appearance, simply call 516-746-0011 extension 1429.
Talking Makeup is excited to share with you shu uemura's Artistic Director Gina Brooke's latest creation of custom diamond eye shadow as part of Madonna's new look for her Sticky & Sweet 2009 summer tour.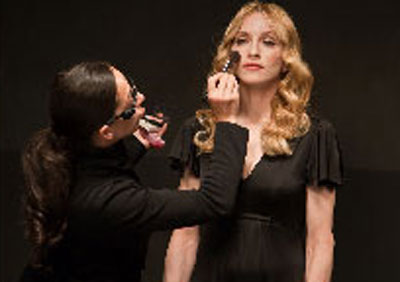 Madonna makeup with Gina Brook for shu uemura
Inspired by Madonna's hit song "Ray of Light", Brooke, who has been working with Madonna since 2002, transforms Madonna's eyes nightly by applying a mixture of crushed, small flawless diamonds and white eye shadow to her lids. "The resulting brightness and glow from Madonna's eyes captivate the audience and reinforces the fact that there are always new possibilities with make up – and no rules," commented Brooke.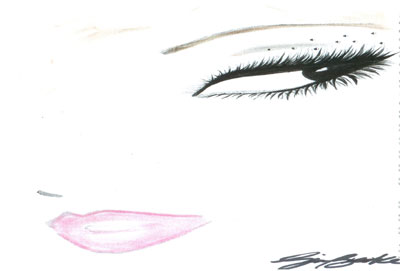 To create this sparkling and bright look, Brooke adds shu uemura's ME White 906 Pressed Eye to provide a soft, gorgeous light-reflecting, diamond like effect. Brooke feels that any woman of any age can wear a shimmery, ethereal shade like ME White 906. A little sheen helps enhance the eyes and gives an instantly younger appearance. Madonna is always up for trying new things and I think all women should feel comfortable experimenting and enhancing their beauty – on stage or off," stated Brooke.
shu uemura Tokyo Lash Bar 2009 Lashes In Nature mystic scenes of nature meet the exquisite art of lashes!
A fashion statement for the eyes, exclusively from the atelier artists of shu uemura, Tokyo Lash Bar's Lashes in Nature offers the most artistic collection of false eye lashes yet. The dynamic meeting of minds, personalities, geographic locations and aesthetic approaches of shu uemura makeup masters Gina Brooke, Kakuyasu Uchiide, Yuji Asano and Mina Matsumura resulted in nine wearable masterpieces.
Infused with inspiration from flowers, forests, oceans and the sky, all lashes are a perfect balance of nature, science and art. With a lash for every eye, Lashes in Nature offers bold, charming, delicate, dramatic and cheeky options in the forms extravagant "premium", decorative "statement" and everyday "accent" lashes.
Flower Garden-Ster Collection! By Gina Brooke, Artistic Director Inspired by a flower's ability to lift spirits and engender energy, Gina Brooke created three pairs of false eyelashes as a way to share her sensibilities with the world. "Flowers have always inspired me," says Brooke. "I glanced at my garden and, seeing large arrangements of beautiful peonies and lavender, I instantly decided to use these flowers as my lash inspiration."
Gina Brooke Celebrity Makeup Artist and shu uemura Artistic Director personal appearance at Barney's Madison Ave, NYC.
Before embarking on a worldwide tour with Madonna, makeup artist to the stars Gina Brooke will make a rare in-store appearance at Barney's Madison Avenue to share her exclusive beauty tips and tricks with the gorgeous women of New York City.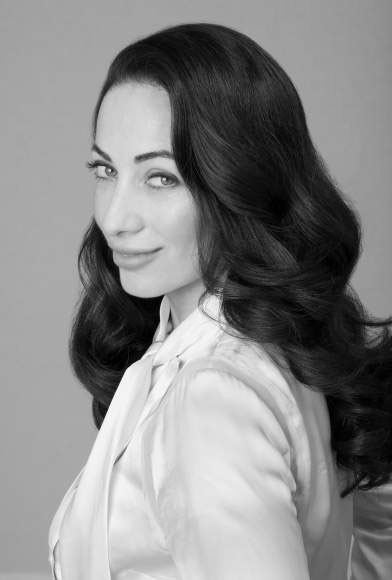 WHEN & WHERE: On June 13, from 11:00 a.m. to 7:00 p.m. Barney's Madison Avenue / 660 Madison Avenue/ New York, NY 10021. Customers can call to book an appointment: (212) 833-2007
Gina will be on hand to meet with clients one-on-one. Gina will assess the makeup needs and create customized looks for each of her clients.
Highlighting the must-have products for the season, including her brand new Tokyo Lash Bar "Lashes in Nature" lashes, Gina will focus on key elements to achieve each client's desired look and will educate each
person on how to produce the same look at home.
shu uemura's new Cream Eye Shadow: Just dip your finger into shu uemura's new Cream Eye Shadow, the latest addition to the Japanese beauty brand's impressive catalogue of shadows, and discover your inner artist. This beautifully blendable and buildable silky cream shadow, offered in a kaleidoscope of colors, is a true makeup expert tool that is easy for anyone to create an array of stunning eye makeup designs. Just in time for summer, this waterproof formula will last from morning till night.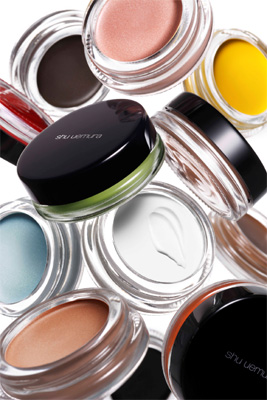 BLENDABLE AND BUILDABLE TEXTURE: Blend and build the Cream Eye Shadows to add exquisite dimensions and nuances to your eyes. The solid formula is made of a combination of wax, oil and jellifying agents, which soften the texture and make it easy to blend with other shades to create unique colors. Silicone oils allow the formula to glide over the eyelids with ease and comfort. Gorgeous contrasts in color and texture can be created when layered with pressed eye shadow.