All Posts Tagged With: "shu uemura's new Cream Eye Shadow"
shu uemura's new Cream Eye Shadow: Just dip your finger into shu uemura's new Cream Eye Shadow, the latest addition to the Japanese beauty brand's impressive catalogue of shadows, and discover your inner artist. This beautifully blendable and buildable silky cream shadow, offered in a kaleidoscope of colors, is a true makeup expert tool that is easy for anyone to create an array of stunning eye makeup designs. Just in time for summer, this waterproof formula will last from morning till night.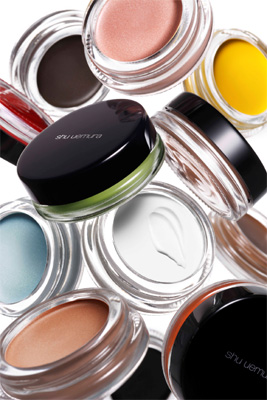 BLENDABLE AND BUILDABLE TEXTURE: Blend and build the Cream Eye Shadows to add exquisite dimensions and nuances to your eyes. The solid formula is made of a combination of wax, oil and jellifying agents, which soften the texture and make it easy to blend with other shades to create unique colors. Silicone oils allow the formula to glide over the eyelids with ease and comfort. Gorgeous contrasts in color and texture can be created when layered with pressed eye shadow.