All Posts Tagged With: "Thakoon"
Lancôme is thrilled to announce that they're bringing back the Pout- à-Porter Lipstick series! The previous four lipsticks in this collection were collaborations with celebrated designers Behnaz Sarafpour, Proenza Schouler, Peter Som and Thakoon. All four of the lipsticks sold out and one Proenza Pink lipstick even sold for $122.50 on eBay.
For Spring 2010 Lancôme is collaborating with emerging designer Chris Benz and they need your help!
Lancôme is doing a lipstick naming contest that was announced on Chris Benz's Facebook fan page today (While you're there don't forget to become a fan). The new shade will be inspired by Chris' Spring 2010 collection and will be worn by the models at his show in September.
New Fashion Week Fall 2009 recap by NARS Cosmetics: NARS Cosmetics was backstage creating the makeup look at Thakoon.  NARS Lead Makeup Artist: Diane Kendal.
TREND: Smoky eyes. Inspiration: The collection took inspiration from the 1940's, reflecting the surrealist images of photographer Lee Miller. Combined with a bit of 80's rock and roll glam, makeup artist Diane Kendal created a strong look without being too girly.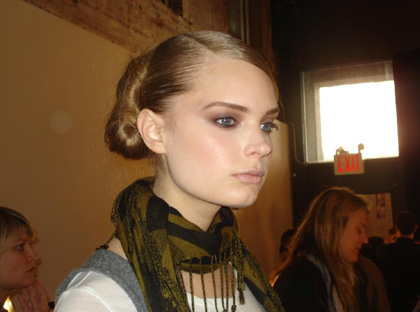 Look: "The look is all about the eyes with soft matte lips for contrast," said Diane Kendal. To bring strength to the face, Diane focused on creating smoky eyes and full brows, while downplaying the lips and keeping skin fresh with a light brushing of blush for a healthy glow.