All Posts Tagged With: "New Fashion Week Fall 2009"
While watching the Tory Burch Fashion Show during New York Fashion Week Fall 2009, I spotted Kim Raver from Lipstick Jungle as one of the Tory Burch's celebrity guests.
Kim Raver is best known for her role as Nico Reilly on the TV show Lipstick Jungle.
Other celebrities seen at Tory Burch that night, included: Amanda Bynes and Kanye West.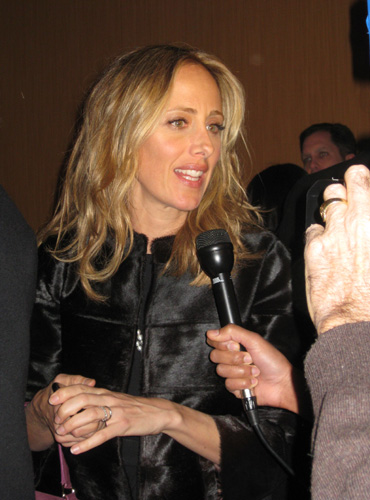 Lipstick Jungle Kim Raver at Tory Burch.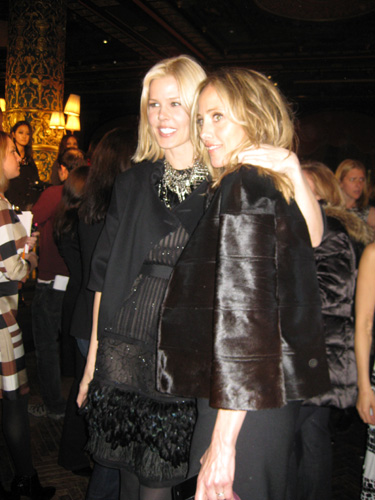 Kim Raver (right) not sure whi is on left lol:) Do you know? 
I took this short video backstage at Vivenne Tam during New Fashion Week Fall 2009. Makeup was done by MAC Cosmetics and hair by Nexxus. The video is called: MAC Makeup Eye Liner Application Backstage at Vivienne Tam. A makeup artist applies MAC eye liner on a model. Next time I should try to make the video a bit longer.
New Fashion Week Fall 2009 recap by NARS Cosmetics: NARS Cosmetics was backstage creating the makeup look at Thakoon.  NARS Lead Makeup Artist: Diane Kendal.
TREND: Smoky eyes. Inspiration: The collection took inspiration from the 1940's, reflecting the surrealist images of photographer Lee Miller. Combined with a bit of 80's rock and roll glam, makeup artist Diane Kendal created a strong look without being too girly.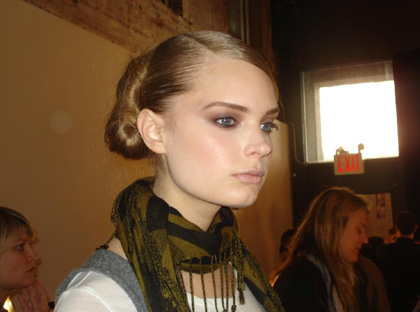 Look: "The look is all about the eyes with soft matte lips for contrast," said Diane Kendal. To bring strength to the face, Diane focused on creating smoky eyes and full brows, while downplaying the lips and keeping skin fresh with a light brushing of blush for a healthy glow.
New Fashion Week Fall 2009 recap by MAC Cosmetics: Fashion Designer: Top Pecheux. MAC Lead Makeup Artist: Catherine Malandrino.
"A modern interpretation of the optical efects of Man Ray." Tom Pecheux.
Eyes: Vex and Scene eye shadows – blended over eyelids, up past the crease of the lids and along the lower lashline to create a gray wash on the eyes. Print eye shadow – gently applied over gray shadow to ad a blue tint. Blacktrack Fluidline – lining the top lashline and slightly extended past the outer corner of the eyes. Another thin black line was created by folowing the arch of the brow bone above the crease of the lid, and another folowing the lower lashline under the eyes.