All Posts Tagged With: "Tory Burch Fashion Show"
While watching the Tory Burch Fashion Show during New York Fashion Week Fall 2009, I spotted Kim Raver from Lipstick Jungle as one of the Tory Burch's celebrity guests.
Kim Raver is best known for her role as Nico Reilly on the TV show Lipstick Jungle.
Other celebrities seen at Tory Burch that night, included: Amanda Bynes and Kanye West.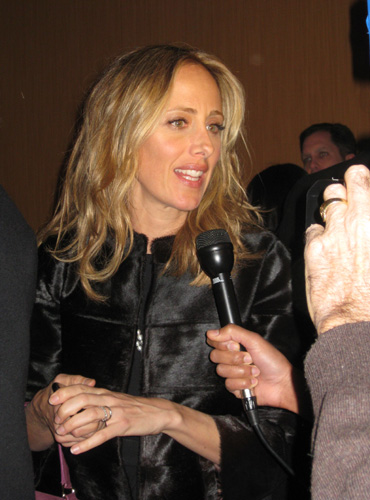 Lipstick Jungle Kim Raver at Tory Burch.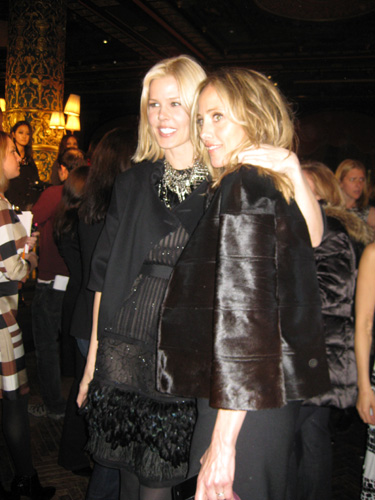 Kim Raver (right) not sure whi is on left lol:) Do you know? 
New York Fashion Week Fall 2009: I was supposed to cover backstage at Tory Burch fashion show during New York Fashion week last week, and for some reason I arrived when the show actually began. I have lots of great show coverage but missed the backstage hair & makeup look. Thanks to Daily Makeover Editors Rachel Hayes and Megan McIntyre, I have the scoop for you!
Tory Burch Goes For Bedroom Beauty: "This is a very sexy, gorgeous look," says makeup artist Diane Kendal for MAC.  She used a combination of black and gold shadows to create a sultry, smoky eye. "We didn't use any mascara which gives it an edgier look," she says. A hint of gold shimmer was also in the soft pink blush. "Gold is definitely a popular metallic accent for this season." Lips were neutral and glossy thanks to MAC Cremesheen Glass in Boy Bai, a light, pearly beige.
Kanye West was seen at the Tory Burch fashion show this past Wednesday during New York Fashion Week Fall 2009. And I have a small video of Kanye West and photos. Enjoy!
Tory Burch fashion was one my favorites during New York Fashion Week. I loved the clothes, the models, the music, and Tory Burch herself. Not sure if you've seen Tory Burch's photos before, but she is very pretty!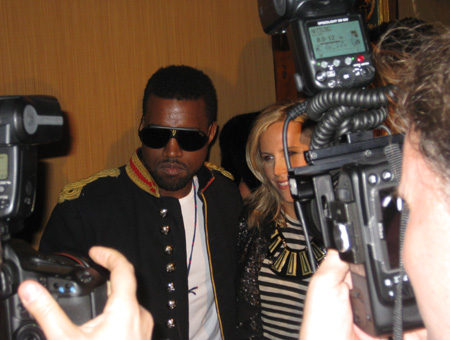 Kanye West (left) Fashion Designer Tory Burch (right). Excuse my photo it is not the best, I was trying to take a photo around very tall people lol and I'm only 5'2!:) (i.e Photo Credit: Marta Walsh).