All Posts Tagged With: "side-swept ponytail"
DKNY Fall 2010 – Hair by Wella's Eugene Souleiman and Eva Scrivo.
The Look: A refined side-swept ponytail projects a sexy equestrian vibe with a subtly strong, yet not too masculine look. The ponytail's length falls over the shoulder on the side where hair is parted, while just a few face framing layers are left to brush along on the opposite side of the face. The effortless elegance of this asymmetric look complements the proportions of any face because it offsets any imbalance of the facial structure.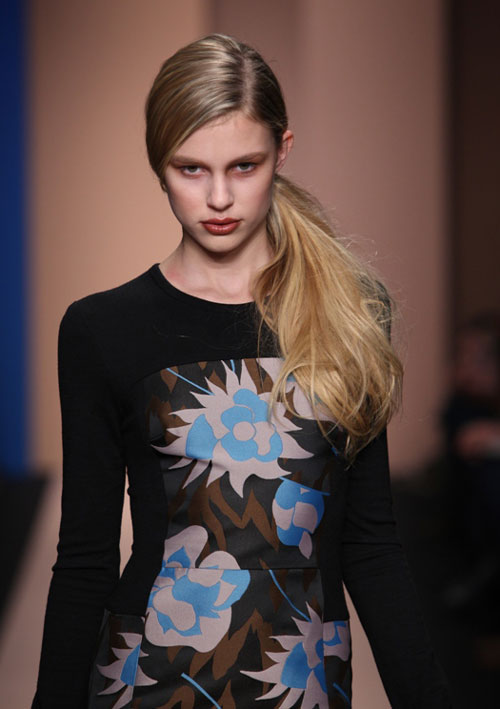 Inspiration: The fall '10 DKNY collection encapsulates NY art and soul, reflecting the convergence of creative worlds and individual style that is the spirit of New York City. The graphic, modern, and unique style resonates throughout the collection, including silhouettes as tall and lean as the skyline. A neutral palette of blacks, charcoal, umber, vicuna and oxblood is brightened with accents of bluebird, sapphire, peach, and oyster. Pieces are architecturally paneled with color, texture, and pattern, but maintain the versatility of the classic urban and sporty chic modernism befitting of NYC sophistication.