All Posts Tagged With: "sleek ponytail"
Cutler set the trend once again at the Donna Karan Resort show that took place on Friday, June 4th, 2010. The sexy, sleek ponytail was a glam accessory for the after-dark fashions that Donna Karan showcased on the runway. Didier Malige for Cutler, who created the look for the show, shares tips with us on how to recreate this sleek pony.
How to get a sleek pony:
1: Spray dry hair with Cutler Volumizing Spray, as well as Cutler Protectant Treatment Spray to add a base to the hair. Using a Mason Pearson brush and a blow dryer, manipulate the product into the hair for added texture and volume
Celebrity hair stylist Ken Paves tells Talking Makeup how to get Nelly Furtado's hairdo at the 2009 AMA's!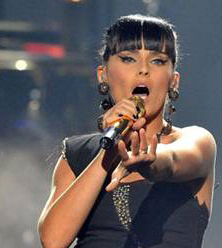 "For Nelly, we (Roberta Rogers from my LA salon and I) created a sleek ponytail with thick, modern chunky bangs. We started by spraying her damp hair with a volumizing spray (try my Ken Paves Healthy Hair Volumizing Spray, $22), and blowing it straight with my Ken Paves Professional Hair Dryer ($100, ULTA), using a Mason Pearson brush.