Redken Creative Consultant Guido worked to create styles for two very distinct powerhouse collections at his last day of shows in Paris this week.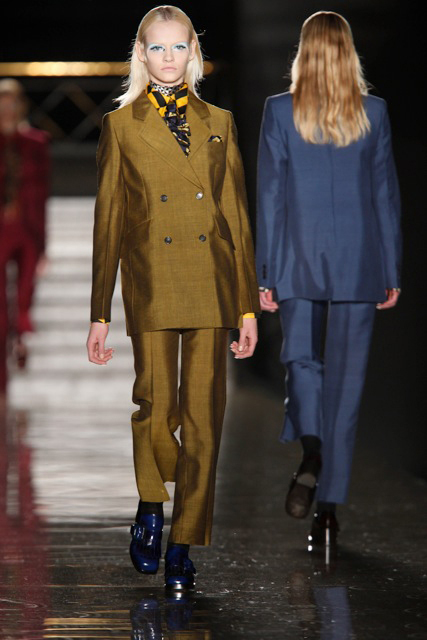 Miu Miu Fashion show Fall 2012
Playing on designer Miuccia Prada's audacious pantsuits in the Fall 2012 Miu Miu collection, he created a 1970's inspired look with a hint of masculinity: a looped "sideburn" on one side of the face. The models all wore oversized 1920's-style hats at Louis Vuitton's Fall 2012 show, and Guido again played what he terms a "supporting actor role." Although no role in the over-the-top show could really have been small, as Marc Jacobs tried to outdo himself yet again this season with models emerging from a full-scale locomotive trailed by porters carrying their bags.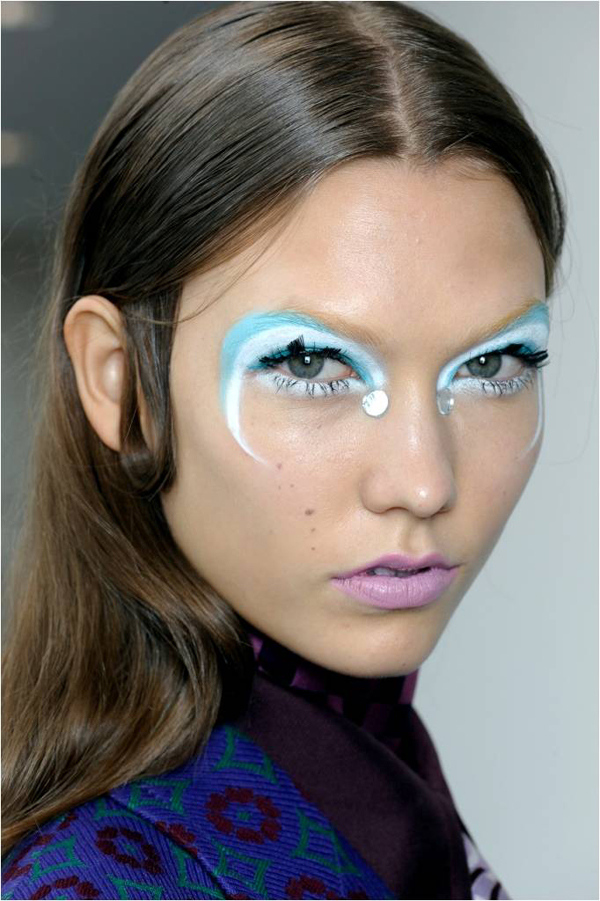 MIU MIU
"The look at Miu Miu today is a very seventies look – I created loops on either side that are inspired by sideburns, but for girls. So the sideburn-like -loop gives it a little bit of a masculine feel, but the rest of the hair is very simple. This simplicity is great as the makeup's quite fun- so it creates a nice balance."–Guido, Redken Creative Consultant
How To
Start with damp dry hair and apply satinwear 02.
Blow-dry just the top of the head so it's smooth but leave the mid-lengths to ends of the hair to dry naturally.
Mist mid-lengths to ends with Nature's Rescue radiant sea spray to give a natural texture.
Create a slightly off center part which is meant look a little boyish.
Take a small section on each side of the face from underneath the bang section and create a loop which stays close to the face, and tuck the end of the loop behind the ear and clip so it stays in place.
Stick it to the face using fashion work 12 and remove the clip.
LOUIS VUITTON
"There is definitely a nod to the 1920's in terms of the hats, clothing and whole look and feel of the show. I created a high topknot so the hats easily went over them. All you see is the hairline in the back so while it seems like a simple hairstyle, I had to make sure each knot was very clean looking." –Guido, Redken Creative Consultant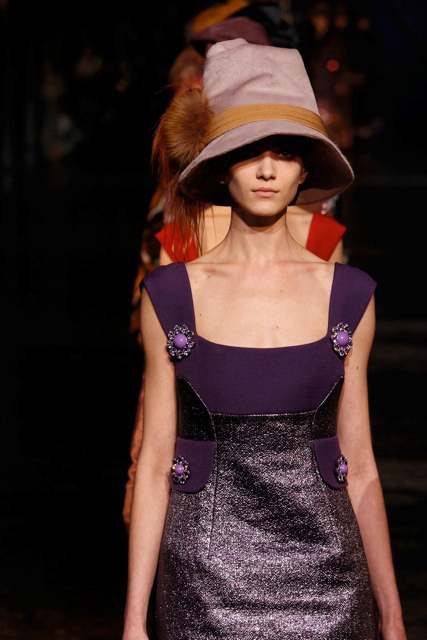 Louis Vuitton fashion show Fall 2012
How To
Apply Extreme Anti-Snap to damp hair and blow-dry, concentrating on the hairline to make it very clean, using a flat boar bristle brush.
Pull hair up into a high ponytail, secure with an elastic, and spray with fashion work 12 to clean up the hairline and any flyaway's.
Twist into a small knot and cover with a small hairnet.
Finish with more fashion work 12.