Redken Creative Consultant Guido created hair with a bit of an edge at Prada today, which offset the beautiful Spring/Summer 2012 collection. "The look for Prada today is a bit like a girl curling her hair and putting in a bobby pin before going out at night- she did her hair herself. It's kind of homemade, not finished, the hair of a woman with a David Lynch darkness– she's more night than day with her hair. But she is overall a Prada woman because there is a refinement to her quirkiness."–Guido, Redken Creative Consultant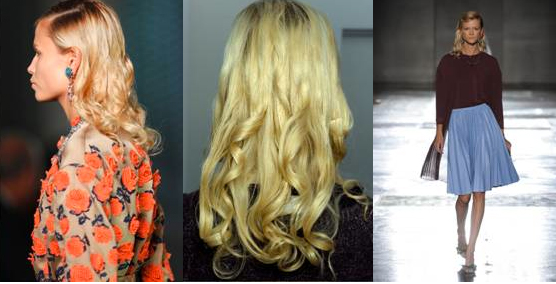 Prada Spring/Summer 2012 collection the hairstyle: Milan FashionWeek
Redken Products Used:
– Satinwear 02 ultimate blow-dry lotion
– Hot sets 22 thermal setting mist
– Fashion work 12 versatile working spray
How to create the hairstyle:
-Apply satinwear 02 to damp hair and rough dry.
-Create a clean left side part and secure with a bobby pin on the right side.
-Tuck hair behind the ears.
-Section the back and apply hot sets 22 to hair and then curl sections using a 1" iron.
-Leave the curls as is (don't brush out).
-On the crown of the head, apply fashion work 12 to create a slicker look and ensure no fly-away's.