All Posts Tagged With: "L.A.M.B"
L.A.M.B – Thursday, February 17th, 2011, at the Theatre at Lincoln Center.

L to R: Gwen Stefani and model at L.A.M.B. Fall 2011 Photo credit: Ann Lawlor
To create a cohesive nail look for the Soldier Girl, Ragga Muffin Girl, London Girl, Buffalo Girl, Mod Girl and Glamour Girl 'gangs' in Gwen Stefani's collection, Pattie used Dashing Diva's Limo Service polish for an edgy take on a neutral polish. The creator of the Love Angel Music Baby line said black is back for polish for Fall/Winter 2011.
See Dashing Diva's Limo Service polish here…
New York Fashion Week. Backstage at L.A.M.B by Gwen Stefani Fall/Winter 2010 hairstyle created by Danilo with Moroccanoil. The Look and Inspiration: Definitely modern. A glance back to the 30's and 40's with an eye toward the future. Glistening Bangs. The graceful ease of Curled Waves. Long hair flowing, or strengthened and rolled up to chin and shoulder lengths. The sweet power of high-shine and beautiful healthy-looking hair.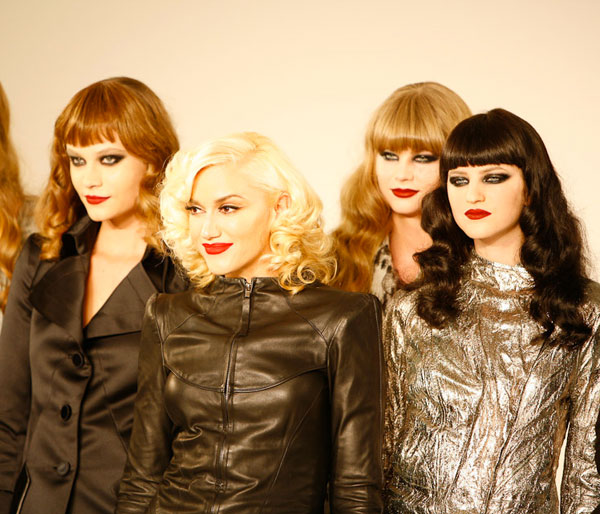 To create the dramatic, eye-catching hair designs for the L.A.M.B. Fall/Winter 2010 Collection master stylist Danilo used a combination of techniques and emphasized smooth waved curls with a very modern, beautifully luminous shine. Professional argan oil-infused Moroccanoil products were layered to achieve the silky texture, refined shine, and provide free-flowing, moveable hold.
New York Fashion Week Fall 2010. Show: L.A.M.B. Makeup by MAC Cosmetics.
The look and inspiration: "The feeling was 1930's prostitute – tramp y, smoky eye, deep "rougeoir" lips and beautiful pale skin."– Charlotte Tilbury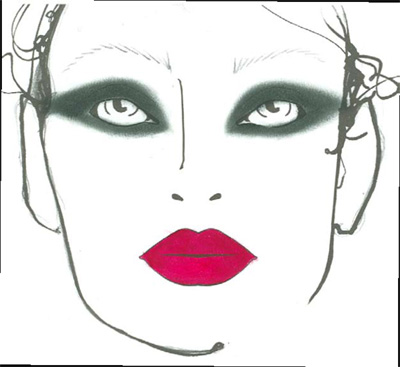 The makeup breakdown, products are all by MAC Cosmetics.
Eyes:
Eye Kohl in Smolder and Fluidline in Blacktrack- blended and smudged around and into the eyelid for a feline-shaped eye
Lip Treatment – dabbed on eyelid over eye kohl for a wet look effect
New York Fashion Week Spring 2010 Report: MAC Cosmetics Makeup Face Charts for 9/10.
Designer: BCBG. Artist: Lisa Butler
"It's all about the individual. The look is finished but not made up."-Lisa Butler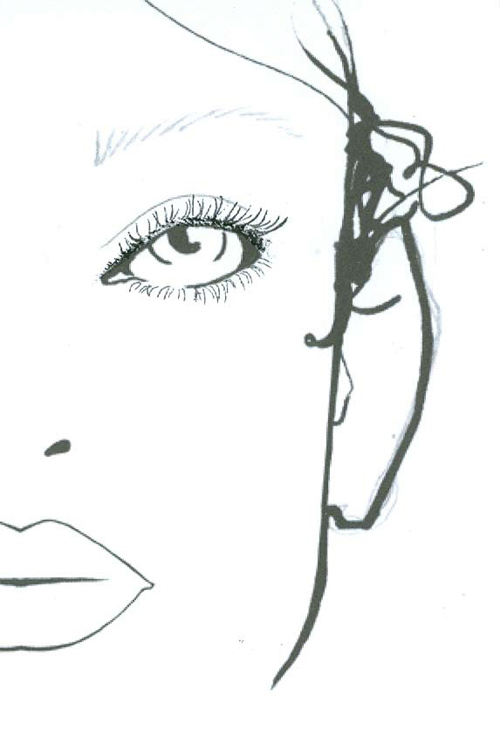 EYE: Zoom Lash in Zoomblack – applied to lash line as messy but chic liner with a 205 Mascara Fan Brush. Zoomblack Mascara – applied to upper and lower lashes. Zoomblack Mascara- applied to upper and lower lashes

FACE: Mineralize SP F15 Foundation – applied to skin where nee ded and under eyes with 217 Blending Brush.

LIP: Lip Conditioner – matted down onto lips with sponge.
Designer: Vena Cava. Artist: Lloyd Simmonds
"The collection is inspired by the graphic wall murals of the Ndebele tribe in South Africa, with a Maude Lebowski take on styling so we created a bold, graphic lip in violet." – Lloyd Simmonds