All Posts Tagged With: "Beyonce Knowles"
Beyonce Knowles looked absolutely beautiful singing "Star Spangled Banner" during President Barack Obama's inauguration event yesterday, January 21, 2013. Her Emilio Pucci dress was just perfection. Do you wonder how to get Beyonce's makeup? Here are some tips to re-create Beyoncé's look from famed celebrity makeup artist Mally Roncal, who worked with her for this special day.
Beyonce Knowles Makeup How To
To first set the skin, apply my Perfect Prep Poreless Primer all over the face and my Cancellation Concealer directly underneath the eyes.
L'Oréal Paris' spokesperson, Beyoncé Knowles, has been chosen by People Magazine as this year's "World's Most Beautiful Woman." Here's how you can get Beyoncé's makeup look using L'Oréal makeup.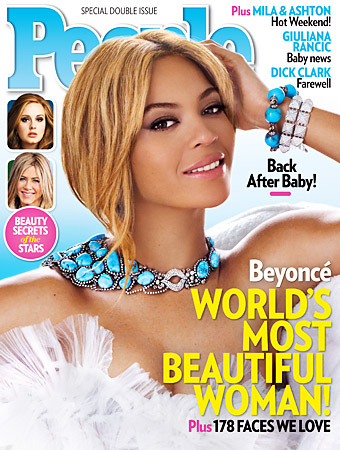 People Names Beyoncé World's Most Beautiful Woman Get The Look With L'Oréal 
How to get Beyoncé makeup look with L'Oréal Paris Makeup
Sultry songstress Beyonce Knowles loves to switch up her hairstyle. This time, she was spotted rocking a messy mane of center-parted voluminous waves. We still see deeper brunette locks peeking out from under a sunburst of lighter highlights gracing the top layers. We wonder how she… Read Full article in DailyMakeover.com

Before Photo: © Dave M. Benett / MTV via Getty Images
After Photo: © Rob Loud/Getty Images
Related Articles:
Hayden Panettiere's Rich Red Haircolor
Last night, Beyoncé toasted the launch of her first fragrance, Beyoncé Heat, with family and friends. She was joined by Jay-Z, Usher, Michelle Williams, Sherri Shepherd and sister Solange Knowles, who dj-ed for the guests, to celebrate her latest venture.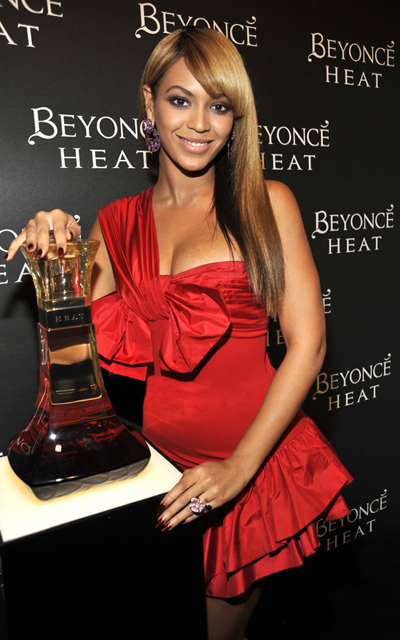 Here's fabulous Beyonce Knowles at the launch of her first perfume : Beyonce Heat. Do you love?
The old Tiffany & Co. building outside of Union Square was transformed to capture the spirit of the new scent. The outside was illuminated in fiery red lights, infusing the scene with a steamy, sexy aura that embodies Beyoncé's unique appeal.
Here's lovely Beyonce Knowles and Chris Martin at the Hope for Haiti Now Telethon on Friday, January 22, 2010. I love Beyonce's new bangs. Definitely a rock star hairdo. Must be amazing to do a duet with Coldplay's Chris Martin. Classic. I'm a huge Coldplay fan. I have a thing for British rock stars as you probably already noticed. In addition, it is beautiful how celebrities come together to give back and help Haiti!
Beyonce got bangs: Do you love?
Britain's It Rock Star Daughters and How I met Simon Le Bon
I've stumbled upon this video of Beyonce for Dereon Spring 2009. Thought to share it with you just because Beyonce is always so beautiful, even her voice is beautiful in this video:)
House of Dereon is a fashion line by Beyonce Knowles.
The 9IX Rocawear The New Fragrance for Men was launched in September 2008 by Rocawear: Rocawear was established in 1999 off of the meteoric success of Shawn "Jay Z" Carter, as an apparel collection to fit the urban lifestyle, and quickly became the destination brand for street-savvy consumers. Today, the brand is a dominant lifestyle apparel brand for a wide range of customers, and has expanded its appeal beyond the national borders and has become a brand of international significance.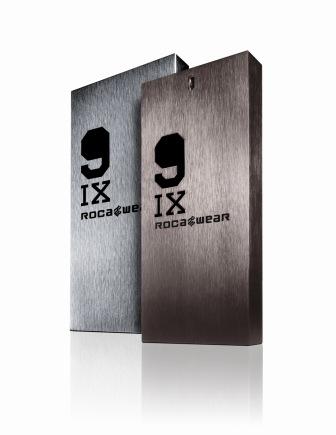 FRAGRANCE: 9IX Rocawear is a fresh woody aromatic scent, with a sexy modern sensuality. Reflecting the essence of the Rocawear brand, this new fragrance delivers a strong, unique personality. Fresh and seductive, 9IX Rocawear captures the bold masculinity of a man with the confidence to achieve anything, while remaining true to himself.

In image above: Jay Z with his very famous partner Beyonce Knowles.