All Posts Tagged With: "Matthew Williamson"
Sienna Miller was spotted with bangs in London, May 26th, 2010, for the the Matthew Williamson's (the handsome man on right) new store opening. I find Sienna's entire look inspiring: dress, shoes, handbag, and red lips. Bangs look great on Sienna, however, I would have to pass that look on me. I do not look good with bangs. It's good to be inspired by others sometimes but I have to keep something of my own.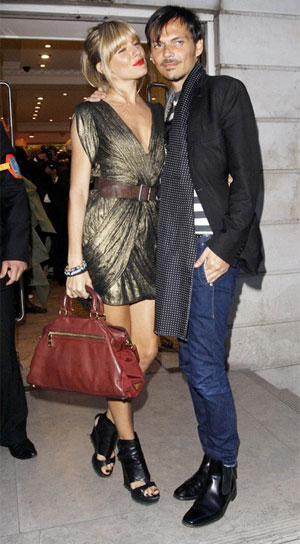 L to R: Sienna Miller and Fashion Designer Matthew Williamson
Sienna Miller Got Bangs: Do you love?
I'm excited to share with you my interview with Leigh Lezark who is Karl Lagerfeld's muse and is one of CHANEL's brand ambassadors. In addition, Lezark is music's "it" girl and the one-third of the New York City-based DJ trio The Misshapes. You might also know Leigh for her modeling particularly from a GAP ad wearing their classic leather jacket. Recently, Leigh who is a long-time fan of Matthew Williamson's designs, wears a limited edition kaftan Williamson has designed celebrating Belvedere Vodka's exciting new flavor, Pink Grapefruit. Leigh, one of New York City's most influential music and fashion muses, will model the print for the first time at the launch party for Pink Grapefruit this month.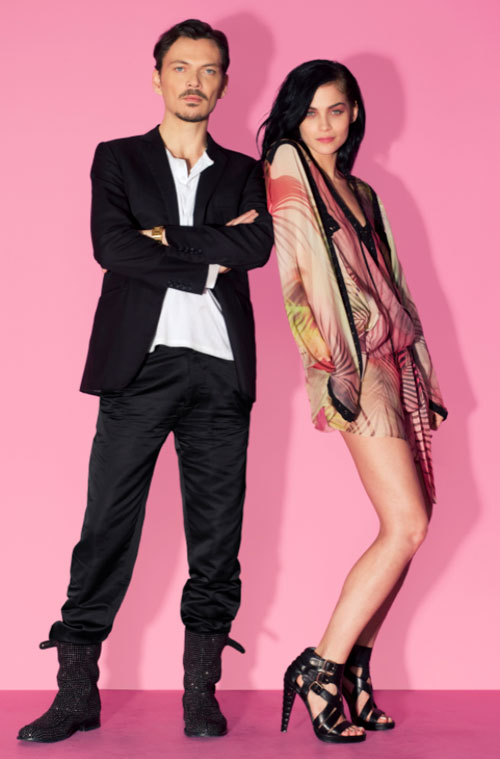 L to R: Fashion Designer Matthew Williamson and Leigh Lezark wearing Matthew Williamson for Belvedere Pink Grapefruit Limited Edition Kaftan. Price: $1060. Available at Matthew Williamson boutiques and www.matthewwilliamson.com/shop.
In this interview Leigh Lezark talks to Marta Walsh about her love for music. The Misshapes. Her modeling experience. What really inspires her. What's in her makeup bag, style, and future plans.
Marta Walsh: Where do you call home?
Leigh Lezark: New York City
Matthew Williamson for Belvedere Vodka. Matthew designs limited edition print kaftan inspired by NEW flavor!
She is music's "it" girl and he is a fashion icon. Just in time for summer, Matthew Williamson has designed a limited edition kaftan as a fashion-forward nod to Belvedere Vodka's exciting new flavor, Pink Grapefruit. Leigh Lezark, one of New York City's most influential music and fashion muses, will model the print for the first time at the launch party for Pink Grapefruit in May 2010.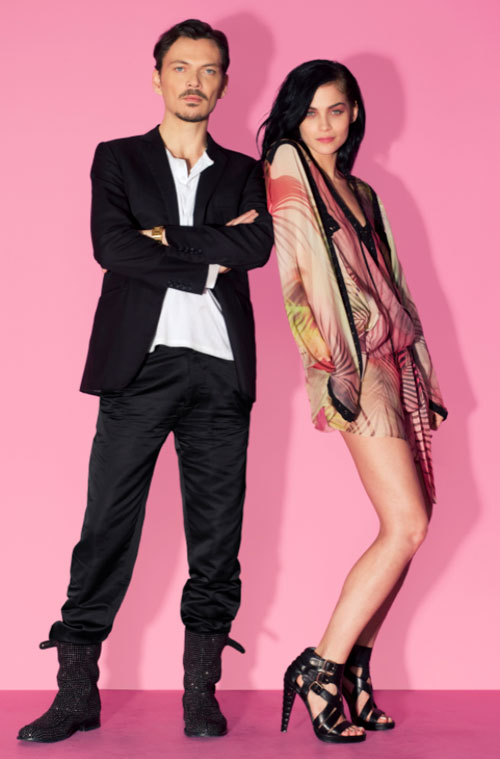 On behalf of Lifetime, Talking Makeup is excited to present a NEW clip from this Thursday's (January 28th, 2010) NEW Episode of PROJECT RUNWAY Season 7! Tune in this Thursday at 10PM/9C to watch the designers butt heads when they have to work in teams of two. As personalities clash in the workroom, tensions come to a head on the runway. The guest judge is designer Matthew Williamson.
Official Website: http://www.mylifetime.com/shows/project-runway
Follow Project Runway on Twitter! http://twitter.com/ProjectRunway
Become a Fan on Facebook! http://www.facebook.com/projectrunway
Matthew Williamson has recently launched his new H&M collection. Aveda was the exclusive hair stylist of his launch party, and you are being let in on a behind-the-scenes look at how to achieve the look for his models!
The inspiration: "Matthew wanted a modern, fresh style that's easy and youthful yet elegant. This look is sleek at the roots with textured, slightly undone ends, very 'nighttime-at-the-beach.' The results complements the bold summer look of his H&M collection."-Kurt Lowry for Aveda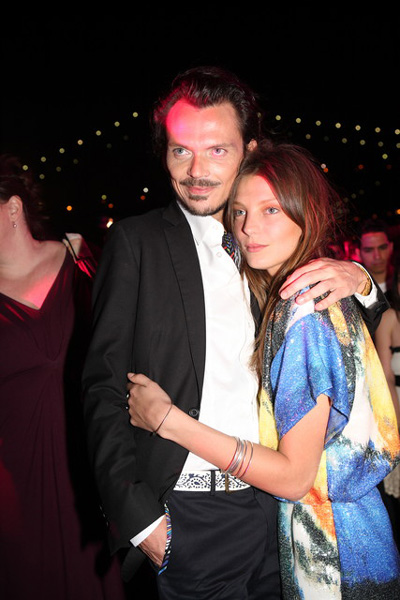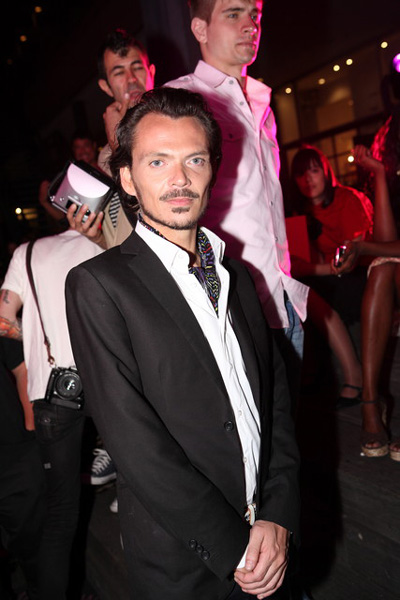 Show: Matthew Williamson for H&M
Lead Hair: Kurt Lowry for Aveda
The Hairstyle: A modern style with straight, sleek hair at the roots and textured thickness through the length.
"This look is reminiscent of natural summer hair. The top might be flattened from a scarf covering at the beach all day and the ends are textured and wind-blown. To create the look at home, create a sleek part and work Aveda Smooth Infusion Glossing Straightener through the top portion of hair. Backcomb ends with your fingers to create texture and spray Aveda Sun Care Protective Hair Veil for added shine."-Kurt Lowry for Aveda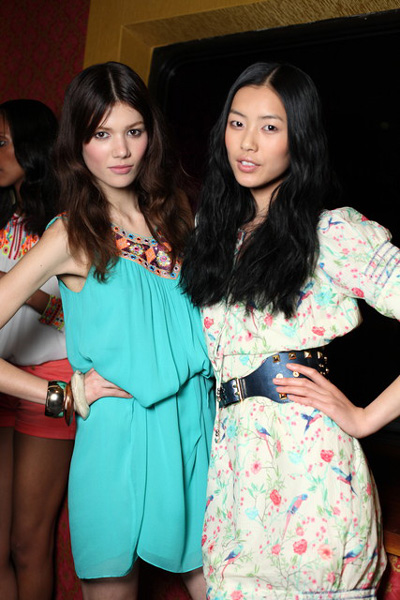 How To Get This Look Step by Step:
ghd Runway Report Fall 2009 New York Fashion Week: MATTHEW WILLIAMSON Hair lead: Paul Hanlon for ghd.
"Chic. Graphic. Minimal."
The Look: Straying from the typical bohemian style of collections past, Matthew Williamson wanted a whole different look for his latest collection. The result: graphic prints, structural designs, and a spectrum of vibrant colors and textures.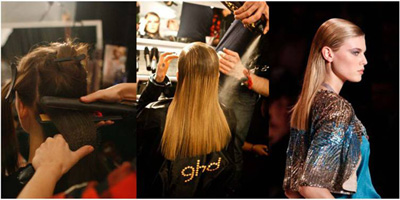 The ghd Way: Smooth, sleek, multi-textured hair polished to perfection.
First the ghd Directive Team prepped the hair with ghd thermal protector, dampening each section, to protect the hair from heat styling while retaining its moisture. This helped to create the perfect base for the ultra sleek style.
An extreme side part was created on either side of the head as a small amount of ghd obedience cream was applied throughout the hair. The hair was then blow-dried to a smooth finish using the ghd ceramic brush.