Matthew Williamson has recently launched his new H&M collection. Aveda was the exclusive hair stylist of his launch party, and you are being let in on a behind-the-scenes look at how to achieve the look for his models!
The inspiration: "Matthew wanted a modern, fresh style that's easy and youthful yet elegant. This look is sleek at the roots with textured, slightly undone ends, very 'nighttime-at-the-beach.' The results complements the bold summer look of his H&M collection."-Kurt Lowry for Aveda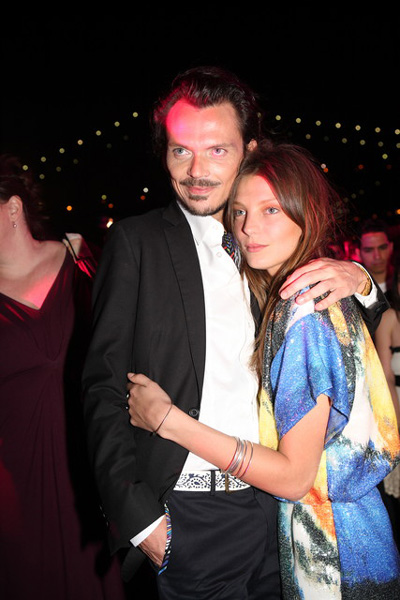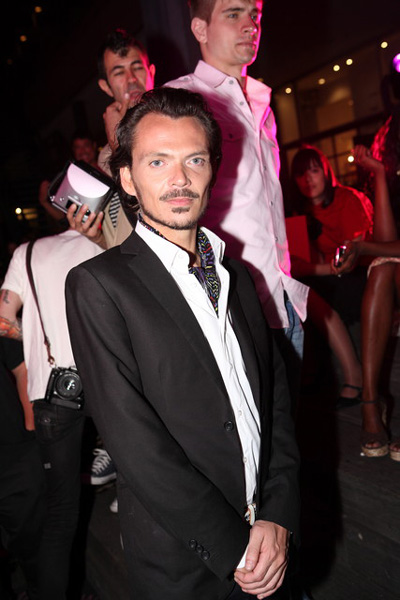 Show: Matthew Williamson for H&M
Lead Hair: Kurt Lowry for Aveda
The Hairstyle: A modern style with straight, sleek hair at the roots and textured thickness through the length.
"This look is reminiscent of natural summer hair. The top might be flattened from a scarf covering at the beach all day and the ends are textured and wind-blown. To create the look at home, create a sleek part and work Aveda Smooth Infusion Glossing Straightener through the top portion of hair. Backcomb ends with your fingers to create texture and spray Aveda Sun Care Protective Hair Veil for added shine."-Kurt Lowry for Aveda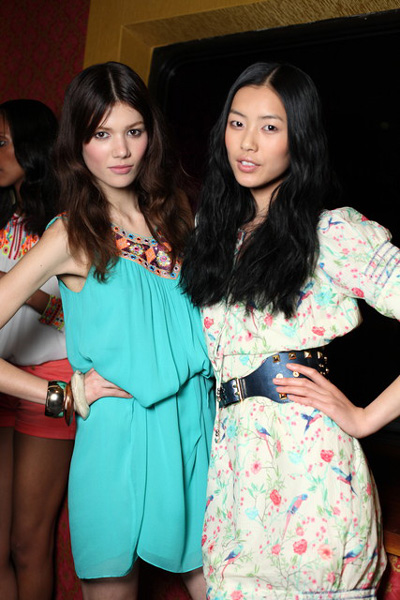 How To Get This Look Step by Step:
Step 1: Draw a clean side part. Use a straightening iron from roots to the top the ear so that hair is smooth against the head.
Step2 : Create a visual divider between the upper and lower sections of hair, as products and styling will be different above and below the ear. Place metal clips horizontally around the head  from ear to ear to create this line.
Step 3: Apply Aveda Smooth Infusion Glossing Straightener onto the top part of hair for a high-gloss look.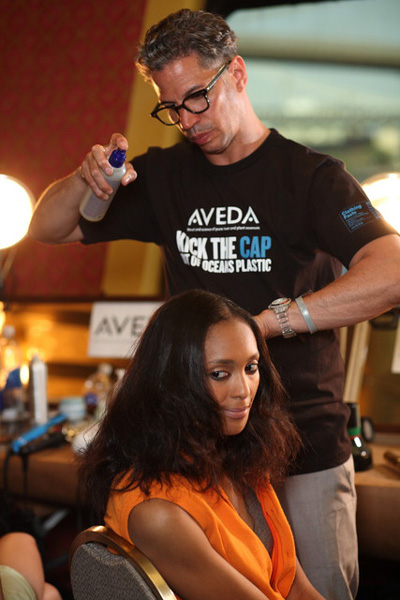 Step 4: working below the clip line scrunch a cocktail of Aveda Phomollient Styling Foam mixed with Aveda Pure Abundance Hair Potion into hair to add texture, volume and flexible hold. Brush through.
Step 5: Still working below the clip line, wrap sections of hair around a one-inch barrel curling iron to create ringlets. Set waves using a diffuser.
Step 6: Use fingers to loosen curls. Spray waves throughout with Aveda Air Control Hair Spray to enhance thickness, texture and shine. For textured hair, apply Aveda Sun Care Protective Veil for shine and gloss without added thickness.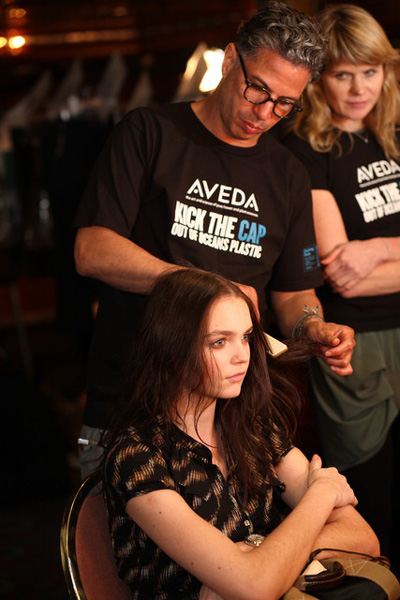 Step 7: Spray Aveda Sun Care Protective Veil over entire head to minimize flyaways and add shine.
Step 8: Create a high-gloss finish by spraying Aveda Brilliant Medium Hold Hair Spray above the clip line.  
Step 9: Remove clips and set the look with Aveda Air Control Hair Spray for light hold.
Photo credit: Jon Gurinsky for Aveda.