All Posts Tagged With: "ghd"
Embrace the weekend and give your hair a break from those NYFW blowouts with this casual yet sleek low pony seen on the runway at tonight's Jason Wu show. Styled by NYFW Ambassador for TRESemmé, Holli Smith, this pony yields an effortless chic look that's perfect to transition from day to night. Here's how.
STYLIST TIP: "Enhancing your hair's natural texture will personalize the look, making it unique to you." – Holli Smith, NYFW Ambassador for TRESemmé
Marta Walsh has the sneak peek to Katy Perry's photo shoot for the new multimedia global ghd campaign. The first shoot was creatively conceived with ghd, Perry's stylist Johnny Wujek and shot by world renowned photographer- David La Chapelle.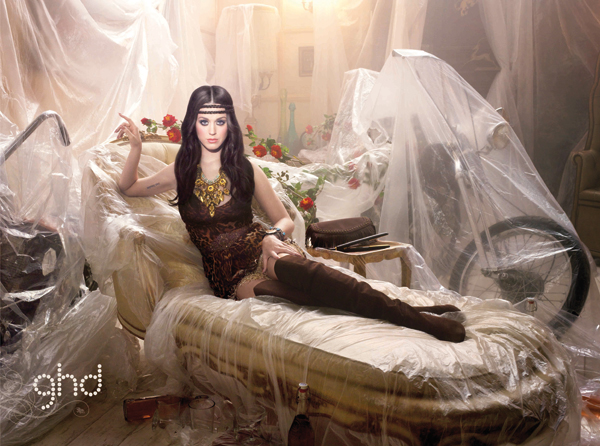 Katy Perry And ghd Campaign
Katy Perry on the partnership: "I'm so excited to be working with ghd, especially using their tools on my California Dreams Tour to get me stage ready. ghd products have a reputation of being the best products in the biz, and I like being associated with that. I'm very excited to reveal the styles I did with legendary David LaChapelle in the upcoming ghd campaign. Keep your eyes peeled for it!"
Sephora's 2010 holiday gift collections are must-have! They make Christmas shopping for your beauty obsessed friends and family super easy and a no brainer.
Sephora Holiday Gift Collections 2010 Marta Walsh's Picks:

Too Faced Enchanted Glamourland ($145 Value), $49
Who is better to ask what's hot when it comes to hair this fall other than the hair stylists who spend their time doing hair for the runway, ghd Ambassadors: Omar Lopez, Craig Carter, and Andy Bodine.
ghd Ambassadors Omar Lopez, Craig Carter, Andy Bodine, were kind enough to share with Talking Makeup their take on Fall Hair Trends:
From Omar Lopez, ghd Media Ambassador: Movement Is Back with Curling Just The Ends
Movement is back in, but this season, the focus is all on curling just the ends of the hair which is simple and sleek and easy to do. Prep the hair with ghd fat hair lotion and blowdry. The product is heat activated and works the same way mascara does on lashes, using rayon micro fibers to pump up each strand. Play up overall volume by applying from roots to ends, then follow with a little more on just the ends of the hair. This will plump up ends and allow for long lasting fat curls.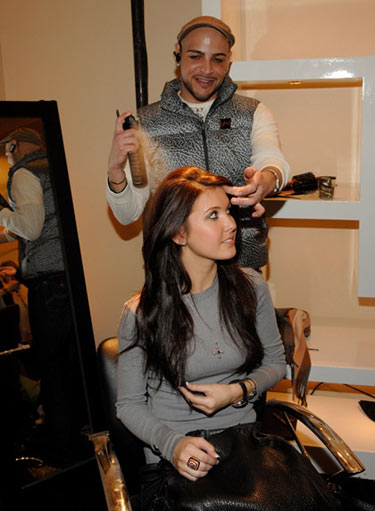 Omar Lopez styling Audrina Patridge
Use the ghd IV styler to straighten the length of the hair, then when you reach the ends, turn the styler 180 degrees to create a slight curl. Finally, use just your fingers to ruffle up the ends to create a slightly tousled look and you have one of the hottest looks for fall!
From Craig Carter, ghd Creative Ambassador: Sleek Straight Ponytails With Natural Shine
Summer is a beautiful time of the year: it's nice and hot outside, we swim in the ocean or the pool, we get great skin and beachy waves thanks to sea water, get sun-kissed, and eat delicious and succulent fruits. Sometimes summer is SO good we don't want it to go away.
Here are some beauty tip to stretch your summer just a little longer into fall…
Take a nice bath with Philosophy Raspberry Sorbet shower gel & Bubble bath to remind you of succulent summer fruits and ice cream. $16 at www.sephora.com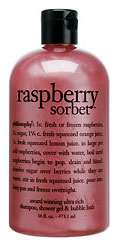 A nice sea salt body scrub such as Origins Incredible Spreadable Scrub Sea Salt Body Smoother will help satisfy your craving for sea water and ocean, $26. Available at www.beauty.com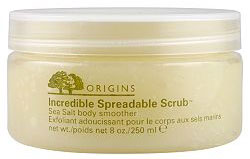 You've spent hours on the beach or by the pool. You squeezed fresh lemon on your hair in your garden. Or you've spent some decent cash on your blond highlights. Whichever way you've achieved beautiful blonde highlights, you can stretch their life with Redken Blonde Glam Shampoo & Conditioner, and Blonde Glam Color Enhancer Rich Vanilla or Perfect Platinum. Available at redken.com for salons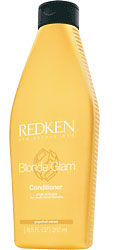 Thanks to ghd, Talking Makeup is excited to give you a sneak peek to Mercedes-Benz Fashion Week Swim 2010 in Miami!
CRYSTAL JIN: Hair lead: Jodi Aucoin for ghd
"The Classic Bohemian Beauty"
The Look: Crystal Jin never could find styles, colors and fabrics which matched with her personal taste and as a result has created her luxurious swimwear line out of necessity and her outdoor roots. The stunning 2010 collection reflects the classic bohemian beauty.
The ghd Way: What better way to mimic the timeless free-spirited beauty than with a modern tribute to the late Farrah Fawcett. Aucoin first prepped hair with ghd creation spray to protect models' hair and help it retain movement after heat-styling. She then used the ghd IV styler to curl hair away from the face, echoing Farrah's classic look. Aucoin used the root drag technique throughout most of the hair, then created root lift at the crown using the ghd IV styler.
After the curls were gently separated using fingers, Aucoin worked a couple dots of ghd polishing serum from the ends of the hair up which gave it more texture and definition. Finally, she backcombed the crown for an extra dose of volume and misted the entire look with ghd ultimate hairspray.
RED CARTER: Hair lead: Omar Lopez for ghd
"Trashy & Flashy Circa 1984"
ghd Runway Report Fall 2009 New York Fashion Week: MATTHEW WILLIAMSON Hair lead: Paul Hanlon for ghd.
"Chic. Graphic. Minimal."
The Look: Straying from the typical bohemian style of collections past, Matthew Williamson wanted a whole different look for his latest collection. The result: graphic prints, structural designs, and a spectrum of vibrant colors and textures.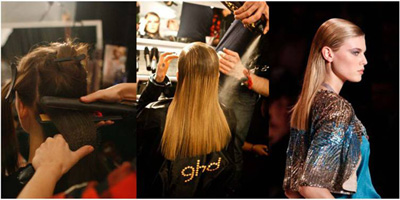 The ghd Way: Smooth, sleek, multi-textured hair polished to perfection.
First the ghd Directive Team prepped the hair with ghd thermal protector, dampening each section, to protect the hair from heat styling while retaining its moisture. This helped to create the perfect base for the ultra sleek style.
An extreme side part was created on either side of the head as a small amount of ghd obedience cream was applied throughout the hair. The hair was then blow-dried to a smooth finish using the ghd ceramic brush.
ghd Artistic Ambassador Andy Bodine shows you how to recreate Jessica Alba's look using an array of ghd products.
Look 1: Sleek and Sassy: If you're born with natural texture in your hair like Jessica, you'll need to use an iron to get hair looking this sleek.
Start off with a lightweight product, like ghd thermal protector, which protects hair from the heat of your styling tools. The formula also controls static and brings out your hair's natural shine. On hair with medium length, I use the ghd IV styler to straighten strands from root to tip. To prevent the style from looking too stiff and straight, slightly curl the ends inward. The ghd IV styler is great for this since the ceramic plates are beveled and float (meaning they have more give when you use it to curl, which prevent dents or lines in the hair). For Jessica's fringe, I would use the ghd IV mini styler which comes with ½" plates that are great for using on shorter styles. After using the styler, apply just a small amount of ghd shining serum to smooth the cuticle and you're ready to show off your sleek, sassy style. 
Think fast: Which would you prefer? Balenciaga bondage platform heels or a pair of French sole flats? A quick and dirty escape to St. Tropez or a perfectly orchestrated Parisian holiday? A few double martinis with Blair or an afternoon Bellini with Serena? Having trouble deciding? ghd understands: There's something seductive about the dark and the pure, especially in matters of style. To appeal to both sides of your dichotomous nature, ghd launches the ghd IV Dark and Pure stylers.
ghd Runway Spring 2009 at LA Fashion Week:
KEVAN HALL
Hair lead: Andy Bodine for ghd.
"Timeless American"-Kevan Hall
Watch my interview with ghd's lead hair stylist, Andy Bodine, backstage at Kevan Hall during LA Fashion Week.
The Look:
Inspired by Adrian, a famous costume designer of the 20's, 30's and 40's, the collection featured classic, chic designs with a modern take.
The ghd Way:
Loose waves with a deep side part pulled into a low chignon for a glamorously feminine look to compliment the collection.
First, the ghd Directive Team applied ghd fat hair lotion to models' dry hair. The product was then heat activated using a blow dryer with a diffuser attachment, which created body and texture. Next, a light mist of ghd sea spray was worked through the hair to infuse even more texture and hold. Using the ghd IV styler, a slight finger wave was created by gently rocking the styler back and forth starting at the crown and continuing all the way to the ends. Hair was pulled back at the nape of the neck and secured in a ponytail. Then, ghd polishing serum was applied to the ponytail to smooth out any flyaways as the hair was then twisted into a low chignon and secured with bobby pins. Finally, ghd ultimate hairspray was used to finish and hold the look.
WHITLEY KROS
Hair lead: Andy Bodine for ghd.
"A romantic adventure through Morocco, Africa and Greece"-Marissa Ribisi & Sophia Coloma, Whitley Kros designers.
The Look:
Relaxed, colorful, and all-around fun to reflect Whitley's safari adventures in Africa and a romantic Grecian getaway.
The ghd Way:
A laid-back, soft and textured top knot with loose ends-perfect for Whitley Kros' whimsical, yet chic traveling style.
First, the ghd Directive Team sprayed ghd sea spray into hair, then blow dried to create texture. Hair was then finger-combed into a high ponytail for a slightly messy effect. ghd polishing serum was applied to ends of the ponytail to tame flyaways, and the hair was then twisted into a knot and secured with bobby pins, leaving the ends free. A final light mist of ghd ultimate hairspray finished and secured the look.
ghd's revolutionary styling irons and thermal protecting hair beauty range are available at great salons across the globe and in Sephora, as well as online at www.ghdhair.com  and www.sephora.com .