All Posts Tagged With: "Kevan Hall"
As you probably already know I'm based in Scottsdale Arizona a place I love so much. This is why I was excited to take part in this year's Scottsdale Fashion Week (SFW) and get to know my fashionable neighbours. Last night I was invited to attend a fabulous designers party at the equally fabulous Intercontinental Montelucia Resort & Spa in Paradise Valley Arizona. Wow, what an evening. The weather couldn't be any more perfect and the Montelucia resort where the party took place was breathtaking. I was trying to take photos, but couldn't capture how beautiful it was around there last night. Just imagine, beautiful clear dark sky, lots of palm trees, fire features around amazing pools, chocolate desserts, and beautifully dressed people.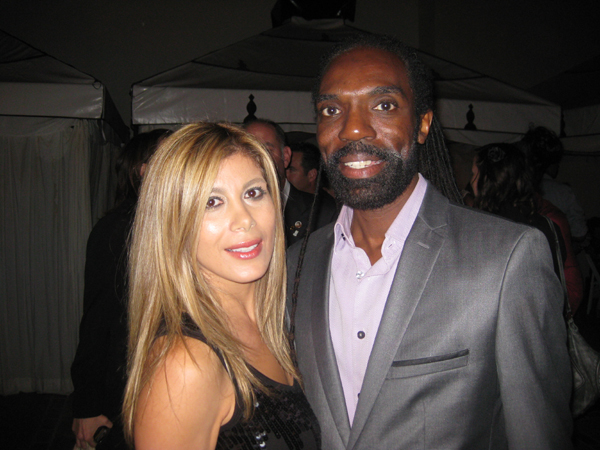 Marta Walsh founder of Talking Makeup (left) Kevan Hall fashion designer (right)
The highlight of my evening at the SFW was finally getting to chat with LA Fashion Designer Kevan Hall who his sleek eveningwear was worn by a distinguished coterie of celebrated artists- including Celine Dion, Sharon Stone, Angela Bassett, Charlize Theron, and Salma Hayek. I've been at his show over a year ago during LA Fashion Week and was so glad to bump into him. After I introduced myself to Kevan I asked why Scottsdale Fashion Week? He said that Scottsdale is known to be a city who is into fashion and he has clients from Scottsdale who fly to LA especially to shop in his studio. He also agreed with me how gorgeous Scottsdale is. Kevan also talked to me about the colors he likes to use in his designs, and he mentioned that he likes to use unexpected colors and unique shade of colors. I had to ask him if he approves my outfit. I went for a rock chic look because I can't afford to buy Kevan Hall, yet, I told him. He said yes, and I felt like the cat who got the cream. LOL.
ghd Runway Spring 2009 at LA Fashion Week:
KEVAN HALL
Hair lead: Andy Bodine for ghd.
"Timeless American"-Kevan Hall
Watch my interview with ghd's lead hair stylist, Andy Bodine, backstage at Kevan Hall during LA Fashion Week.
The Look:
Inspired by Adrian, a famous costume designer of the 20's, 30's and 40's, the collection featured classic, chic designs with a modern take.
The ghd Way:
Loose waves with a deep side part pulled into a low chignon for a glamorously feminine look to compliment the collection.
First, the ghd Directive Team applied ghd fat hair lotion to models' dry hair. The product was then heat activated using a blow dryer with a diffuser attachment, which created body and texture. Next, a light mist of ghd sea spray was worked through the hair to infuse even more texture and hold. Using the ghd IV styler, a slight finger wave was created by gently rocking the styler back and forth starting at the crown and continuing all the way to the ends. Hair was pulled back at the nape of the neck and secured in a ponytail. Then, ghd polishing serum was applied to the ponytail to smooth out any flyaways as the hair was then twisted into a low chignon and secured with bobby pins. Finally, ghd ultimate hairspray was used to finish and hold the look.
WHITLEY KROS
Hair lead: Andy Bodine for ghd.
"A romantic adventure through Morocco, Africa and Greece"-Marissa Ribisi & Sophia Coloma, Whitley Kros designers.
The Look:
Relaxed, colorful, and all-around fun to reflect Whitley's safari adventures in Africa and a romantic Grecian getaway.
The ghd Way:
A laid-back, soft and textured top knot with loose ends-perfect for Whitley Kros' whimsical, yet chic traveling style.
First, the ghd Directive Team sprayed ghd sea spray into hair, then blow dried to create texture. Hair was then finger-combed into a high ponytail for a slightly messy effect. ghd polishing serum was applied to ends of the ponytail to tame flyaways, and the hair was then twisted into a knot and secured with bobby pins, leaving the ends free. A final light mist of ghd ultimate hairspray finished and secured the look.
ghd's revolutionary styling irons and thermal protecting hair beauty range are available at great salons across the globe and in Sephora, as well as online at www.ghdhair.com  and www.sephora.com .
I met up with Lori Taylor the lead makeup artist for Smashbox Cosmetics backstage at the Kavan Hall show.
Lori Taylor told me all about the makeup look for the Kevan Hall runway show for their spring 2009 collection at LA Fashion Week.
According to Lori Taylor, lead makeup artist for Smashbox, the makeup look for the Kevan Hall fashion show is high glamour, old school, old Hollywood with a modern twist. Instead of using black or charcoal smoky eye like in the 1920's, Smashbox is using a softer grey and somewhat metallic shade to accent or to 'smoke' the eye.
Lots of black mascara is also applied. Not a lot is applied on the cheeks, for a radiant and perfect skin. The lips are just lightly stained. The look is smokey eye with some color on the lip, but not heavy with lipstick or a lip gloss. This look is a bit different than what we normally see for spring.

Fashion Designer Kevan Hall inspects his models' look backstage.
Kevan Hall was inspired by Adrian who was a Hollywood custom designer in the 1930's and 1940's when planning the makeup look for his fashion show.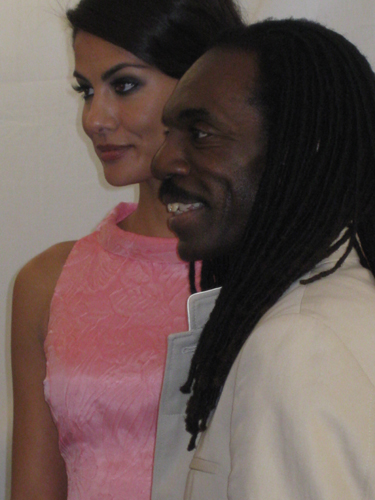 One product that you can use to achieve the look backstage at the Kavan Hall fashion show would be Smashbox Tinted Treatment Lipstick SPF 15 in Ray which can be worn by both men and women. It hydrates your lips with just a faint flash of color.
Smashbox Tinted Treatment Lipstick SPF 15 in Ray: This vitamin and antioxidant-packed sheer lip color has it all – a treatment core with SPF 15 to protect, vitamins A, C & E to revitalize, shea butter, jojoba and avocado oils to nourish, and chamomile and aloe to soothe. Honey provides extra moisturization and a deliciously sweet flavor and scent. TINTED TREATMENT LIPSTICK is sheer and fool-proof enough to apply anywhere – no mirror required!
Watch my interview with Lori Taylor, Smashbox's lead makeup artist, where she describes the look backstage at the Kevan Hall show: