All Posts Tagged With: "Smashbox Cosmetics"
Smashbox Cosmetics debuts the brand's first-ever blog and gives one lucky reader $1200 beauty suitcase!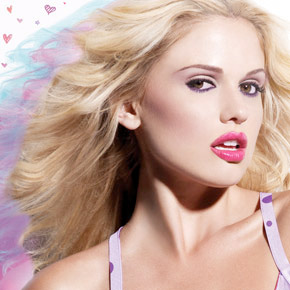 Cult-favorite makeup line Smashbox Cosmetics is giving you even more insider access with the launch of its new blog. The Smashbox blog will feature bi-weekly updates with photos and videos, offering you an all-access pass to what goes on behind-the-scenes at Smashbox Studios in Los Angeles. Packed with pro artist tips & tricks, celebrity gossip, runway recaps, VIP events, new product innovations and more, the blog is soon to be the go-to destination for beauty fans to find out about the hottest industry trends. Exclusive trend reports, how-to videos and step-by-step Get the Looks will help Smashbox fans and beauty addicts learn how to achieve the hottest new makeup looks.
The new Rapture Holiday Collection From Smashbox Cosmetics will add some enchantment to your makeup this holiday.
The new Rapture Holiday Collection From Smashbox Cosmetics is feminine, soft and graceful. The Rapture Holiday 2008 Color Collection celebrates the captivating allure of a woman with a selection of delicate hues and shimmering shades. Exquisite makeup in soft, pearlescent colors mimics the airy lightness and sweet shades found in tulle, silk and satin, creating a perfectly romantic and enchanting holiday season.
Where to find the Rapture Holiday Collection From Smashbox Cosmetics:
Smashbox.com, Beauty.com, Sephora, Ulta, Nordstrom, and select Bloomingdale's.
The Rapture Holiday Collection includes:
FLAWLESS FINISH PRIMER SET $39 (value $52)
Get flawless skin on the go with this limited-edition set of Smashbox's best-selling, skin-smoothing PHOTO FINISH FOUNDATION PRIMER in both full and travel sizes to perfect skin in an instant. Available for the first time at this amazing value – grab one for a friend and one for yourself!
Includes:
On my last day at LA Fashion Week I met up with Lori Taylor, the lead makeup artist for Smashbox Cosmetics, to talk about the makeup look for Caroline D'Amore fashion show for Spring 2009.
Watch my video where I interview Lori Taylor, lead makeup artist for Smashbox Cosmetics, backstage minutes before the Caroline D'Amore fashion show. By the way, LOVE the Caroline D'Amore swimsuits, so glamorous!
Video is featured on: www.misslush.com !
I met up with Lori Taylor the lead makeup artist for Smashbox Cosmetics backstage at the Kavan Hall show.
Lori Taylor told me all about the makeup look for the Kevan Hall runway show for their spring 2009 collection at LA Fashion Week.
According to Lori Taylor, lead makeup artist for Smashbox, the makeup look for the Kevan Hall fashion show is high glamour, old school, old Hollywood with a modern twist. Instead of using black or charcoal smoky eye like in the 1920's, Smashbox is using a softer grey and somewhat metallic shade to accent or to 'smoke' the eye.
Lots of black mascara is also applied. Not a lot is applied on the cheeks, for a radiant and perfect skin. The lips are just lightly stained. The look is smokey eye with some color on the lip, but not heavy with lipstick or a lip gloss. This look is a bit different than what we normally see for spring.

Fashion Designer Kevan Hall inspects his models' look backstage.
Kevan Hall was inspired by Adrian who was a Hollywood custom designer in the 1930's and 1940's when planning the makeup look for his fashion show.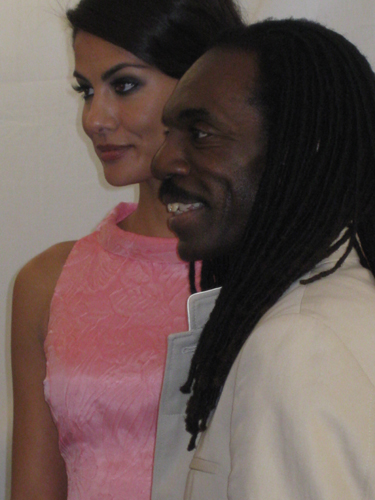 One product that you can use to achieve the look backstage at the Kavan Hall fashion show would be Smashbox Tinted Treatment Lipstick SPF 15 in Ray which can be worn by both men and women. It hydrates your lips with just a faint flash of color.
Smashbox Tinted Treatment Lipstick SPF 15 in Ray: This vitamin and antioxidant-packed sheer lip color has it all – a treatment core with SPF 15 to protect, vitamins A, C & E to revitalize, shea butter, jojoba and avocado oils to nourish, and chamomile and aloe to soothe. Honey provides extra moisturization and a deliciously sweet flavor and scent. TINTED TREATMENT LIPSTICK is sheer and fool-proof enough to apply anywhere – no mirror required!
Watch my interview with Lori Taylor, Smashbox's lead makeup artist, where she describes the look backstage at the Kevan Hall show:
Here are some random pics of myself, Marta Walsh, during LA Fashion Week:

Backstage at the Kevan Hall Fashion Show.

Hanging around at the main lobby of the Smashbox Studios.

Just got my makeup touched up by a fabulous Smashbox Cosmetics makeup artist.
I totally fell in love with two Smashbox Cosmetics products which worked wonders covering my dark circles and somewhat tired eyes: Photo Op Under Eye Brightener and Camera Ready Full Coverage Concealer ! Check it out:
I compiled a list of my top 10 makeup products of the week in my first Marta Walsh video blog.
You are going to see more of these videos of me talking about makeup, skincare, and just my adventures as a beauty blogger and an interviewer for BeautyInterviews.com
Because this was my first video blog I only mentioned 9 products instead of 10. Sorry everyone, but here it is, product number 10: Function Self-Adjusting Powder Foundation in Light L1-L2 by Smashbox Cosmetics. It is on my top 10 list of the week because it gives my skin great coverage in no time. I use it with different brushes to achieve different finishes. Big powder brush all over my face and a small brush under my eyes and around the nose and moth. 
List of products in the video include:
1. Pigment in Gold Mode by MAC Cosmetics.
2. XXL Volume+Length Microfiber Mascara by Maybelline New York.
3. Aveeno Active Naturals Intense Relief Overnight Cream.
4. Give Me The Shimmers Body Powder Sexy Little Things by Victoria's Secret Beauty.
5. Very Sexy Dare Eau de Parfum Spray by Victoria's Secret Beauty.
6. Brightening Therapy with TrueTone by PCA Skin.
7. DDF Protect And Correct UV Moisturizer SPF 15.
8. Clearskin Professional Clarifying Toner Pads by AVON.
9. Tommy Hilfiger Dreaming Lip Gloss.