All Posts Tagged With: "Allure Magazine"
Kim Kardashian scored the cover of Allure Magazine September 2010 Issue. Kim was photographed by Michael Thompson. Hairstylist: Garren. Makeup: Gucci Westman. All inspired by Elizabeth Taylor. Do you love?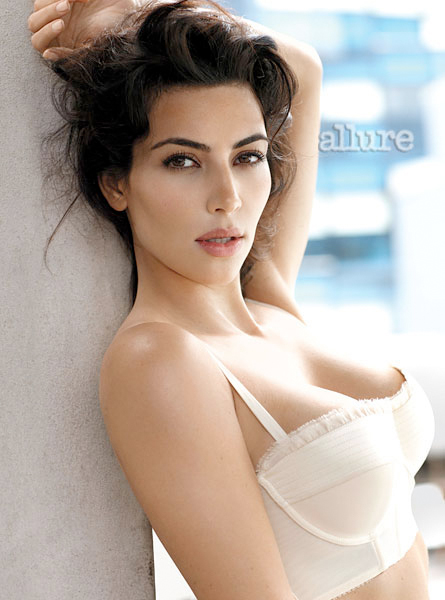 Watch:  Kim Kardashian her Allure photoshoot
Kim Kardashian's Makeup: "Kim has gorgeous skin, and we wanted to play it up with a luminous look," said Gucci Westman…
Smashbox Cosmetics debuts the brand's first-ever blog and gives one lucky reader $1200 beauty suitcase!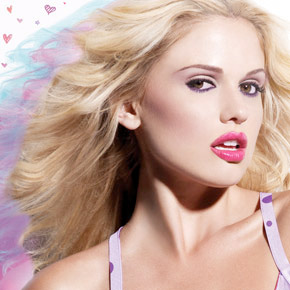 Cult-favorite makeup line Smashbox Cosmetics is giving you even more insider access with the launch of its new blog. The Smashbox blog will feature bi-weekly updates with photos and videos, offering you an all-access pass to what goes on behind-the-scenes at Smashbox Studios in Los Angeles. Packed with pro artist tips & tricks, celebrity gossip, runway recaps, VIP events, new product innovations and more, the blog is soon to be the go-to destination for beauty fans to find out about the hottest industry trends. Exclusive trend reports, how-to videos and step-by-step Get the Looks will help Smashbox fans and beauty addicts learn how to achieve the hottest new makeup looks.
allure.com December 2009 issue is celebrating the 15th anniversary of makeup legend Francois Nars. He has an intriguing story on coming from small town France to the worldwide fashion stage—and why he credits his mother with much of his success. He dishes on some of his favorite products (why Orgasm blush looks good on everyone) and his most famous images. The Allure December 2009 issue hits stands November 24.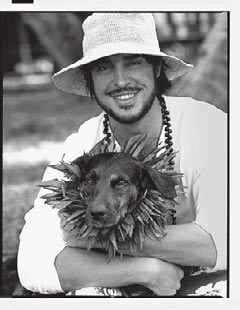 From left: Francois Nars, MADONNA, 1991 "I know every inch of her body from applying makeup."
Here is a sneak peek to the article by Lindsy Van Gelder in Allure:
The word "genius" is flung around the fashion world like confetti at a parade, usually as an adjective (as in "J'adore that genius lipstick"). But if there's anyone who deserves the noun form, it's François Nars. Younger fans of Nars's 15-year-old cosmetics line might be forgiven for not having realized that there is indeed a man behind the compacts. "I don't like to make too many appearances or talk too much to people," Nars acknowledges. Somewhat reclusive for the past decade, he leaped back onto the fashion-genius radar earlier this year with his work at the Marc Jacobs fall and spring shows.
Throughout February, Spa Week and Allure Magazine are giving away Dior's entire Spring 2009 Makeup Collection. Think pretty pinks, nudes, and taupes. The package retails for more than $500!
How: Visit Spa Week to see how you can win three eye-shadow palettes, eight lip colors, a limited edition face palette (an Allure Editors' Favorite), nail polishes, and more!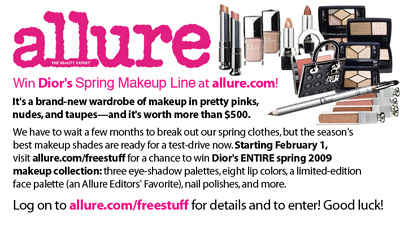 Why: Because it's cold, dreary and gray outside but that doesn't mean your gorgeous face has to be!
Victoria Beckham, best known from 'Spice Girls' and the wife of English soccer player David Beckham, is gracing the cover of Allure Magazine August 2008 Edition.
I must say, it is not a bad shot for Victoria, she looks pretty and natural. Her makeup was done by makeup artist Scott Andrew, and here is the scoop according to Allure Magazine:
To create Victoria's natural look, makeup artist Scott Andrew brushed metallic beige shadow on her eyelids, lined her eyes with black pencil, applied a creamy rosy blush on the apples of her cheeks, and blended a beige lipstick with a pink lip stain to make her lip color.
"I just make the best out of what I have. I'm not out-of-the-ordinary-looking at all. I'm incredibly ordinary," says Beckham.