All Posts Tagged With: "Celebrity Makeup Look"
TotalBeauty.com content:
Her over-the-top look is guaranteed to be a hit at every Halloween party
In the mood to channel this infamous, disturbed rock star this Halloween? Then follow these step-by-step instructions courtesy of Gregory Arlt, director of makeup artistry for MAC Cosmetics. Complete the look with a ratty, black bouffant wig (an Elvira wig at any costume shop will work perfectly) and you're good to go.
The Lauren Conrad Spring 2009 show at LA Fashion Week:
I met with Lauren Conrad's personal makeup artist Amy Nadine, who is also the lead makeup artist for Mark Cosmetics, minutes before the debut of the Lauren Conrad Spring 2009 collection at LA Fashion Week.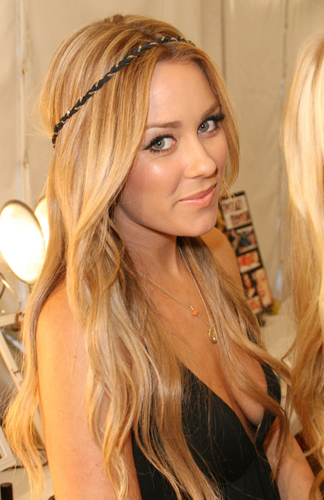 Watch my interview with Amy Nadine and learn how to achieve Lauren Conrad's makeup look at the Lauren Conrad fashion show with Mark Cosmetics and it's special m.powerment peach lipstick. Also find out how Amy Nadine and Lauren Conrad developed the m.powerment peach lipstick that was used at the Lauren Conrad show this season.
The lipstick was only used for the show and will not be produced right now. However, Mark will move forward with producing the gloss, which is called m.powerment peach gloss, which has a retail value of $10 and references Mark's m.powerment campaign -Lauren Conrad is the spokeswoman for the charity.
Bryon Williams, whose clients include Demi Moore, Kirsten Dunst, Nicole Richie, Joy Bryant and Jordana Brewster, says "eye shades in pink, lilac and deep purples will be making a big comeback.
You can create this look by using Neutrogena Nourishing Eye Duo in Fairy Dust or Sugar Plum.
The Neutrogena Nourishing Eye Duos are perfectly coordinated eye shadow duos that not only enhance eyes but condition eyelids too. The base shade contains natural soy, silk powder and Vitamins A, C, & E. The accent shade contains luminizing pearls to brighten eyes and add vibrancy. Both shadows are fade resistant and crease-proof, so your eyes stay looking beautiful all day long.
Neutrogena Cosmetics are available at drugstores nationwide or on ULTA.com for approximately $8.50
Victoria Beckham, best known from 'Spice Girls' and the wife of English soccer player David Beckham, is gracing the cover of Allure Magazine August 2008 Edition.
I must say, it is not a bad shot for Victoria, she looks pretty and natural. Her makeup was done by makeup artist Scott Andrew, and here is the scoop according to Allure Magazine:
To create Victoria's natural look, makeup artist Scott Andrew brushed metallic beige shadow on her eyelids, lined her eyes with black pencil, applied a creamy rosy blush on the apples of her cheeks, and blended a beige lipstick with a pink lip stain to make her lip color.
"I just make the best out of what I have. I'm not out-of-the-ordinary-looking at all. I'm incredibly ordinary," says Beckham.
On Monday July 14th, 2008 Today, Mac Cosmetics Sr. Artist Romero Jennings did the makeup for new music sensation Keri Hilson for her appearances on BET's 106th & Park, and MTV TRL.
Keri Hilson is promoting the video for her first single, "Energy". If you're not sure who she is, she was the girl who sang in Timbaland's "The Way I Are", the was the love interest in Usher's "Love In This Club" Video. But most importantly, she's made a name for herself as a songwriter. She's written for Justin Timberlake, The Pussycat Dolls, Britney Spears and Usher.

Keri Hilson-Makeup look by Mac Cosmetics.
Keri Hilson is getting ready to drop her first solo album in September. BET's 106th & Park was aired on Monday afternoon. Her appearance on MTV TRL will air on Wednesday July 16th.
Here is a list of products and how to get the look of Keri Hilson's makeup on BET's 106th & Park by Mac Cosmetics Sr. Artist Romero Jennings:

Romero Jennings-Mac Cosmetics Sr. Artist.
1. Prep + Prime Skin.
2. Moisture Blend Foundation NC42,NC43 and NW45 Matte Bronzing Powder.
3. Blush in Sunbasque and Frankly Scarlet.
4. Eye shadow: Saddle, Blacktied, Cream de Violet, Blacktrack Fluidline Gel Liner.