All Posts Tagged With: "LA Fashion Week"
 POP Beauty Paints LA Fashion Week at the Maggie Barry Spring/Summer 2009 Fashion Show!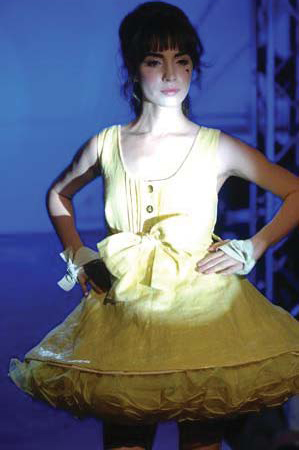 Pop Beauty London Style: Pop Beauty, the British cult makeup brand encapsulates all that makes London "Swing"; Silky, long-lasting, uber flattering textures in punchy, punky must-have shades. Pop pushes the boundaries and creates trends with its maverick style. Pop appeals to all, Pop is a state of mind, an appreciation of award winning makeup and an innate sense of style. 
On my last day at LA Fashion Week I met up with Lori Taylor, the lead makeup artist for Smashbox Cosmetics, to talk about the makeup look for Caroline D'Amore fashion show for Spring 2009.
Watch my video where I interview Lori Taylor, lead makeup artist for Smashbox Cosmetics, backstage minutes before the Caroline D'Amore fashion show. By the way, LOVE the Caroline D'Amore swimsuits, so glamorous!
Video is featured on: www.misslush.com !
I met up with Actress Katie Chonacas backstage at the Maggie Barry show this week during LA Fashion Week.

Katie Chonacas (left) Marta Walsh (right). 
Katie Chonacas looks like the young Demi Moore and quite stunning in real life. Katie was wearing a pretty green dress and high heels, and brought her favorite person in the world, her Grandmother.
Kim Kardashian and her sister, Kourtney Kardashian, were spotted at LA Fashion Week minutes before the Caroline D'Amore fashion show on Tuesday October 14th.
Kim Kardashian looked beautiful in a fuschia dress and black high heels. Kourtney Kardashian was equally gorgeous in a white button down shirt and a black pencil skirt.
Kim Kardashian and Kourtney Kardashin look just as beautiful in real life! This is what I describe as natural beauty. Note: it was quite a challenge taking Kim Kardashian's photos, I had to compete with lots of professional and somewhat aggressive paparazzi photographers.
Talking Makeup is going to LA Fashion Week Spring 2009! Watch my video blog about it:
I'm so excited because I'm going to LA Fashion Week which is starting Sunday afternoon at the Smashbox Studios. On our agenda: reporting hair and makeup runway trends backstage at the following shows: Kevan Hall,Suh-Than, Whitley Kros, Julia Clancey, and Carolin D'Amore.
The highlight of my trip would be probably going backstage at the Lauren Conrad fashion show and chatting with Amy Nadine, Lauren's personal makeup artist who is also the lead of the Mark cosmetics team. The makeup look for Lauren Conrad at LA Fashion Week would be achieved by Mark Cosmetics!
Together Amy Nadine and Lauren Conrad developed a gloss and lipstick that will be used at Lauren's show this season. The lipstick will only be used for the show and will not be produced right now. However, Mark will move forward with producing the gloss, which is called m.powerment peach, which has a retail value of $10 and references Mark's m.powerment campaign -Lauren Conrad is the spokeswoman for the charity.
Six girls from Mark's m.powerment campaign, which is a charitable organization aimed at ending the cycle of dating abuse and violence, will have the chance to go backstage and meet Lauren.
Above photo is the necklace Lauren designed especially for the charity – Lauren Conrad as well as her front row attendees will be wearing the necklace.
We will bring you more about Lauren Conrad's makeup look at LA Fashion Week and her collaboration with Mark Cosmetics' m.powerment campaign. So stay tuned!