POP Beauty Paints LA Fashion Week at the Maggie Barry Spring/Summer 2009 Fashion Show!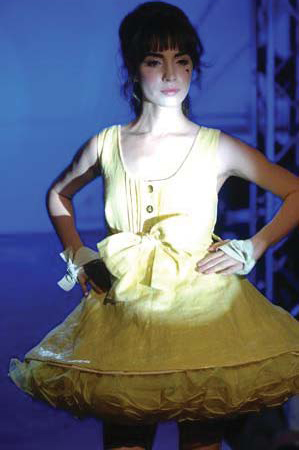 Pop Beauty London Style: Pop Beauty, the British cult makeup brand encapsulates all that makes London "Swing"; Silky, long-lasting, uber flattering textures in punchy, punky must-have shades. Pop pushes the boundaries and creates trends with its maverick style. Pop appeals to all, Pop is a state of mind, an appreciation of award winning makeup and an innate sense of style. 
Pop Beauty was proud to collaborate on Maggie Barry's Spring/Summer 2009 collection for LA Fashion Week, to create one-of-e-kind look for her show.
"The inspiration came from Maggie's request for a "Circus Theme" and to make the girls look like "Beautiful Dolls, but individual", so I searched for "Dolls and Doll looks" everywhere. What I came up with was to give each girl a different kind of Doll-we had a "Marilyn Monroe" doll, a "Grace Jones" doll, a "Bratz doll" doll, a Pam Andersen as "Barb Wire" doll, several "Asian China Dolls"…says Victoria Rowe, a Pop Beauty makeup artist. 
How to get the Maggie Barry makeup look with Pop Beauty?
The following Pop Beauty products were used to create the unique looks:
Blush Cake in Pretty In Pink Blush to make that very Baby Pink, doll-like cheek blended out with iridescent white and Glow Belle Face Kit over them to make the cheeks really glow!
Day To Play Eye shadow kits, as well as Lid Neon, and Eye Cakes in Pastel Greens, Pinks, and Blues, for the lid only, with iridescent white from Glow Belle under the brow. A thick black line on the top lid only with the In-Liner in Black.
Many girls had individual designs of stars, hearts, and peace symbols drawn in black eyeliner and decorated with glitter and crystals on their cheeks as well!
Pink Ribbon Gloss and Heart-Shaped lip stains finished the baby-doll looks.