All Posts Tagged With: "Michelle Phan"
Michelle Phan hits 200 million views. Plus, a new video! Michelle Phan, Lancôme's video makeup artist, just hit a major milestone. The YouTube sensation recently surpassed the 200 million views mark on her video channel and now ranks among YouTube's top 100 channels. (Also on the list: BBC, National Geographic and Google.) Congratulations, Michelle!
Watch: Speaking of videos, Michelle just posted her brand new Lancôme video on YouTube. The theme, Natural Beauty, was inspired by Michelle's first trip to Paris. This theme was voted on the Lancôme Paris Facebook page.
Lancome's Juicy Tubes is turning 10 this year (oh, where does the time go?) and to celebrate, Lancome has invited Teen Vogue to create their very own shade of the iconic gloss. After a visit to their labs, Beauty Director Eva Chen concocted a vibrant raspberry shade that's one of Lancôme's most pigmented Juicy Tubes yet. The limited edition shade is called So Teen Vogue and it's featured in the July issue.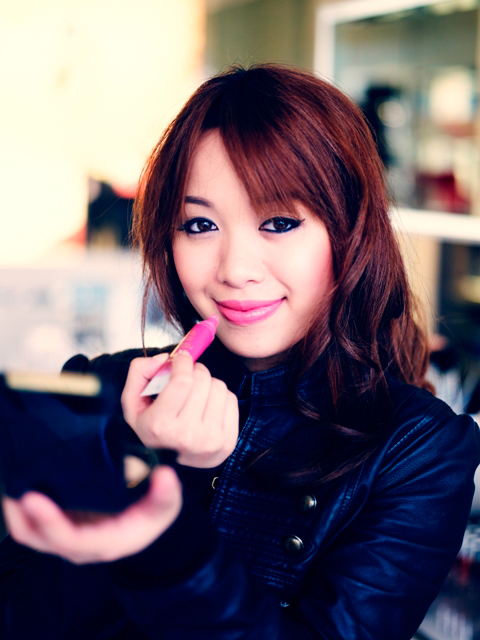 Lancôme's video makeup artist Michelle Phan is applying the shade, above, and now YOU can try it out, too. Here's how it works:
Lancôme invites you to follow along as Michelle Phan, Lancôme's video makeup artist and YouTube sensation, visits Paris for the very first time. The next best thing to being there with Michelle this week? Checking out the Lancôme Paris Facebook page and clicking on the Michelle + Paris tab.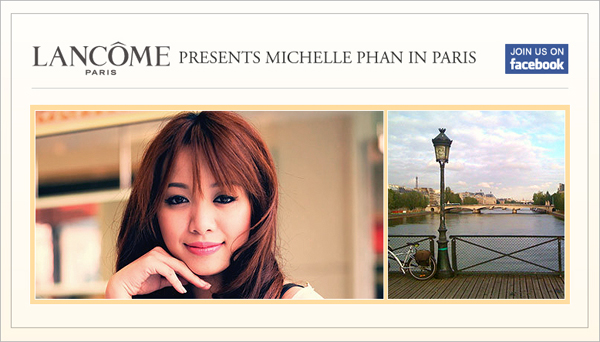 We wanted to let you know about a giveaway Lancôme is running on the Lancôme Facebook page. Anyone who becomes a fan between now, March 31st, 2010, and Friday night (April 2nd, 2010) will be eligible to WIN all the products in Michelle Phan's new Lancôme Clubbing Makeup video (below). Existing fans are eligible as well!
WATCH Michelle Phan's new Lancôme video it has some good, practical makeup tips—plus a fun tip that involves using Scotch tape for the perfect cat-eye makeup
YouTube sensation Michelle Phan joined the Lancôme team earlier this year as their first-ever video makeup artist. Her latest video for Lancôme, Clubbing Makeup, went live a few days ago and has already passed 825,000 views.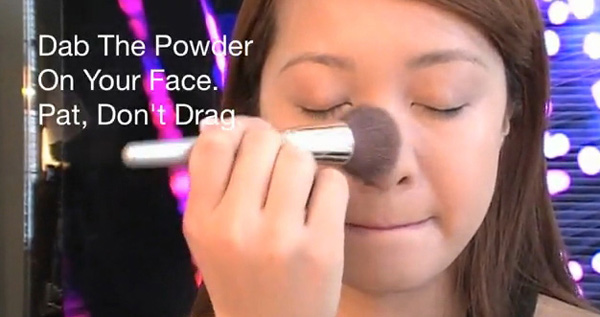 I met YouTube sensation Michelle Phan backstage at the Chris Benz Fall 2010 fashion show during New York Fashion Week. Michelle was there as part of her work with Lancome and the Lancome makeup artistry team creating the makeup look for the Chris Benz show. The sound in the video is not best but I'm way too excited to leave this video interview with Michelle Phan in the back burner. Hope you understand:) xo Marta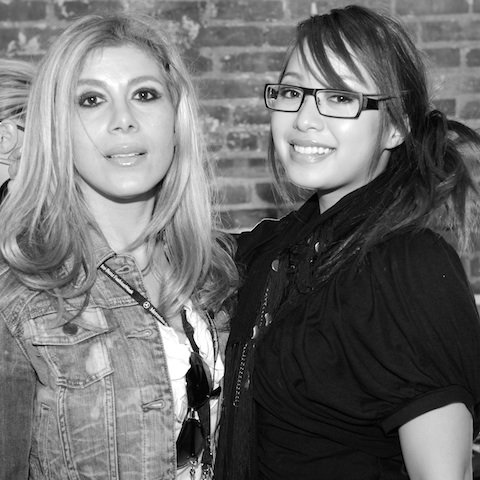 From Left: Marta Walsh and Michelle Phan Backstage at Chris Benz Fall 2010
Photo Credit: © amber rima mclinn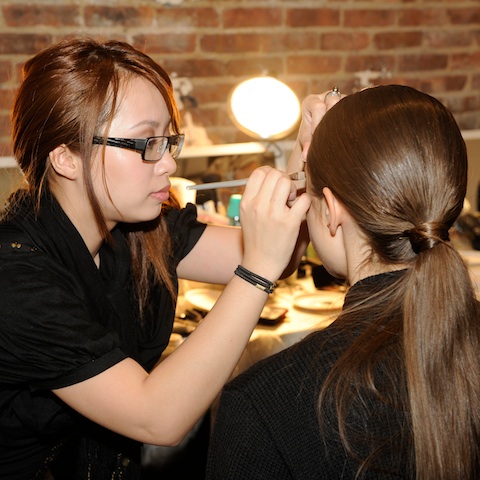 Michelle Phan backstage at Chris Benz Fall 2010 applying Lancome makeup on
model. Photo Credit: © amber rima mclinn
Visit lancome-usa.com to learn about the latest from Lancome. Also watch Romantic Makeup by Michelle Phan makeup tutorial for Lancome!