Lancôme invites you to follow along as Michelle Phan, Lancôme's video makeup artist and YouTube sensation, visits Paris for the very first time. The next best thing to being there with Michelle this week? Checking out the Lancôme Paris Facebook page and clicking on the Michelle + Paris tab.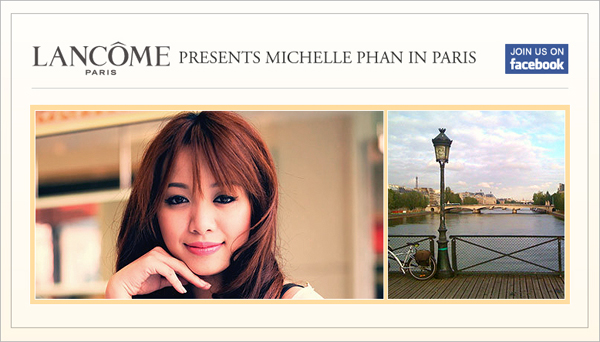 There, you'll see Paris through Michelle's eyes as she experiences the City of Light—and Lancôme's birth place! Simply click on the pink roses to unveil Michelle's experiences as they happen day by day. Today is Michelle's first full day in Paris and she's already seen so much, from historic Notre Dame to The Pont des Arts, the bridge crossing the Seine River where Kate Winslet filmed the now-legendary Trésor commercial. Future stops include a visit with Lancôme's Artistic Director for Makeup Aaron De Mey and a Génifique facial at the Lancôme Institute.
All of these experiences will inspire Michelle's next Lancôme video. On Thursday, June 24th, 2010—Michelle's third day in Paris—you and Lancôme's Facebook followers can choose from several themes so please make sure to check back then.