All Posts Tagged With: "Sunsilk"
I'm excited to share with you my interview with Paris-born Teddy Charles, one of the fashion industry's most notable hairstylists. Teddy is known for creating contemporary femininity and glamour with an edgy, bohemian sensibility. His cutting-edge hair creations have been featured in the pages of major fashion magazines, such as: French, Italian, American and Teen Vogue. Teddy also created hairstyles for countless runway shows, showcasing his role as a hair and fashion industry trendsetter. Teddy has worked with A-listers such as Cameron Diaz, Sarah Jessica Parker, Hayden Panettierre and Ellen Page. He has recently collaborated with Sunsilk co-creating their NEW hair care collections: Hydra TLC, Captivating Curls, Daring Volume and ThermaShine.

Teddy Charles in his element, hairstyling
In this interview Teddy Charles talks to Marta Walsh about his beginnings as a hairstylist, his creative partnership with Sunsilk, biggest inspirations in life, personal style, and future plans.
Marta Walsh: Where do you call home?
Teddy Charles: My first home will always be Paris, but New York is a home away from home.
Watch Marta's video blog and find out why she is all about the NEW Sunsilk Hydra TLC hair care collection co-created with celebrity and top hairstylist Teddy Charles. Sunsilk Hydra TLC has lunched in March 2010. Please note that Marta's hair in the video was styled with Sunsilk Hydra TLC products. Hope you love:)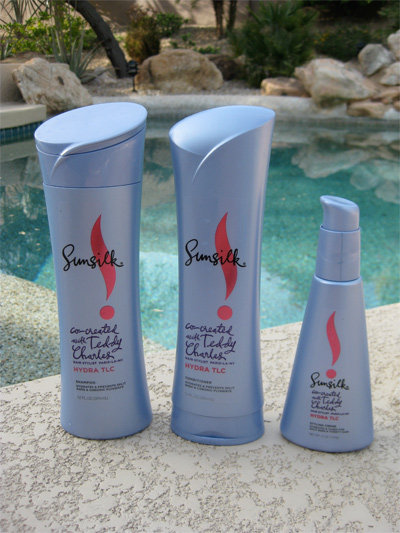 L to R: Sunsilk Hydra TLC co-created with Teddy Charles Shampoo, Sunsilk Hydra TLC Conditioner, Sunsilk Hydra TLC Styling Creme
Available only at Walmart and drugstore.com.
I've recently got the chance to try out Sunsilk Captivating Curls Shampoo & Conditioner and the result was: one of the best hair days ever. Sunsilk Captivating Curls completely tamed my frizz prone hair for 3 days straight! Incredible! Both are part of Sunsilk Captivating Curls Haircare Collection.
Here is a video that proves my good hair day thanks to Sunsilk Captivating Curls Shampoo & Conditioner:

Subscribe to Talking Makeup's YouTube Channel HERE!
Sunsilk Captivating Curls Collection: from battling frizz to taming tresses, it's easy for curly girls to get into a hair rut. Refuse to choose just one style and let all their looks come out to play with the Captivating Curls Collection. Whether they'll stop traffic with romantic curls or twisted tendrils, the new Sunsilk Captivating Curls Collection will make sure the curly girl is never stuck in a style rut. And as Sunsilk says it: Change your look, change up your live!
Sunsilk products mentioned in Marta's video blog for today:
Sunsilk Captivating Curls Shampoo & Conditioner: Featuring the plant extract Aloe-E to help tame unruly frizz and add definition to curls. Includes the succulent peach and gardenia flowers blended with citrus and floral. SRP: $3.49