All Posts Tagged With: "Redken Hair Care Products"
Watch Marta's video blog and find out why she is all about the NEW Sunsilk Hydra TLC hair care collection co-created with celebrity and top hairstylist Teddy Charles. Sunsilk Hydra TLC has lunched in March 2010. Please note that Marta's hair in the video was styled with Sunsilk Hydra TLC products. Hope you love:)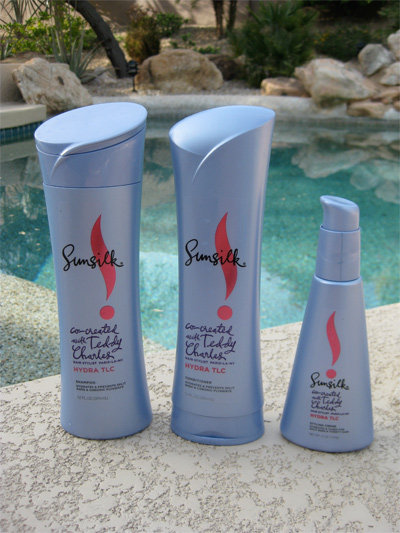 L to R: Sunsilk Hydra TLC co-created with Teddy Charles Shampoo, Sunsilk Hydra TLC Conditioner, Sunsilk Hydra TLC Styling Creme
Available only at Walmart and drugstore.com.
Fergie rocked a bohemian style and dress at the 2008 Teen Choice Awards with a bohemian hair style to go with. Fergie's bohemian hair style was created by Patricia Morales, Redken session stylist and hair stylist to Fergie.
It was all about having fun, clowning around, and winning some surf boards! The Teen Choice Awards, televised on August 4, was a fun-filled event with a lot of laughs and not to mention screaming fans. But like any award show, a big focus of the night was the styles seen on the red carpet. Lots of color, casual chic looks and a bevy of hairstyles were donned for the show. Always a crowd-pleaser, Fergie, graced the red-carpet with a bohemian-inspired look fitting for the award show.
"Since her dress was very bohemian, we wanted her hair to be a little edgier but still complement her look" says, Patricia Morales, Redken session stylist and hair stylist to Fergie. "I showed her a series of braids I have been working on and she chose the fish tail braids. I think she rocked it!"
This is how to create Fergie's bohemian hair style at the 2008 Teen Choice Awards: Morales applied Redken full Frame 07 Protective Volumizing Mousse (SRP$15.95) and Redken Extreme Anti-Snap (SRP$14.95), to the hair when damp. This provided lots of body and volume but also smoothness and shine, which allowed an easier time to create the fish tail.
Taking Makeup is excited to bring to you Guido for Redken's Fall/Winter 2008 hair trends straight from the runways at Fashion Week Fall/Winter 2008 NYC, Paris, Milan and London.
Guido designed and executed the hair at more than 30 shows including Marc Jacobs, Donna Karan, Versace and Louis Vuitton and has put together his top hair trends for the coming season inspired by the shows. Guido takes us to the back of the head, where we will be seeing knots, twists, ponytails with a spice of 1960s glam, 1920s sophistication and a touch of the future.

Guido-Hair Stylist for Redken.
A fresh take…"The back of the head is huge this season. We're seeing knots, twists, ponytails-it's a blend of 1980s glam, 1920s sophistication and a touch of the future."
A glam finish…"We saw a lot of roughed-up, matte textures last season. Now, we're moving on to styles with high shine. It's a controlled look, a return to a woman who's more demure-but at the same time she's strong, confident and sexy."
A streamlined silhouette…"This season, it's all about minimalism. We're seeing smaller, more subdued styles. Hair is pulled back close to the head and styled in a clean, simple way."
-GUIDO
Here are Guido's for Redken top four hair trends for the Fall/Winter 2008 season:
Intense Shine: High Gloss Looks With A Plasticized Finish: Shine returns to the runway in full force, after last season's parade of ultra-matte textures. Hair stayed close to the scalp, in sedate slicked-back styles with a lacquered finish. As seen at: Alice Temperley, Calvin Klein, Christopher Kane, Halston, Jonathan Saunders, Kisa, Lanvin, Miu Miu, Prada, and Pringle.
TIPS:
1. To get the slick finish seen at Prada: Blow-dry hair straight, then smooth hardwear 16 super strong gel from roots to ends (applying gel to dry hair creates a lacquered effect). Pull hair into a bun and apply glass 01 smoothing serum for extra sleekness.
2. For a blow-dry with extreme shine, mist on forceful 23 super strength finishing spray section-by-section and blow-dry hair with a Mason Pearson brush. Reapply the spray to your finished style for a sleek, plasticized effect.
3. Finish any style with a mist of vinyl glam 02 mega shine spray-it adds extreme shine without weighing down fine hair.

From Left: Calvin Klein, Pringle, and Alice Temperley.