All Posts Tagged With: "organic skincare"
In my best skincare list Nude Skincare Advanced Renewal Serum. Instant skin quencher and hydrator right after shower and before applying my day cream. Nude Skincare, created by British businessman Bryan Meehan, is changing the natural skincare world by bringing to us eco-friendly and natural products that actually work!

Nude Skincare Advanced Renewal Serum a great British import
Nude Skincare's Bryan Meehan interviews with Marta Walsh
Organic Skincare, Natural Skincare. Here's Marta Walsh's take on Organic Skincare or Natural Skincare. I'm very picky when comes to the latest trend in the beauty market and the magic word: 'Organic'. Just because a product says it's organic does not make it a good product. Often time some organic products are greasy with all their natural oils, smell too ylang ylang or a strong lavender and are off putting to me. Quite frankly, some of them don't seem to work in cleaning my face or keeping my face super hydrated. Only select few get it right. The 1st brand that comes to mind is NUDE Skincare founded by Bryan Meehan which is a brilliant organic skincare line that actually works for me. I also like REN skincare, also a British import. In the USA I love ARCONA Los Angeles skincare line.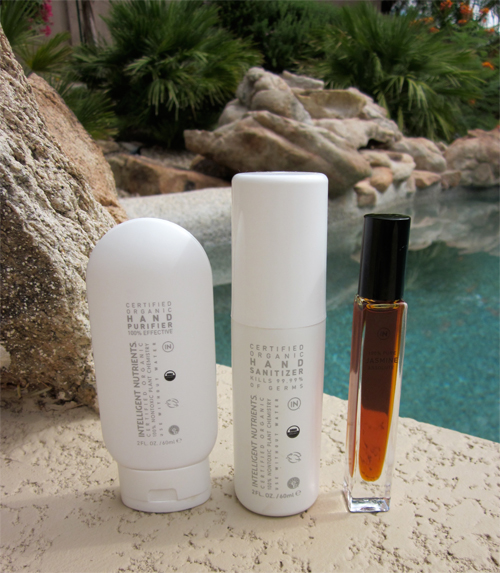 My latest discovery is Intelligent Nutrients Certified Organic and these three products smell amazing and are not greasy! I haven't tried the rest of the line, but these 3 are good. L to R: Certified Organic Hand Purifier, Certified Organic Hand Sanitizer, and Certified Organic 100% Pure Jasmine Absolute. The brand was founded by Horst M. Rechelbacher.
Organic Skincare: Loving the amala Purifying Face Polish. With ingredients, such as: Blue Lotus, crushed bamboo, and green tea, need I say more? This face scrub is very gentle on my skin, smells relaxing, and is all organic. Available at www.amalabeauty.com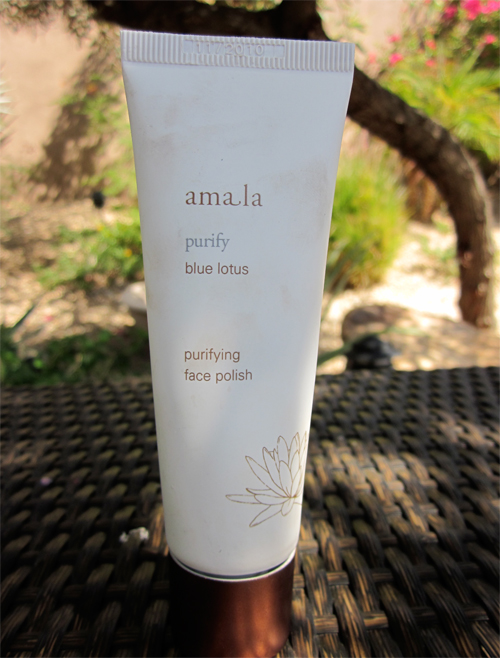 ENESSA'S New Organic Shea Body Souffle features African Shea Butter with natural nutty scent, citrus oils & no artificial colors or preservatives, moisturizing dehydrated CHAPPED skin in cold dry weather.
I like to use the ENESSA Organic Shea Body Souffle on small areas at the time such as my legs, elbows and feet. It smells a bit like citrus and clean. And my skin keeps super soft for hours.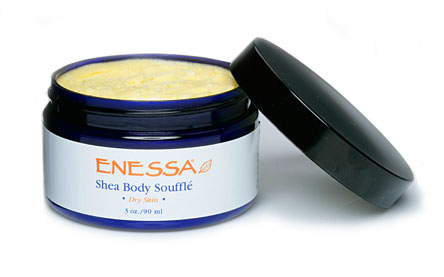 More about ENESSA Organic Shea Body Souffle: A moisturizer that has that feels like velvety smooth butter with colorful textured grains, the new Shea Body Souffle by Enessa is a luxurious blend of organic oils that richly moisturize dehydrated, chapped skin in cold or dry climates.
Looking for great green face scrubs. When I say green I mean chemical free, natural, and organic.
Nude Skincare Facial Scrub, $52: Pure addiction for Marta:) This facial scrub is so gentle and silky feeling yet effective in making my skin smooth, exfoliated, and ready for my face cream. Available at Sephora, sephora.com and www.nudeskincare.com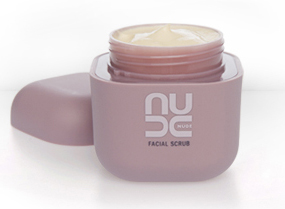 RAW Essentials by Carol Alt RAW-finish Rigorous Face Scrub, $19.50: Super silky scrub and very soothing to my skin. Smells a bit like citrus which makes it perfect for my morning shower. I have a suggestion for RAW Essentials by Carol Alt: Please make a body scrub with this formula! It would be amazing. My hubby is also a fan. Formulated with 40% pure aloe with Jojoba round micro-beads. Gently removes dead skin cells and promotes healthy cell renewal. Suitable for all skin types. Visit: www.rawessentials.com foe more details.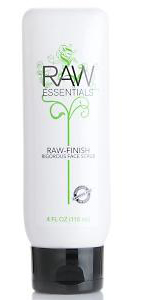 I'm so excited to share with you my interview with one of the greatest supermodels of all time, Carol Alt. Any of you remember Carol featured on the cover of the Sports Illustrated Swimsuit Issue in 1982? I was too young to remember but I do know I really loved her at NBC's 2008 The Celebrity Apprentice, with Donald Trump. On that show, Carol came across as not only a very beautiful woman but also very smart one. A type of woman I look up to.  Carol is all about raw food and has a great book about the raw food lifestyle called: the Raw 50 (with David Roth forwarded by Nicholas J. Gonzalez, M.D.) I'm also very excited to let you know about Carol's skincare line called: RAW Essentials.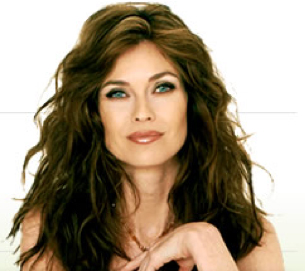 If you are into green and clean skincare products you might want to learn more about Carol's skincare line. I personally love the RAW Essentials Raw-finish Rigorous Face Scrub, RAW Eeentials Raw-juvenate Eye Recoup, and RAW VITA Eye Serum (image below).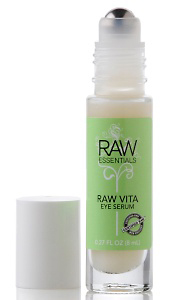 In this interview Carol Alt talks about how did it all begin for her in the modeling world and some of her most memorable moments of her career. What led her create RAW Essentials and what makes it different than the rest. Gives advice to anyone interested in a RAW lifestyle and RAW food diet. Reveals what's in her makeup bag. Gives word of wisdom to aspiring supermodels. And future plans.
Marta Walsh: Your career as a supermodel and actress is undeniably impressive. How did it all begin? What were some of your most memorable moments of your career?
Carol Alt: Oddly, my career kicked off right after a breakup with a boyfriend at the time! I was spotted waiting tables during my freshman year at Hofstra University, where I was enrolled in Army ROTC. The modeling opportunity was the perfect excuse to get off of Long Island and embark on an adventure.
I'm excited to share with you my interview with American model and actress Josie Maran. Josie is also the founder of her own natural cosmetics product line, named Josie Maran Cosmetics.
In this interview Josie Maran talks about what led her to create Josie Maran Cosmetics. Her ultimate beauty secret. Her passion to protect the environment and for all things green. The people that inspire her the most, and future plans.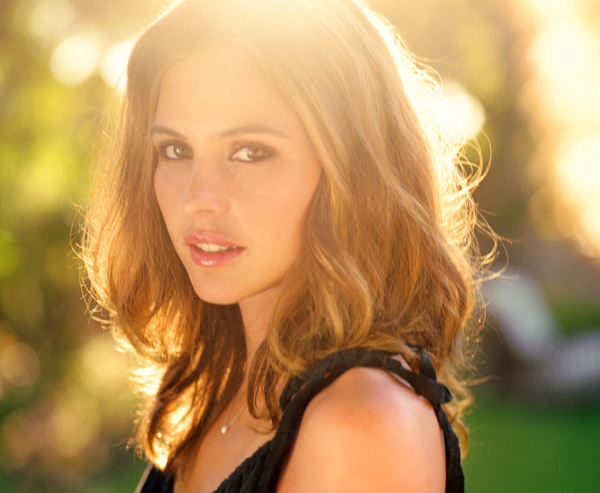 Marta Walsh: You are known for your career as a model and actress, what inspired you to create your own cosmetics line?
Josie Maran: When pregnant with my daughter a few years ago, I decided to look for natural makeup formulas to use and discovered that none lived up to the levels of sophistication and luxury as I wanted. It was then I realized that after spending so many hundreds of hours in the makeup chair, I was uniquely qualified to create my own line of cosmetics, the type of makeup that I was searching for: chic, luxurious and, most importantly, healthy. Not long after the birth of my daughter, Josie Maran Cosmetics was born.
Green & Organic Beauty: Bamford Body collection offers luxury bath items ranging from bath oil to hair care items that are completely organic from each ingredient incorporated in the creation of the brand to the recyclable packaging.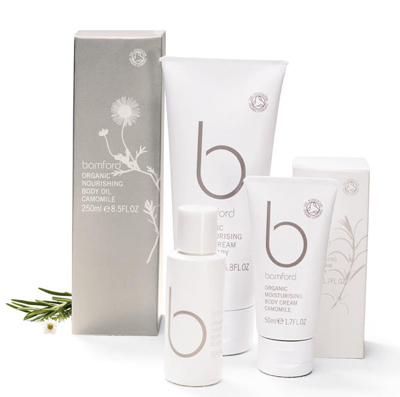 Product Range:
– moisturising body cream for use over the body, hands and feet
– nourishing body oil for the skin, bath and massage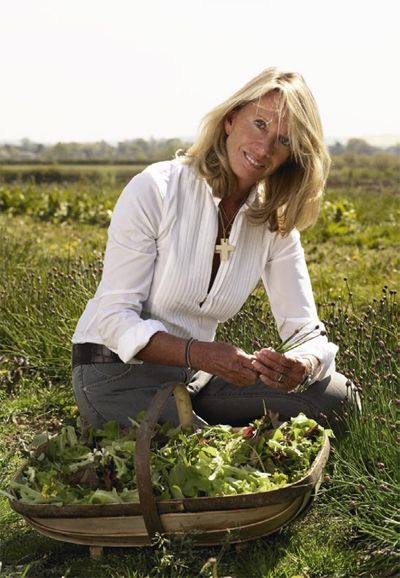 Organic Moisturising Body Cream Camomile "soothing nourishment for dry or sensitive skin", $20-$64.
Organic Moisturising Body Cream Rosemary "stimulate your skin", $20-$64.
Organic Nourishing Body Oil Camomile "replenish moisture levels", $24-$72.
Organic Nourishing Body Oil Rosemary "ultimate rehydration and reinvigoration", $24-$72.