I'm so excited to share with you my interview with one of the greatest supermodels of all time, Carol Alt. Any of you remember Carol featured on the cover of the Sports Illustrated Swimsuit Issue in 1982? I was too young to remember but I do know I really loved her at NBC's 2008 The Celebrity Apprentice, with Donald Trump. On that show, Carol came across as not only a very beautiful woman but also very smart one. A type of woman I look up to.  Carol is all about raw food and has a great book about the raw food lifestyle called: the Raw 50 (with David Roth forwarded by Nicholas J. Gonzalez, M.D.) I'm also very excited to let you know about Carol's skincare line called: RAW Essentials.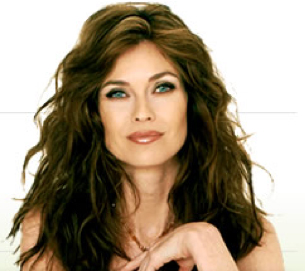 If you are into green and clean skincare products you might want to learn more about Carol's skincare line. I personally love the RAW Essentials Raw-finish Rigorous Face Scrub, RAW Eeentials Raw-juvenate Eye Recoup, and RAW VITA Eye Serum (image below).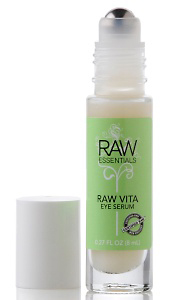 In this interview Carol Alt talks about how did it all begin for her in the modeling world and some of her most memorable moments of her career. What led her create RAW Essentials and what makes it different than the rest. Gives advice to anyone interested in a RAW lifestyle and RAW food diet. Reveals what's in her makeup bag. Gives word of wisdom to aspiring supermodels. And future plans.
Marta Walsh: Your career as a supermodel and actress is undeniably impressive. How did it all begin? What were some of your most memorable moments of your career?
Carol Alt: Oddly, my career kicked off right after a breakup with a boyfriend at the time! I was spotted waiting tables during my freshman year at Hofstra University, where I was enrolled in Army ROTC. The modeling opportunity was the perfect excuse to get off of Long Island and embark on an adventure.
I had always been raised to rely on my brains, not my looks, so my parents were skeptical at first. My mother had been a model and always placed a high premium on my education. They made me promise that I'd go back to school – but once that first check from Elite came, I made the decision not to go back. Things really took off in an incredible way.
The modeling profession offers you so much. It's really what you make of it! It's so hard to choose just a few moments. From doing the Sports Illustrated Winter Issue to shoots in Africa to shoots on Mount McKinley in Alaska – there have been so many!
MW: What drove you to create your own skincare line: RAW Essentials?
CA: Necessity is the mother of invention. No one had a clean skincare line without chemicals. I made the decision to live the cleanest life I possibly could and to function in as clean an environment as possible. That includes what I'm putting in my body and what I'm putting on it. RAW Essentials grew out of my desire for a pure, results oriented skincare line that I could use every day.
MW: What makes RAW Essentials skincare different?
CA: We don't fib! When you see a RAW Essentials label you know you're getting exactly what we promise – pure, effective products, made without synthetic chemicals.
MW: Which products from RAW Essentials you just can't live without?
CA: The Raw-covery Facial Revive Wash, Raw-vitalize Anti-Aging Night Face Cream, and Raw Vita Eye Serum. The eye serum is Vitamin A packed, which is basically a natural form of Retin A. It's so incredible, I can actually feel it working as soon as I put it on. I use the night cream during the day for extra moisture – my skin loves it.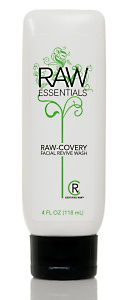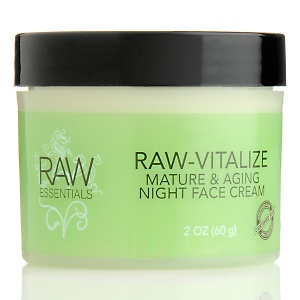 From left: The Raw-covery Facial Revive Wash, Raw-vitalize Anti-Aging Night Face Cream
MW: Which new RAW Essentials products are you inspired to develop in the future?
CA: I'd love to have a glycolic wash – we're working on it, but again, the challenge is that it has to be raw, has to be cold-pressed to pass the test. It has to meet the standard of being raw and also delivering superior results, just like the rest of our products.
MW: What advice can you give to anyone interested in a RAW lifestyle and diet?
CA: Start slowly! And, make a list of your favorite foods and look for what I like to call "raw cousins" – keep an eye out for products labeled unpasteurized, dried, cold-pressed. I love brands like One Lucky Duck and Good Stuff by Mom and Me. They both have delicious raw snacks.
MW: What can we find in your makeup bag?
CA: Because I travel so much, I have a toiletry kit permanently packed. You'll find:
Head pHirst Shampoo and Conditioners
Jason Organics Toothpaste
LuMESH Lip Gloss – so moisturizing and it lasts!
Ready to Wear Mascara – doesn't smudge, but comes right off when you're ready!
RAW Essentials Raw-covery Facial Revive Wash, Raw-vitalize Anti-Aging Night Face Cream, Raw Vita Eye Serum, and Raw-fresh Facial Toner.
MW: What advice can you give to young girls who aspire to be supermodels?
CA: Eat well and take good care of yourself. I wish someone had told me that earlier! I realize now that I could be healthy, look fabulous, and have incredible energy by eating raw, rather than depriving myself of anything.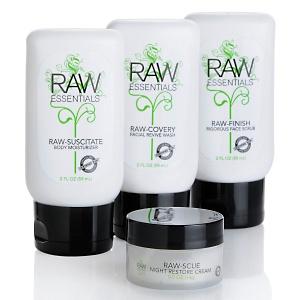 MW: What is your philosophy about beauty?
CA: Keep it as clean as possible – both in terms of the formulations of the products I use, but also in the overall look. I'm pretty much a lip gloss and mascara kind of girl. Clean, simple, pure.
MW: What is your favorite: city, movie, and restaurant?
CA: Rome – The architecture, the color of the air and the sky. It really has it's own special kind of light. Plus, it's so easy to eat raw there!
I just saw The Curious Case of Benjamin Button and it had a real impact on me, something about the cycle of life being the same whether done forward or in reverse really struck a chord.
For raw restaurants, I love Pure Food & Wine in NYC. I also love sushi – there are just so many options.
MW: What one or two things some people may not know about Carol Alt?
CA: I'm an intensely spiritual person, that's probably a little known fact. And, that my work is my passion and my hobby all rolled into one. I genuinely love what I do.
MW: What is next for Carol Alt?
CA: I am focusing a lot on RAW Essentials and on expanding the line into makeup and hair care – I want a complete line to address all beauty needs. I also love producing and I'm eager to do more of that. Generally, I'm someone who really "meets the moment." I'm constantly moving forward and changing what I do. If I see a need for something, I go to it.