All Posts Tagged With: "facial scrub"
The Simple Smoothing Facial Scrub is the first Simple product I tried back in England, and it's that product that made me fall in love with the brand. What makes the facial scrub stand out is three features that I look for in any scrub: 1. Smell. 2. Texture. 3. Gentle Yet Effective.
Facial Scrub For Sensitive Skin
I know it sounds easy to attain, but I believe simple, good things are not that easy to make, and that is true in every aspect of life. The way I judge any brand or, for example, a restaurant, is by determining how well they prepare the simplest things, like cooking an egg. Simple Smoothing Facial Scrub checks all my requirements effortlessly.
On my recent trip to England I ran out of my body wash, face cleanser/scrub, and had to remove my nail polish. Of course I headed to my old time favorite English drugstore Boots. BTW Boots was the place where many of my beauty obsessions have begun! These are the Boots 'treasures' that I've found.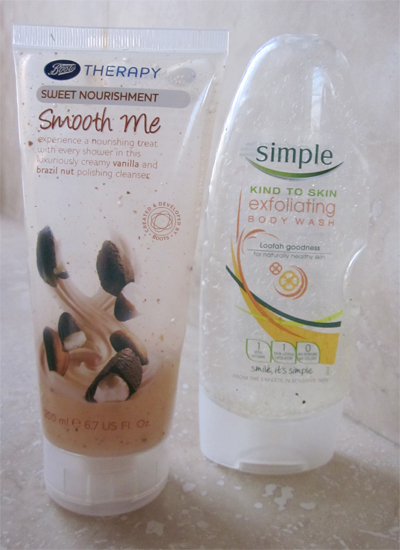 L to R: Boots Therapy Sweet Nourishment Smooth polishing or exfoliating body cleanser. I love scrubbing body washes especially when they smell sweet. This one smells vanilla. Capuacu peel helps to smooth & refine and Brazil Nut extract hydrates. For a fragrance free option I love simple kind to skin exfoliating body wash Loofah goodness. What I got was a nice clean shower and smooth skin.
Boots Skincare
Simple Skincare
Watch: Marta Walsh loving Clean & Clear Morning Burst Facial Scrub with Vitamin C & Ginseng and Clean & Clear Morning Burst with with Lemongrass and Fruit Extracts. Yes, I'm a Clean & Clear kinda girl:)
Watch Marta's vlog talking about her favorite face cleansers and makeup removers.
Products mentioned in Marta's vlog:
PURPOSE Gentle Cleansing Wash, $5.99
Nude Skincare Facial Scrub, $52
RAW Essentials RAW-finish Rigorous Face Scrub, $19.50
LA Roche-Posay Rosaliac Micellar Make-Up Removal Gel, $24.50
Talika lash conditioning cleanser oil free, $24
Physicians Formula Organic wear Facial Makeup Remover Lotion, $9.95
Looking for great green face scrubs. When I say green I mean chemical free, natural, and organic.
Nude Skincare Facial Scrub, $52: Pure addiction for Marta:) This facial scrub is so gentle and silky feeling yet effective in making my skin smooth, exfoliated, and ready for my face cream. Available at Sephora, sephora.com and www.nudeskincare.com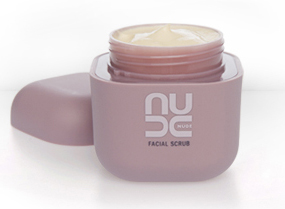 RAW Essentials by Carol Alt RAW-finish Rigorous Face Scrub, $19.50: Super silky scrub and very soothing to my skin. Smells a bit like citrus which makes it perfect for my morning shower. I have a suggestion for RAW Essentials by Carol Alt: Please make a body scrub with this formula! It would be amazing. My hubby is also a fan. Formulated with 40% pure aloe with Jojoba round micro-beads. Gently removes dead skin cells and promotes healthy cell renewal. Suitable for all skin types. Visit: www.rawessentials.com foe more details.