All Posts Tagged With: "Make-up Removal Gel"
A new year is always a promise for new beginnings, even with beauty. Here are Marta's 2 New Year's Resolutions.
1. Must Clean My face Before Bed: And I mean never skip a day! This one is for the sometimes 'I'm too lazy/tired to clean my face before bed' people. Cleaning my face before bed is an amazing idea but with life it's so easy to skip a day. Also, I find the whole process of getting soaked with water by the sink just to clean my face a bit too much. Luckily I've discovered Rosaliac Gelee Micellar Make-up Removal Gel by La Roche-Posay, $24.50. This makeup remover gel feels like water. No joke. It feels fresh like water and there is no residue or a heavy feeling when you done. Amazing!

I'm a huge La Roche-Posay Rosaliac Gelee Micellar Make-up Removal Gel fan! It really revolutionized my 'before bedtime clean your face' routine. Never tried the La Roche-Posay Toleriane Dermo-Cleanser and I hear this cleanser is a favorite of Sorority Wars star Chelan Simmons.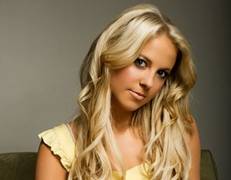 When competing with 60 other girls to win a spot in the Delta house on Lifetime's Sorority Wars, Chelan Simmons knew that clear skin was essential. Looking to keep her fair, sensitive skin glowing, she starts her beauty routine every day by washing with La Roche-Posay Toleriane Dermo-Cleanser: With a light, smooth texture and fragrance and preservative-free formula, the Toleriane Dermo-Cleanser gently removes makeup and residue without overdrying, making it perfect for dry, sensitive skin. Formulated with Glycerin and Thermal Spring Water, the creamy cleanser hydrates and soothes while also deeply cleaning your pores and removing even the most stubborn makeup.
Toleriane Dermo-Cleanser retails for $19.50 and is available at CVS locations nationwide and at www.laroche-posay.com
Watch Marta's vlog talking about her favorite face cleansers and makeup removers.
Products mentioned in Marta's vlog:
PURPOSE Gentle Cleansing Wash, $5.99
Nude Skincare Facial Scrub, $52
RAW Essentials RAW-finish Rigorous Face Scrub, $19.50
LA Roche-Posay Rosaliac Micellar Make-Up Removal Gel, $24.50
Talika lash conditioning cleanser oil free, $24
Physicians Formula Organic wear Facial Makeup Remover Lotion, $9.95
I'm always on the look out for great makeup removers. I like the process of removing my makeup before bed easy, clean , and very simple. This is why I love La Roche-Posay Rosaliac Gelee Micellar Make-up Removal Gel, $24.50. It literally feels like water on your face, maybe because one of its ingredients is actually La Roche-Posay's Thermal Spring Water? Skin feels fresh as soon as you apply this makeup remover on your face. It's fragrance-free, not oily, and very simple to remove or wipe off. Which means, there isn't a residue left after you apply. Do you know the feeling? Major plus!!  It felt gentle and didn't irritate my skin. OK to remove eye makeup as well. And, it's available at CVS *.

La Roche-Posay Rosaliac Gelee Micellar Make-up Removal Gel the company description: The first step in a dermatological regimen for redness-prone and reactive skin.