All Posts Tagged With: "Sjal"
Kick off your Fifth Avenue holiday shopping spree this season at The Plaza Beauty by Warren-Tricomi, your one-stop destination for giftable beauty essentials. On the evening of December 1st, 2009, the renowned beauty boutique is offering an array of holiday exclusives to celebrate the season. 5% of proceeds from the shopping night will be donated to Volunteers of America, a non-profit organization dedicated to helping those in need rebuild their lives, making the event a holiday indulgence you can feel good about.
WHEN:
Tuesday, December 1st, 2009
5:00pm – 8:00pm
WHERE:
The Plaza
One West 58th Street, Grand Concourse Level
NY, NY 10019
(214) 223-4694
Located at the Shops at the Plaza, the boutique represents a world-class sampling of must-haves for men, women and home handpicked to please any discerning gift-giver. Participating brands offering holiday exclusives on December 1st include:
själ is the skincare choice of a new generation of consumers drawn to its groundbreaking blend of luxury, cosmeceuticals and spirituality, all in a simple, fast, and effective regimen. It has won numerous best of beauty awards in the US and around the world for its pioneering concept, modern design, exceptional quality and dramatic, beautiful results for all skin types for women.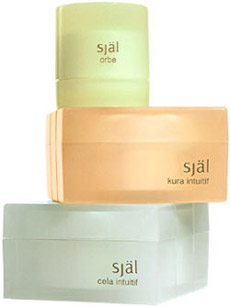 Please Join Kristin Petrovich, Co- Owner & Creator of själ skincare for a complimentary consultation & deluxe samples of the själ skincare collection, as well as a gift with purchase!
WHEN & WHERE:
White's Chemist and Perfumers
81 Main St.
East Hampton, NY
631-324-0082
Saturday, July 18th
11-4pm
And also…
Sjal skincare was created by mother Karen and daughter Kristin Petrovich.  Sjal launched in New York around 2001.  Sjal in Swedish means spirit. mind, heart, and soul.  Sold exclusively in department stores such as:  Barney's, Fred Segal and Bergdorf's Goodman.  Sjal products are suitable for any age or skin types. 
If you have dry damaged mature skin use Kura Intuitif, which is a rich night cream.  Kura Intuitif has anti-scaring properties so if you ever suffered from acne this cream will help you repair the damage.  Other great benefits from using Kura Intuitif are:  elimination of hyper pigmentation, soothing ingredients make it an ideal cream for post-surgery, post-peels/glycolics, and Retin-A patients, firming the surface as well as the deeper layers of the skin.  Kura Intuitif is also perfect for sensitive skin types.  Ingredients include:  Arnica and horseradish to reduce capillaries and dark circles, Peptide complex for the reduction of deep lines and wrinkles, Lotus, quinoa and borage oils to promote hydration, Bearberry, mulberry and pearl powder complex to reduce hyperpigmentation, and Ceremides and algae for renewed soft skin.  Cost: $250.
Use Cela Intuitif if your skin is oily or combination type.  Cele Intitif is an active lightweight moisturiser designed to fight the damaging effects of photo-ageing by encouraging cellular renewal.  Ingredients include:  antioxidants, such as:  green tea, grape seed, and SOD.  Natural Acids, such as:  wnintergreenplants, milk, citrus frits, apples.  Lipids, such as:  squalane, macadamia oil, shea butter, lecithin.  Minerals, such as:  copper, gold, silver, silica.  Botanicals:  licorice, echinacin.  Exclusive Sjal Rejuva-Complex Peptides.  And Lastly, brightening agents, such as:  pearl powder plus. Cost: $250.
Other popular skincare products from Sjal are:  Sjal Anti-Aging serum 1 which is a super wrinkle fighter. Cost: $230.  Sjal Eye Orbital which a multi-tasking cream to repair and revitalize the delicate skin around the eye.  Cost: $165.