All Posts Tagged With: "Warren Tricomi"
Introducing the all-new Warren-Tricomi Madison Avenue Salon – a cutting-edge beauty haven. Legends in the world of hair color and hair styling, Joel Warren and Edward Tricomi have established a network of elite salons across the country. The newest Warren-Tricomi Salon, a 2,000 square foot space, is the duo's fifth location and the ultimate testament to Joel Warren and Edward Tricomi's growing success. Renowned for superior hair color and styling as well as high-end spa treatments, Warren-Tricomi Salon represents the ultimate in beauty excellence.
Kaz Amor the talented celebrity colorist & partner at the Warren-Tricomi Los Angeles salon who I met in LA backstage during LA Fashion Week and who I got to interview back in 2008 is on MTV Hired. Kaz is the sweetest guy. When we met he invited me to the Warren-Tricomi Melrose Place in West Hollywood location to color my hair the next morning.
Watch Kaz Amor on MTV Hired. Starting Tuesday June 1st, 2010, MTV Hired will air at 4pm daily.
I thought to re-publish my interview with Kaz Amor which then was published in Talking Makeup's celebrity beauty interviews section www.beautyinterviews.com
In this interview Kaz talks about how he got into hair design, meeting Joel Warren on a flight and their partnership, working with Prince, and what it takes to maintain a long term success as a hair stylist.
Marta Walsh: When did your interest in hair design begin?
Kaz Amor: I was at a party for Julie Chrisy in London and my friend that took me there was a hairdresser. That was my first introduction to the world of hair.
Kick off your Fifth Avenue holiday shopping spree this season at The Plaza Beauty by Warren-Tricomi, your one-stop destination for giftable beauty essentials. On the evening of December 1st, 2009, the renowned beauty boutique is offering an array of holiday exclusives to celebrate the season. 5% of proceeds from the shopping night will be donated to Volunteers of America, a non-profit organization dedicated to helping those in need rebuild their lives, making the event a holiday indulgence you can feel good about.
WHEN:
Tuesday, December 1st, 2009
5:00pm – 8:00pm
WHERE:
The Plaza
One West 58th Street, Grand Concourse Level
NY, NY 10019
(214) 223-4694
Located at the Shops at the Plaza, the boutique represents a world-class sampling of must-haves for men, women and home handpicked to please any discerning gift-giver. Participating brands offering holiday exclusives on December 1st include:
New York Fashion Week Spring 2010 is here and we can't be more excited! I'm heading to NYC this weekend to report from some of the hottest fashion shows this season. Get the the scoop HERE on the latest on backstage makeup & hair by beauty brands, such as: MAC Cosmetics, Stila, Shu Uemura, Redken, Warren Tricomi and more.
I will be twittering from New York City a lot so make sure to follow Talking Makeup and me, Marta Walsh, on Twitter: www.twitter.com/TalkingMakeup
The Plaza Retail Collection: A brand new lifestyle destination opens September 22nd in New York City.
Synonymous with luxury, The Plaza has hosted the most illustrious guests, exclusive parties, and monumental events of the last hundred years. From Hollywood legends to political luminaries, the century's most prominent players have stayed and played at this cultural institution. Now, a new tradition unfolds with the debut of The Plaza Retail Collection, a unique collection of boutiques that combine to create an international luxury destination in the heart of New York City.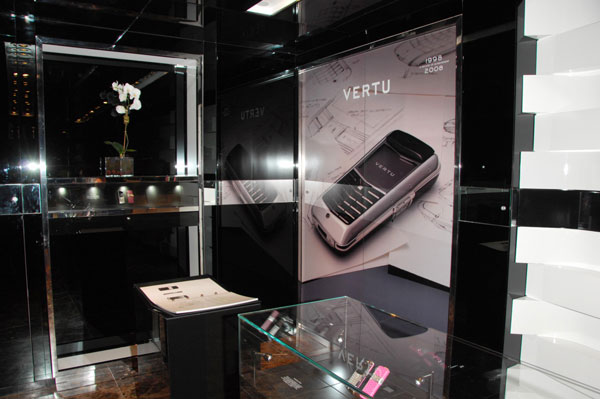 The Plaza handpicked the most exquisite, unique items from around the world for this exclusive collection, helping to set the barometer of style season after season. Housed in The Plaza's legendary Edwardian Room and expansive Grand Concourse, The Plaza Retail Collection offers access to the opulent lifestyle that defines the institution through leading designers and tastemakers in the worlds of fashion, beauty, décor and cuisine. An extension of The Plaza Hotel's legacy of elegance and splendor, the destination collection embodies the establishment's dedication to luxury and service.
Need a quick touch up? Want perfectly straight bangs? Did your blow out got ruined on the way to work? The experts at Warren-Tricomi have the perfect solution. Introducing the Warren-Tricomi Mini Flat Iron, a 6″ wonder that you can take anywhere to touch up at anytime.
And this is what's great about the Warren-Tricomi Mini Flat Iron: it has ceramic/tourmaline coated plates that heat up, and remain at 400 degrees. Easily tucked into a pocketbook, it is extremely versatile and can be used on bangs and for touch ups and quick fixes. Extremely lightweight, it allows you to get closer to the roots than ever before for ultimate precision, $90.  Where to find it: Warren-Tricomi Flagship Salon, 1.800.457.2292 or www.warrentricomi.com. 
During my recent trip to LA Fashion Week, I had an amazing opportunity to get my hair colored at the Warren Tricomi Los Angeles Salon in West Hollywood.
Kaz Amor, an expert colorist and partner at Warren Tricomi Los Angles,  greeted me as soon as I stepped in the salon, and made sure I was looked after my entire visit.
The fabulous colorist at Warren Tricomi Los Angeles, Matthew G.,  transformed my amateur blond highlights into a movie star material blond highlights. My hair color never looked so polished and glamorous.
Matthew and his apprentice, Claudia, treated my hair like gold. And Gianni Rostti was responsible for my beautifully blow dried hair. I was sad to leave Los Angles that day, knowing I'm going to be away from my favorite new salon. 

Hairstylist Gianni Rostti at Warren Tricomi Los Angles Salon in West Hollywood and Marta. 

Matthew G. colorist at Warren Tricomi Los Angeles Salon in West Hollywood and Marta.
I would like to thank Kaz, Matthew, and Gianni for their amazing service and for a hair color I love!

And Voila! Heading for lunch in West Hollywood with friends.
Make sure to stop by Warren Tricomi Los Angeles Salon in West Hollywood and see for yourself! Here is the address: 8327 Melrose Avenue West Hollywood, CA. T.323.651.4545. Or visit their website: http://www.warrentricomi.com/.