Kiehl's Since 1851, the venerable New York-based purveyor of fine quality skin and hair care preparations, is pleased to introduce a limited edition Lip Balm #1 Set to celebrate its most iconic product. Commemorating the 40th anniversary of Kiehl's best-seller, and longstanding favorite of both male and female patrons alike, this gift set consists of six Lip Balm #1 formulas in Coconut, Cranberry, Mango, Mint Vanilla, and Original – all of which treat, soothe and hydrate lips.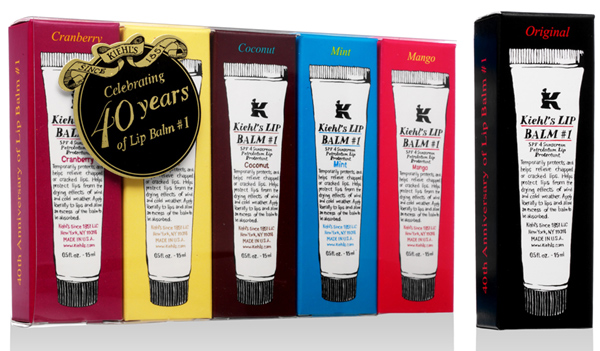 A must-have of many celebrities – including John Mayer, Gwyneth Paltrow and Halle Barry – Lip Balm #1 is the most well-known and beloved formula worldwide. Infused with Squalane, Sweet Almond Oil, Allantoin, Aloe Vera and Vitamin E, this rich, emollient balm is recommended for all skin types and is particularly beneficial to those with dry, parched lips.
Packaged in individual boxes that feature the original Lip Balm # 1 illustration, each reveals an interesting piece of history from 1969, the year Lip Balm #1 launched. Some of these fun facts include when Neil Armstrong landed on the moon, when the Beatles topped the Billboard Charts, and how many people attended The Woodstock Music and Art Fair.
"This anniversary set is our way to honor Lip Balm #1's 40 year life span. We are thrilled that this product has been a favorite for so many years, and thought a great way to thank our loyal patrons for their ongoing relationship is to celebrate this milestone by offering all of our Lip Balm #1 formulas in one package," said Chris Salgardo, President, Kiehl's USA. "In addition to being a great gift item, it is another way to celebrate Kiehl's legacy and heritage by re-introducing this historical product that will continue to be a favorite for years to come."
Retail Price: $32.00 (a $49.00 value) On-Counter: September 2009.
In addition to Kiehl's freestanding stores nationwide, Kiehl's products are available at Kiehls.com, by mail order at 1-800-KIEHLS-1 as well as through specialty retailers Neiman Marcus, Barneys New York, Saks Fifth Avenue, and Nordstrom.