All Posts Tagged With: "kiss"
This classic/rare celebrity photo has just landed on Marta Walsh's & Talking Makeup desk: KISS lead singer Paul Stanley holding Lady Gaga backstage at KISS' current "The Hottest Show on Earth" tour in Holmdel, New Jersey (PNC Bank Arts Center) on Friday, August 20, 2010. Lady Gaga is wearing a pair of Paul Stanley's own stage boots which she wore for the entire performance.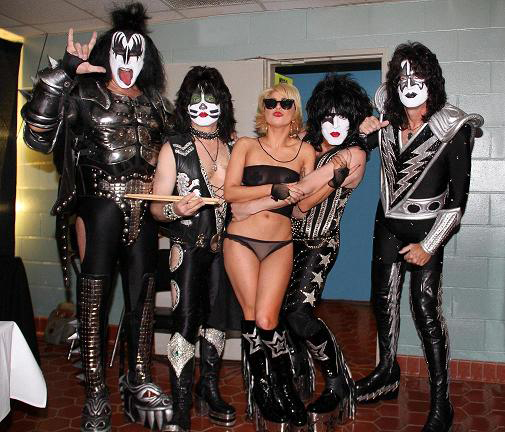 Left to Right: Gene Simmons, Eric Singer, Lady Gaga, Paul Stanley and Tommy Thayer.
Photo Credit: Dean Snowden, KISS.
Valentine's Day Kiss: Make that kiss memorable.
Simple, heartfelt gestures are the best way to offer the gift of love. In fact, the most desired gift this Valentine's Day is a kiss. Luckily, NIVEA Lip Care offers a wide variety of products to protect that pucker so you're irresistibly kissable. Enriched with natural Beeswax and Shea butter, NIVEA A Kiss of Flavor (Cherry, Passion Fruit, Pearly Shimmer) and A Kiss of Moisture will hydrate and offer long-lasting protection for soft, yummy kissable lips. SRP: $2.99.


Estée Lauder's Love Your Lips collection comes just in time for Valentine's Day to give your lips that perfect, seductive look. You'll have him saying "Be My Valentine" in no time!
Love Your Lips is a limited-edition collection of 12 lip-loving Estée Lauder Signature Hydra Lustre Lipstick shades and 4 NEW Kissable Lip Glosses. Each lipstick features a special "L♥VE" logo on the bullet and the glosses are packaged in uniquely designed vials specially adorned with the same logo. These two undeniably attractive lip formulas will make sure your lips don't go unnoticed this Valentine's Day.